McConnell Says Capitol Security Reminds Him of Visit to Kabul
(Bloomberg) -- Senate GOP leader Mitch McConnell on Wednesday criticized the continued massive security presences in and around the U.S. Capitol since the Jan. 6 riot as an overreaction that doesn't match any threat.
"I think we are way overreacting to the current need," McConnell said when asked about security measures.
"It reminds me of my last visit to Kabul," he said of the tall fencing that was erected around the Capitol grounds after the storming of the building by a mob of former President Donald Trump's supporters. "It looks terrible to have our beacon of democracy surrounded by razor wire and National Guard troops."
He said he was told earlier Wednesday that there are no current serious threats against the Capitol, though he said some additional security measures might be needed.
"Do we need some changes? We probably do," McConnell said.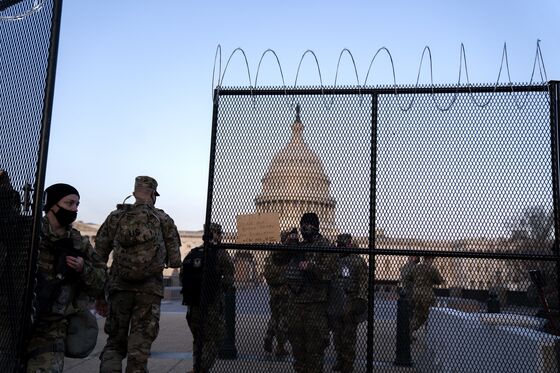 McConnell's comments add to a growing chorus of objections from lawmakers of both political parties to keeping the heightened security measures in place. The Pentagon, at the request of the Capitol Police, has approved the continued deployment of the National Guard at the Capitol through at least May 23.
About 5,000 National Guard troops remain on duty in Washington. That force will be reduced to some 2,300, the Defense Department said.
The No. 2 Democratic leader in the Senate, Dick Durbin of Illinois, said Tuesday that while it's clear things won't return to how they were before the attack in the Capitol, the current level of security goes way too far.
"What we have now is unacceptable to me," Durbin said. "Currently, 10-foot fences with razor wire on top of it. It's just ghastly. It's an embarrassment. If there is a better way to protect us, I want to see it."
On Monday, lawmakers received closed-door briefings on a security review conducted by a task force led by retired Army Lieutenant General Russel Honore. Recommendations in the draft report included hiring more Capitol Police officers, streamlining the force's command structure, improving its intelligence capability, and upgrading fences and security surveillance.
The review even suggested restoring horse-mounted patrols to the Capitol complex that were disbanded in 2005.