McConnell Says Anti-Kavanaugh 'Mob' Boosts GOP Election Hopes
(Bloomberg) -- Senate Majority Leader Mitch McConnell said Saturday the fight to confirm Brett Kavanaugh to the Supreme Court amid allegations of sexual assault has dramatically boosted GOP enthusiasm ahead of the Nov. 6 congressional elections.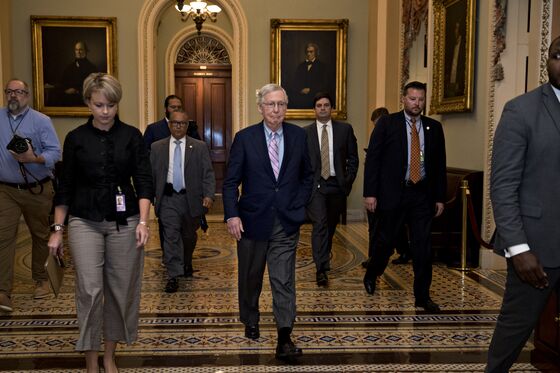 "Our voters are on fire," McConnell said in an interview with Bloomberg News hours before the scheduled Senate vote to confirm the nominee. "I want to thank the mob for all their help. It's ended up being a big political help to us."
McConnell of Kentucky likened the court fight to 2016, when he said his decision to block President Barack Obama's nominee Merrick Garland from the court helped elect President Donald Trump.
"Nothing unifies Republicans like a fight for the court," he said. "You will recall in 2016, the single biggest reason that brought nine out of 10 Republicans to vote for Donald Trump, just like they did for Mitt Romney, was the Supreme Court vacancy."
This fight, however, was more intense. "They've come to our homes, they've screamed and hollered at us trying to get in our faces," McConnell said. "I'm particularly grateful for the courage it's taken of my members to come to yes in the midst of this assault that we've been under."
McConnell said he never considered pulling Kavanaugh's nomination though he said he wasn't sure he had enough support to advance the nomination before a key vote was taken Friday.
McConnell called confirming conservative judges the "single most important thing that we're doing that will have the longest positive impact on the country."
McConnell said a key turning point was a week ago, when Judiciary Committee Republicans, including Jeff Flake of Arizona, plus GOP holdouts Susan Collins of Maine and Lisa Murkowski of Alaska agreed to a limited scope for a one-week FBI probe of Christine Blasey Ford's sexual assault allegation against Kavanaugh.
"The FBI needed to talk to anyone Dr. Ford mentioned, and also Ramirez and anyone she mentioned. And so that was the scope," McConnell said. He was referring to Deborah Ramirez, who said Kavanaugh exposed himself to her during a drunken party while they attended Yale University in the 1980s.
"The White House took grief for setting the scope, but we gave them the scope," McConnell said.
Lawyers for Ford and Ramirez have said the FBI ignored key potential witnesses who were willing to be interviewed.
None of the key senators felt Kavanaugh or Ford needed to be interviewed by the FBI, McConnell said.
"None of them wanted to do that. We just heard testimony, hours and hours of testimony. Nobody thought there was a need to do the same thing all over again," he said.
Another turning point came on the day Ford and Kavanaugh testified one after another, punctuated by calls between McConnell and Trump.
"The president and I talked after the first witness, we both thought Dr. Ford did a good job," McConnell said. "We agreed that was halftime, we ought to wait until the second half was over to talk about it again. We talked about it again afterwards and both thought that Judge Kavanaugh had done a spectacular job as well."
McConnell said he wasn't sure after Ford came forward that Kavanaugh would be confirmed, but he and Trump "never" discussed giving up.
"It would not have been fair to Judge Kavanaugh to leave his reputation in tatters without a vote," he said.
If Kavanaugh had been defeated in the Senate, where the GOP has a narrow 51-49 majority, McConnell said he had a backup plan.
"If it did not succeed we were going to fill this vacancy before the end of the calendar year anyway," he said. But that require leaving enough time to process another nomination.
"The one thing that I knew for sure was this had to have an end date. And fortunately the three undecided Republicans also felt that a one-week delay was sufficient," he said.