McConnell's Senate Continues to Rapidly Confirm Trump's Judges
(Bloomberg) -- The Senate reached a deal Tuesday to swiftly confirm seven federal district court judges, helping President Donald Trump put an enduring stamp on the U.S. judiciary.
The latest confirmations mean Trump, with the help of Republican Senate Majority Leader Mitch McConnell, has already confirmed 60 judges to the courts — including 33 district court judges, 26 appeals court judges and Supreme Court Justice Neil Gorsuch.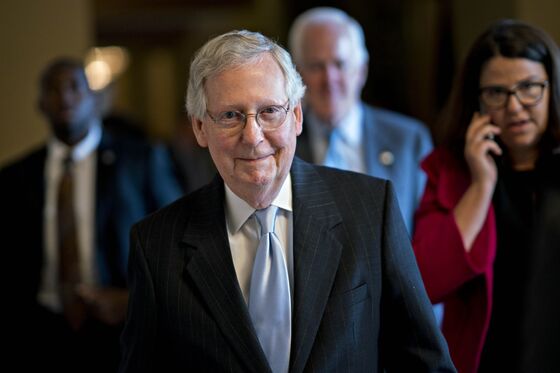 They will shape U.S law for generations, as most are in their 40s or 50s. They were chosen with input from the Federalist Society, a group of conservative judicial advocates who want to curtail the federal government's powers. Liberal groups have countered that Trump's judges will endanger economic regulations, civil rights laws, health care access and women's reproductive rights.
The seven newly confirmed judges are Terry Fitzgerald Moorer in Alabama, R. Stan Baker in Georgia, Charles Barnes Goodwin in Oklahoma, Barry W. Ashe in Louisiana, James R. Sweeney II in Indiana, Susan Paradise Baxter in Pennsylvania, and Nancy E. Brasel in Minnesota.
Eight more of Trump's district court nominees are set for confirmation next week, said McConnell's deputy chief of staff, Don Stewart. Acting on the judicial nominations was one of the primary reasons the Republican leader scrapped the Senate's annual August recess.
"In August alone, the Senate confirmed another 15 judges — with eight more locked in for next week. These are judges who will be in place for decades," Stewart said in an email.
Democratic leaders came under fire from party activists for consenting to fast-track votes when they had the ability to force procedural votes and slow down the confirmations.
"Mitch McConnell is in the middle of stealing the federal courts for conservatives, and Democrats continue to bring a butter knife to a gunfight," said Brian Fallon, executive director of the progressive judicial group Demand Justice and a former spokesman for Senate Minority Leader Chuck Schumer of New York. "It is hard to think of a more pathetic surrender heading into the Kavanaugh hearings."
The Senate Judiciary Committee is scheduled to begin a hearing Sept. 4 on Trump's nomination of Brett Kavanaugh to replace retired Supreme Court Justice Anthony Kennedy. Liberals have mobilized in an attempt to block his confirmation.
The GOP has only a narrow 50 to 49 margin in the Senate and Republican-allied outside groups are buying ads and putting pressure on Democratic senators running for re-election in states where Trump won to back Kavanaugh's confirmation.
The unanimous consent agreement on the nominees meant no senator objected. A Senate Democratic aide said the party's leaders allowed the votes to go forward because Republicans already had the votes to confirm the nominees, and the deal allowed vulnerable red-state incumbents to return home to campaign before tough midterm election races.
McConnell said in an interview in December that reshaping the U.S. courts under Trump had been the proudest achievement in his Senate career of more than three decades.