Top Republican Retreats in Chaos of Wall and Shutdown
(Bloomberg) -- Mitch McConnell, Senate majority leader and master legislative tactician, has retreated to the sidelines in the shutdown fight.
With the government closure entering its third week, the Kentucky Republican has made himself mostly a bystander to a scrum between President Donald Trump and the two congressional Democratic leaders, Senate Minority Leader Chuck Schumer and House Speaker Nancy Pelosi.
At the conclusion of a White House meeting on Friday, Schumer and Pelosi went in front of cameras outside. Trump set up a Rose Garden news conference with the two top Republicans in the House, Kevin McCarthy and Steve Scalise, at his side. McConnell headed back to the Capitol.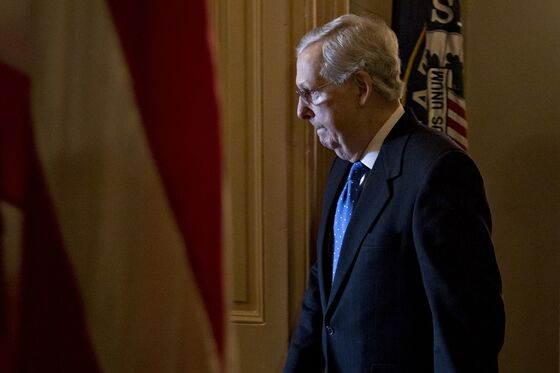 He's caught between Trump's popularity among Republican voters -- McConnell himself is running for re-election next year in a state where Trump is popular -- and Democrats' just-say-no strategy on the president's signature border wall. It's a political dilemma that Democrats have been happy to exploit.
"Why is Leader McConnell shuffling off to the sidelines, pointing his fingers at everyone else and saying he won't be involved? Probably because he realizes this president, President Trump, is erratic, unreliable, and sometimes irrational," Schumer said on Friday. "America needs Leader McConnell to get involved to stop this shutdown."
Schumer noted that McConnell is facing cracks in his own ranks. Colorado Republican Cory Gardner, also facing re-election in 2020, has called for votes on legislation to reopen the government while border talks continue.
McConnell's spokesman said staff members will continue talks and that the majority leader has addressed his role in the negotiations in public remarks.
This wasn't McConnell's plan.
He had hoped to end last year with a deal on spending bills and a host of new federal judges. He openly mocked the idea of shutting down the government as a tried-and-failed strategy. He ended up with no new judges and a government shutdown on his watch that he now concedes could linger on for weeks.
McConnell had a deal to keep the government open. After getting positive signals from the White House, he shepherded through the Senate stopgap legislation to keep the government open through Feb. 8, deferring a battle over funding for the border wall Trump wants.
But the president wrecked those plans. After being criticized by conservatives in the media and the House, Trump denounced the temporary measure. McConnell and outgoing Speaker Paul Ryan bowed to Trump's wishes and the shutdown was on.
McConnell has since blasted Democrats as unreasonable for refusing to fund the wall. And he's all but turned the Senate schedule over to the White House.
"The Senate will not take up any proposal that does not have a real chance of passing this chamber and getting a presidential signature," McConnell said Thursday as he called on House Democrats to compromise. He dismissed Pelosi's legislation to reopen the government -- using the Senate's own spending bills -- as "political theater," complaining that they did not include compromise language from private conference discussions between the House and Senate over the past month.
The sidelines aren't where McConnell typically operates. In 2013, a deal struck between McConnell and Senate Democratic leader Harry Reid helped end a 16-day government shutdown and raised the debt limit. In 2012, McConnell cut the deal with then-Vice President Joe Biden that ended the fiscal cliff showdown and made most of the George W. Bush tax cuts permanent. And in 2011, McConnell helped craft a deficit-cutting compromise that prevented a debt default after talks collapsed between Speaker John Boehner and President Barack Obama.
But this time McConnell doesn't seem to have any answers, beyond saying Democrats and the president need to cut a deal.
He had cautioned Trump publicly against a shutdown strategy.
"You remember my favorite country saying, 'there's no education in the second kick of a mule,'" McConnell told reporters asking about the potential for a shutdown over the wall last month.
Senator Mike Rounds of South Dakota said McConnell doesn't want to put a president of his own party in a box by backing the wall-free House bill reopening the government.
"If he were to say, I agree that it should move and the president doesn't, then you have a veto on your hands," Rounds said. "He's not going to do that to the president. The president really needs to negotiate."
Other Senate Republicans say they are frustrated and casting about for ways to resolve the impasse, though only a few have directly criticized Trump.
Gardner, arguably the most endangered Senate Republican in 2020, in a statement called for McConnell to pass spending bills to reopen the government "while we continue to fight for more border security money." Senator Rob Portman of Ohio suggested reaching deals to reopen most of the government while the border fight continues.
And Senator Lamar Alexander of Tennessee suggested trading wall money for an immigration overhaul, saying Trump could have a "Nixon-to-China" moment. He noted Democrats had voted for $25 billion for the wall and other border security improvements last February in a package that would have passed if the White House hadn't tanked it at the last minute.
Meanwhile, Senator Pat Roberts, a Kansas Republican, proposed giving the president extra money for border security, but not a wall, as a middle ground.
But Trump hasn't stuck to any compromise offers, and some Democrats say they don't know who to negotiate with given that some offers have been made only to have Trump say or tweet something quite different.
Senator Dick Durbin of Illinois, the No. 2 Senate Democrat, sounded sympathetic to McConnell's plight after Trump torched McConnell's first attempt to resolve the crisis.
"The president pulled the rug out and said 'I'm not going to sign it,'" Durbin said. "Mitch has been burned. He's basically in a position where he says, 'I'm not going to be for anything until the president tells me he'll sign it.'"
Democratic Senator Chris Coons of Delaware pinned the blame squarely on Trump, saying the president has repeatedly tanked compromises and undermined negotiators working on his behalf.
"President Trump is the key. He's the reason that possible deal fell apart early last year. His refusal to accept any compromise measure other than $5 billion for a wall, period, is our problem today," Coons said.
Coons said if any compromise measures like the ones Alexander has floated are to be taken up, they first have to be backed publicly by Trump.
"Negotiating back and forth, back and forth with people who say they represent the president but aren't able to get him to make a public commitment isn't productive," Coons said.
Other Republicans said Democrats have voted for border barriers before and should agree to a compromise to fund them again.
"In this particular case we have a president who ran on a platform to have a wall," said Senator Chuck Grassley of Iowa. "And we have most of the Democrats in the United States Senate -- at least half or two-thirds of them -- have already supported 650 miles of wall or some wall going to the 1990s. So what's the big idea of a wall if they've all supported it?"
Grassley said McConnell also understands that GOP voters support Trump's wall, and suggested some compromise can be found in the definition.
Republicans are partly in this predicament because they and the White House gave higher priority to other items for the past two years in power, including tax cuts and a failed effort to overhaul the Affordable Care Act. They also have divisions within their own ranks, as some Republicans are less than enthusiastic about a massive border wall, preferring to talk about "border security" instead.
Trump's own budget, put together by now-acting Chief of Staff Mick Mulvaney, only asked for $1.6 billion for the border wall. Senate Democrats were prepared to back that figure -- but for other border improvements, not a concrete wall. Trump later upped his demands.
So far, Republicans aren't yet talking about overriding a presidential veto to reopen the government, as they stick with a president who remains popular among Republican voters.