McConnell Takes Divided GOP Into High-Stakes Stimulus Talks
(Bloomberg) -- Senate Majority Leader Mitch McConnell is taking the $1 trillion GOP virus relief package into negotiations with Democrats weighted down by a divided party and friction with the White House.
There's fresh urgency for Republicans to act months after McConnell pressed the "pause button" on new aid, as virus cases and deaths have soared and President Donald Trump's poll ratings have slumped, threatening GOP control of both the White House and Senate.
But the Senate Republicans are split sharply, with some conservatives such as Texas Senator Ted Cruz wanting to spend far less, if anything, on another stimulus amid record deficits, while others want more aid to state and local governments.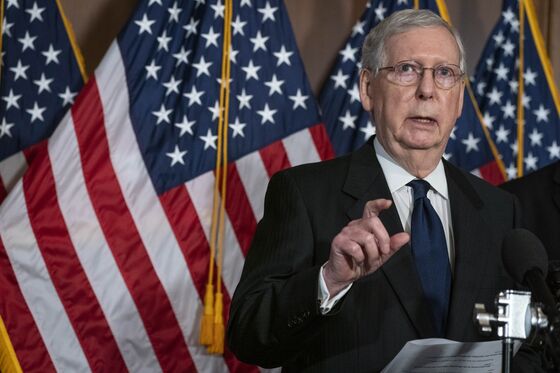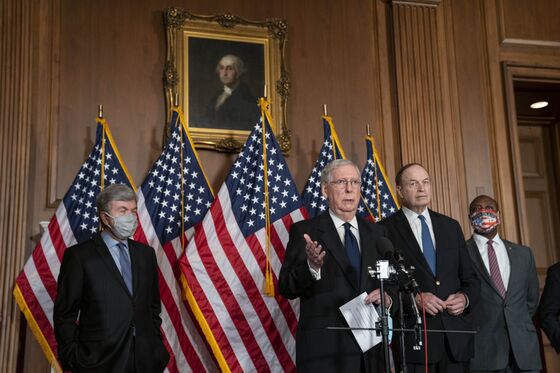 Democrats, who've proposed a $3.5 trillion virus relief package, are eager to exploit those divisions. After meeting for almost two hours Monday evening with Treasury Secretary Steven Mnuchin and White House Chief of Staff Mark Meadows, House Speaker Nancy Pelosi and Senate Democratic leader Chuck Schumer harshly criticized the GOP proposal and said McConnell wouldn't even be able to count on Republican backing if it was put before the Senate.
"It's pretty clear they don't have 51 votes in the Senate among the Republicans for a proposal," Schumer said.
With supplemental unemployment insurance expiring and other elements of the last stimulus legislation beginning to dry up, Congress has little time for extended negotiations. Lawmakers are set to leave for an August break in two weeks and will be facing a timetable compressed by the looming November election when they return in September.
"The American people need more help, they need it to be comprehensive, and they need it to be carefully tailored to this crossroads," McConnell said as he rolled out the GOP package.
Beyond party divisions, the Kentucky Republican also has been buffeted by demands from the White House, such as President Donald Trump's insistence on a payroll tax holiday, that had little support among Republicans or Democrats. That was rejected, as was Meadows's suggestion that Congress pass just a couple of the most vital items, such as supplemental unemployment benefits, while negotiations on a comprehensive package drag on through August.
But other White House priorities made it past him. McConnell appeared to express surprise when he was asked at a news conference about inclusion of $1.75 billion for a new FBI headquarters in Washington. That's been a pet project of Trump's but doesn't have much of a tie to virus relief plan that McConnell had touted as tightly targeted.
"You'll have to ask them why they insisted that be included," he said, referring to the White House.
Pelosi and Schumer highlighted the episode in their own news conference later.
The two Democratic leaders lambasted the Republican bill as insufficient to the moment, with the unemployment bonus payment cut by two-thirds from $600 a week to $200, no fresh aid to meet the shortfalls in state and local government revenue, no bonus food aid for the poor, and no rental assistance, among other provisions the Democrats included in their proposal.
Pelosi called the Republican proposal "pathetic."
"Having said that, we are going to see if we can find some common ground," she said. "But we are not there yet."
Another complication for negotiations is that congressional Republicans had been growing frustrated with Mnuchin and Meadows as the main White House emissaries. The GOP lawmakers are concerned that Mnuchin made too many concessions to Democrats in the massive March stimulus bill and that Meadows is too indecisive, according to people familiar with the matter.
Republican leaders don't want Mnuchin to meet with Pelosi without other White House officials or GOP lawmakers or staff present, the people said. Mnuchin negotiated earlier stimulus deals with Pelosi, maintaining a relationship with her even as she and Trump traded criticism. Two of the people said GOP lawmakers have complained that Meadows strikes deals and then reverses his position.
A spokesman for McConnell, David Popp, said it was "categorically false" that the majority leader has expressed displeasure with Mnuchin's dealings in the earlier stimulus. The White House didn't immediately respond to a request for comment.