McConnell Backs Herschel Walker for Senate, Embracing Trump's Pick
(Bloomberg) -- Minority Leader Mitch McConnell endorsed Herschel Walker for the U.S. Senate from Georgia, completing the establishment Republican embrace of the ex-professional football star recruited by former president Donald Trump in a 2022 race that will be key for determining which party controls the chamber.
McConnell said he was "happy" to endorse Walker's bid to defeat Democratic Senator Raphael Warnock, calling the former football star "the only one who can unite the party, defeat Senator Warnock, and help us take back the Senate" in a statement released by Walker's campaign.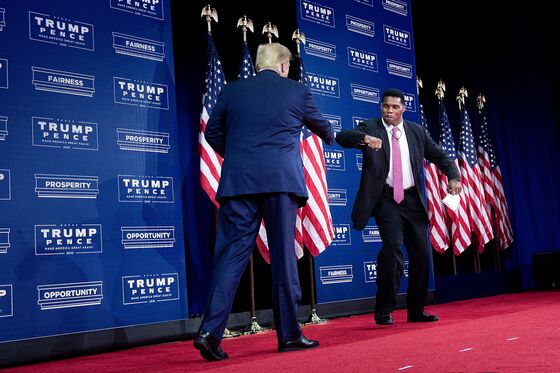 While Trump had called for Walker to run in March, some Republicans have expressed concern that they need a candidate with more experience in politics and fewer personal issues to unseat Warnock, who won a special election early this year. Warnock and Jon Ossoff won both of the state's Senate seats, the first time Democrats represented Georgia in the Senate since 2003.
Walker has faced allegations of threats and violent behavior from his ex-wife, who secured a protective order against him in 2005, according to the Associated Press, and a former girlfriend who told police in 2012 that Walker threatened to "blow her head off," according to the Atlanta Journal-Constitution. Walker said in a 2008 book that he had a mental illness called dissociative identity disorder. 
His campaign didn't immediately respond to a message seeking comment. 
The former football star has denied the claims by his former girlfriend and gotten help for his mental illness. He has also visited hundreds of military bases, hospitals and non-profits sharing his story, campaign spokeswoman Mallory Blount told CNN.
"It is sad that many in politics and the media who praised Herschel for his transparency over a decade ago are now making false statements, stereotyping, attacking, and attempting to sensationalize his past just because he is a Republican Senate candidate," Blount told the cable network.
McConnell's support of Walker follows endorsements by leading GOP senators including John Thune, the No. 2 Senate Republican from South Dakota, and Senator Lindsey Graham of South Carolina.
Walker announced his candidacy last month, joining others seeking the GOP nomination including Georgia Agriculture Commissioner Gary Black and Latham Saddler, a former Navy SEAL.
Black has criticized Walker for supporting "amnesty" and a pathway to citizenship for undocumented immigrants while he doesn't, saying on Twitter that "Georgia Republicans have a simple choice."