McConnell Dismisses Early Friction With Trump as Ancient History
(Bloomberg) -- Senate Majority Leader Mitch McConnell and President Donald Trump have bonded over one thing important to both men: Winning.
Last year, the reserved Kentucky Republican pleaded for "less drama" from the White House in the wake of the chaotic early months of the administration. And Trump ripped McConnell on occasion, including after the failure of GOP efforts to repeal the Affordable Care Act.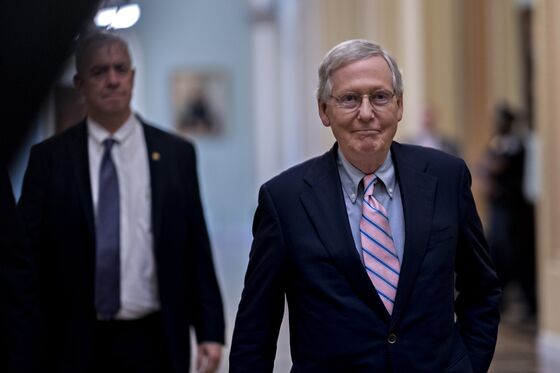 All that's "ancient history," McConnell said in an interview Tuesday with Bloomberg News. He said it's "fair to say" he's learned to love the drama.
"There's been no less drama, but it's been an extraordinarily successful Congress," McConnell said. "I think we understand each other better than we did last year. And it's not an exaggeration to say that we talk all the time."
McConnell's comments present a united GOP front three weeks before the Nov. 6 congressional elections, when control of Congress is at stake. A year ago it wasn't clear Republicans could stick together. But the majority leader has steadily ignored the daily Trump controversies to focus on tax-cut legislation and judicial confirmations, and he hopes for more success if Republicans manage to keep control.
At a rally in Kentucky Saturday, Trump praised McConnell's handling of the confirmation of Supreme Court Justice Brett Kavanaugh.
"He stared down the angry left-wing mob," Trump said. "He never blinked, and he never looked back, and he got us a man who will be one of our great, great Supreme Court justices." Trump later called McConnell "the greatest leader, in my opinion, in history. What we've done is incredible together."
McConnell says it's been "a terrific couple of years" with Trump in charge.
"Put me down as having no complaints about all we've been able to accomplish. And I hope we will have another couple years to do more of this," he said Tuesday.
For McConnell the relationship is about the bottom line: 84 judicial confirmations -- including 53 district court judges, 29 circuit court judges and two Supreme Court justices -- as well as a tax-cut law and rollbacks of government regulations.
"We're getting results," he said. "If you like America right of center, which people like me obviously would prefer, you can't find a better Congress than this one in a long, long time. I prefer to think about what we've done, and we've done it together."
Asked how Trump has changed the GOP, McConnell pointed again to wins on taxes, regulations and the courts.
"The change is that we've been successful at doing a lot of things we've been dreaming of doing for years, but the pieces weren't in place to accomplish things that we wanted," he said.
And nothing is more important to McConnell than securing conservative courts for a generation to come.
"I always dreamed of having an opportunity to put the kind of men and women on the courts that we've been able to do in the last few years," he said, vowing to confirm all of Trump's remaining court picks by the end of the year.
McConnell, at the same time, made it clear it's up to Trump to decide about a potential successor to Attorney General Jeff Sessions, whom some expect the president to fire after the Nov. 6 election. The majority leader wouldn't draw any bright lines when asked if a successor must commit to protecting Special Counsel Robert Mueller's investigation of Russian meddling in the 2016 election.
"Under the Constitution, the president gets to decide who these folks are," McConnell said. "I don't have any advice to give him about who ought to be in his cabinet."
McConnell a few months ago had publicly urged Trump to keep Sessions on as attorney general. His position on the Mueller investigation hasn't changed.
"With regard to the Mueller investigation, I've said repeatedly, since it started, that I think it should finish. And most of us would like to see it finish sometime soon," he said. "I don't think the president's made any suggestion he's going to dismiss Mueller or shut down the investigation."