McConnell Calls Khashoggi Disappearance 'Extremely Disturbing'
(Bloomberg) -- Senate Majority Leader Mitch McConnell said the disappearance and possible murder of journalist Jamal Khashoggi looks "extremely disturbing" but the U.S. needs to determine what role Saudi Arabia's government may have played before responding.
"Clearly we need to find out what happened before deciding what action should be taken," McConnell said Tuesday in an interview with Bloomberg News. "I can't imagine if what we think happened, that we would take no action."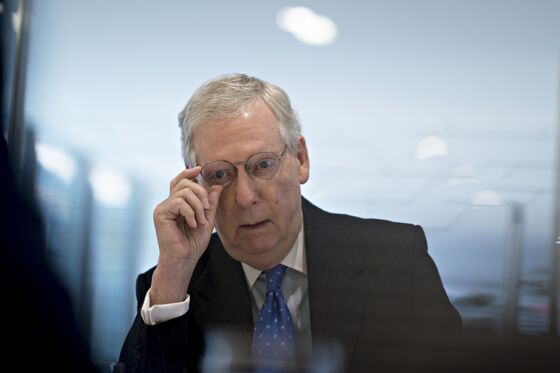 Asked whether that action would include halting arms sales to the Saudis, McConnell of Kentucky said he's not ready to say which form of action he would take. He said President Donald Trump did "the right thing" by sending Secretary of State Michael Pompeo to Saudi Arabia on Monday to meet with King Salman bin Abdulaziz.
The U.S.-Saudi relationship right now is "not great," the majority leader said in a separate interview with Bloomberg Television.
Trump said Monday that "rogue killers" might be responsible after talking by phone with the Saudi king, who he said offered a "flat denial" that his government was behind Khashoggi's disappearance and possible murder.
Turkish officials have said they believe Khashoggi, a Saudi citizen and U.S. resident who wrote for the Washington Post's Global Opinions section, was killed and dismembered inside the Saudi consulate in Istanbul on Oct. 2. The controversy is threatening to damage U.S.-Saudi relations. Lawmakers from both parties in the U.S. Congress are increasingly calling for action against the kingdom.
Republican Senator Bob Corker of Tennessee, chairman of the Foreign Relations Committee, said U.S. sanctions must be imposed if Saudi Arabia is found responsible for killing Khashoggi. Senator Rand Paul, a Kentucky Republican, has said he'll seek a vote to block future arms sales to Saudi Arabia.
A group of senators also sent Trump a letter invoking the Magnitsky Act of 2016, which gives the Trump administration 120 days to respond to the Senate Foreign Relations Committee with a decision on potential sanctions against officials responsible for human rights violations.
A Saudi official said the kingdom has begun an investigation ordered by the king into Khashoggi's disappearance, and could hold people accountable if evidence warrants it. The probe is separate from a joint investigation being undertaken with Turkish officials.
Saudi Crown Prince Mohammed bin Salman said in an interview with Bloomberg News a day after Khashoggi's disappearance that he believed the journalist had left Saudi Arabia's consulate in Turkey alive. The kingdom hasn't provided any evidence to support that claim.
Trump has built much of his Middle East policy around his close alliance with Saudi Arabia, the first foreign country he visited after taking office in 2017. Mohammed has twice visited the president in the Oval Office, most recently in March to kick off a glitzy investment tour of the U.S. that included stops on Wall Street and in Hollywood, California.