McCarthy Chooses 5 Republicans for Seats on Jan. 6 Committee
(Bloomberg) -- House Minority Leader Kevin McCarthy has picked five Republicans he wants Speaker Nancy Pelosi to approve for places on a new committee to investigate the Jan. 6 attack on the U.S. Capitol.
The committee is holding its first public hearing July 27.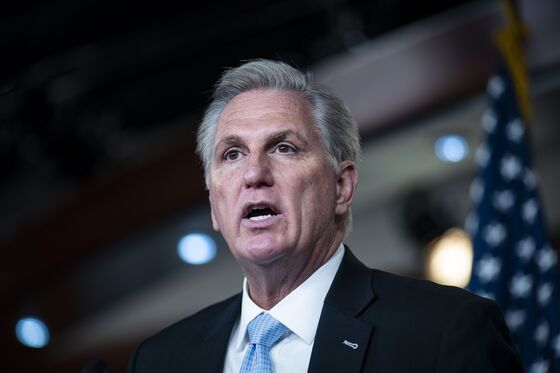 Topping McCarthy's list of GOP nominees is Representative Jim Banks of Indiana, chair of the Republican Study Committee, who McCarthy wants to serve as the ranking member of the panel.
Representatives Jim Jordan of Ohio, the ranking member on the House Judiciary Committee, Rodney Davis of Illinois, the top Republican on the Committee on House Administration, Kelly Armstrong of North Dakota, and Troy Nehls of Texas, a former sheriff, round out the list.
Both Jordan and Banks are prominent allies of former President Donald Trump.
Pelosi has already named her eight choices to the panel, including Representative Bennie Thompson of Mississippi as the chairman. She has included one Republican, Liz Cheney of Wyoming, to serve.
Pelosi moved to create the select committee to investigate the insurrection by supporters of Trump after Senate Republicans blocked creation of an independent commission to conduct an inquiry. The violence unfolded as both houses of Congress were certifying Joe Biden's victory in the 2020 presidential election.
Banks, in a statement, said, "Make no mistake, Nancy Pelosi created this committee solely to malign conservatives and to justify the Left's authoritarian agenda."
"Even then, I will do everything possible to give the American people the facts about the lead up to Jan. 6, the riot that day, and the responses from Capitol leadership and the Biden administration," Banks added. "I will not allow this committee to be turned into a forum for condemning millions of Americans because of their political beliefs."
In an interview, Jordan said that Democrats can't talk about inflation or crime, and "don't have anything else to talk about but January 6."
But he added that the approach of Republicans will be "all about getting to the facts."
Both McCarthy and Trump could be called to testify before the committee at some point.
Thompson has said he would consider calling Trump and Republicans who communicated with the president that day.
One of those conversations that Thompson and other Democrats have said they want to learn more about is a call between Trump and McCarthy on the afternoon of Jan. 6, in which McCarthy had described to colleagues as his begging the then-president to call off his supporters.
Trump was described as angrily responding that the rioters cared more about the presidential election results than McCarthy.