South Africa's Finance Minister Warns of Tough Choices as Debt Climbs
(Bloomberg) -- Tito Mboweni's appointment as South Africa's finance minister two weeks ago appeased investors, but the bleak picture painted in his first mid-term budget wasn't as well received.
Government debt will peak two years later, and higher, than previously forecast, the fiscal gap will widen further and state revenue will continue to undershoot, according to estimates for the next three years that Mboweni presented to lawmakers in Cape Town Wednesday. The rand and bonds plunged.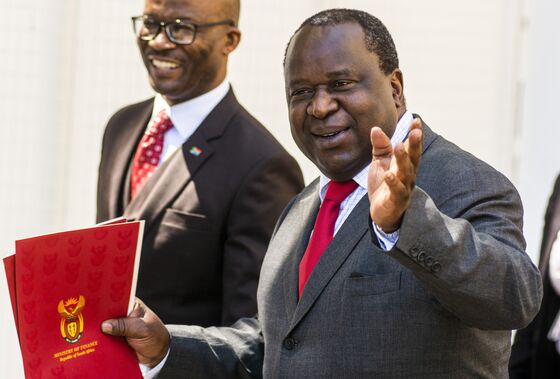 The nation's fifth finance minister in less than three years, Mboweni, 59, must boost investor confidence and growth in Africa's most-industrialized economy after almost nine years of economic mismanagement under former President Jacob Zuma. Cyril Ramaphosa, who succeeded Zuma in February, has pledged to lure $100 billion to the country in the next five years and will host an investment summit in Johannesburg from Thursday.
"We must choose a path that stabilizes and reduces the national debt," Mboweni said in his mid-term budget speech. "We cannot continue to borrow at this rate. We must choose to reduce the structural deficit, especially the consistently high growth in the real public-service wage bill."
The rand erased an earlier gain, weakening as much as 1.9 percent against the dollar after Mboweni started speaking, while the yield on the 2026 local-currency bond jumped 14 basis points to 9.3 percent.
The Treasury more than halved its economic growth forecast for 2018 to 0.7 percent after the economy plunged into a recession in the first half of the year. Gross domestic product hasn't expanded at more than 2 percent annually since 2013 and unemployment is at 27 percent.
"Government needs to take some difficult decisions to get the economy on a higher growth path and to encourage job creation," Mboweni said.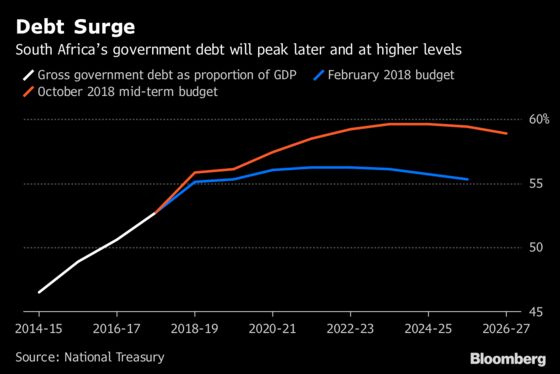 Moody's Investors Service, the only one of three major ratings companies that still assesses South Africa's debt at investment grade, said last month it wants to see government debt stabilizing.
This will now only happen in 2024, at almost 60 percent of gross domestic product, and not at 56 percent in 2022 that was forecast in February. Mboweni also sees a wider budget deficit as wider over the next two years, coming in at 4.2 percent next year compared with economists' estimate of 3.6 percent.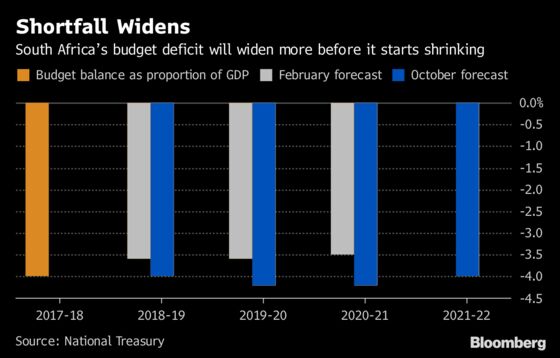 Wednesday's mid-term budget makes very little mention of the nation's sovereign credit ratings, aside from pointing out that another downgrade of the local-currency debt would lead to higher risk premiums and capital outflows.
"I was clearly too optimistic that Mboweni would announce enough fiscal tightening to keep the ratings agencies at bay," Win Thin, the global head of currency strategy at Brown Brothers Harriman & Co in New York, said by email. "Risks of downgrades have gone up significantly."
Mboweni said the government was making the best of "a very difficult" situation and investors may temper their initial reaction.
"Once markets look overall at what's contained in the statement, they will get a sense of balance," he said. "I suspect they will calm down a bit."
What Our Economist Says
The medium-term budget statement suggests the government sees winning the 2019 election as more important than fiscal prudence. But if Moody's downgrades its rating it may cause a sell-off in the rand, bringing an end to the current period of low inflation. And that may prove more damaging for the government's popularity with the electorate. 

- Mark Bohlund, Bloomberg Economics
Wednesday's budget may also make it more difficult to persuade investors that a stimulus plan mooted by Ramaphosa last month will reverse the decline.
The budget shows that the government will rejig spending to direct more money to industry that may create jobs -- clothing and textile incentives and job creation on the state's public works program. The state is working on setting up an infrastructure fund and will give an update in February.
"Unfortunately, what this MTBPS appears to demonstrate is that this government is unable to make hard decisions, as reflected by the public sector wage increases and subsequent lack of consolidation," said Nazmeera Moola, deputy managing director of Investec Asset Management in Cape Town. "The ultimate key to success and stability is growth. Growth will create jobs, boost government revenues and stabilize the fiscus."