May Wins Confidence Vote, Now What?: Balance of Power Extra
Theresa May has won the battle. There's still the war to fight.
The British prime minister tonight survived an attempted ousting by lawmakers in her Conservative Party. Winning a confidence vote 200 to 117 gives her some breathing space after months of speculation about her leadership. The margin was tighter than some had expected however, and the pound, which had risen in advance of the vote, pared some of its gains afterward.
The challenge remains to secure a deal for Britain to exit the European Union in March. Members of May's own party oppose the agreement she's cobbled together, saying it ties the U.K. too closely to Europe. But European leaders are not in the mood to give her further concessions. If she can't get her agreement through parliament, the U.K. is at danger of crashing out of the EU with no deal at all.
And political risk has not disappeared entirely. The main opposition Labour Party could trigger a formal vote of no confidence in the government – but would only do this if it's sure to win. And to do so, it would require an uncomfortable alliance with mutinous Tory lawmakers willing to bring down their own administration in order to torpedo May's Brexit plans. For the prime minister, the reprieve could be short-lived.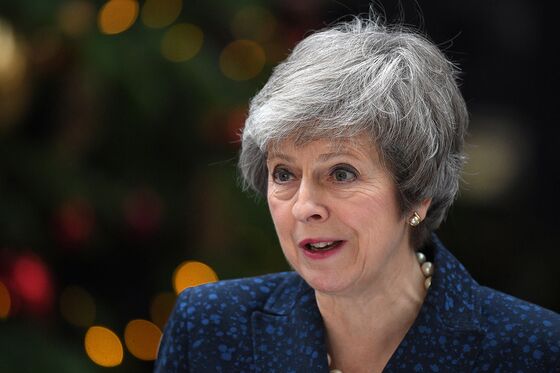 Remaining risks | While May's own party can't call another confidence vote for a year, it doesn't mean all doors are closed. Any member of parliament can seek a government confidence vote, but only opposition Labour Party leader Jeremy Corbyn can bring it on. So far he's shied away from that. He'd need a majority of all lawmakers – including smaller parties plus some of May's Tories – to back him. Also, if it ended up in the aftermath that no government is formed that can win a confidence vote, he could trigger an election.
Even though the heat is off for now, the leadership talk is likely to continue, and here are the people to keep an eye on.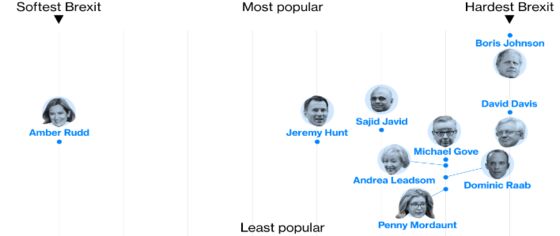 Getting on with business | U.K. companies will keep fretting over the prospect of a no-deal departure from the EU, or at least a delay in negotiations. David Kershaw, CEO of advertising agency M&C Saatchi, says his clients are "pondering what kind of Brexit, or indeed not," there will be as they draw up budgets for 2019. Since the initial vote to leave in 2016, companies from Airbus to Jaguar Land Rover have demanded clarity on the U.K.'s future relationship with the bloc.
Europe isn't in the mood | May heads to Brussels to meet other EU leaders, but they don't appear inclined to give her more concessions, including on the key sticking point of how to avoid a tangible border between the Republic of Ireland and Northern Ireland. No decision about delaying Brexit can be made until January, diplomats say. An emergency summit might in needed in the new year, one adds.
Doing a deal | The prime minister told Conservative lawmakers tonight she won't stand in the next election, suggesting that was a trade-off for their support in the confidence vote. She'll see things through Brexit, but will move aside at some point. An election is not scheduled until 2022, though the opposition is gunning for one sooner. May was responsible for the party's disastrous showing in 2017 – she went from predictions of romping to victory to just scraping back into power, after a campaign that suffered a series of policy and presentational gaffes.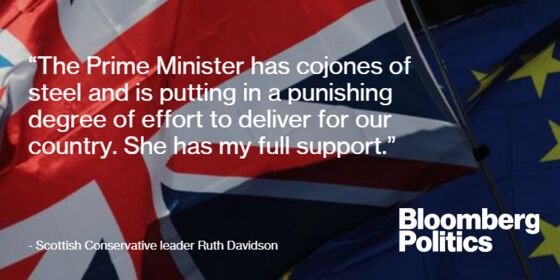 The reality of Brexit | As politicians argue in Westminster the broader population is showing greater anxiety as the EU exit date draws nearer. House prices are rising at their slowest pace in six years, with London the hardest hit. The government has told supermarkets to keep as much stock as possible in warehouses in case there is a no-deal Brexit. It is also trying to find new ways to get things like medicines into the country. And eight out of the 12 British nations and regions saw a net outflow of talent overseas in October.
And finally ... She's been dubbed the Teflon prime minister – no matter what you throw at her, she comes back. That's despite some low points, many of them captured on tape: from Donald Trump grabbing her hand on a White House tour to a prankster handing her a you've-been-fired letter at a Tory party conference against a backdrop of a collapsing stage. She's been laughed at for her dance moves and mocked for her robotic rhetoric. This week in Berlin, on her way to see Angela Merkel, she was trapped in her car. Her victory tonight suggests she's got the last laugh.