The List of Contenders to Replace May as Tory Leader Is Growing: Brexit Update
(Bloomberg) -- Government talks on a Brexit compromise with the main opposition continue on Thursday, as Labour leader Jeremy Corbyn called on Theresa May to move her red lines to secure a deal.
Government talks with Labour to continue on Thursday
Corbyn says government must move for "difficult" talks to succeed
U.K. spokesman says "significant work still to do" in negotiations
The pound fell
May Appoints New Foreign Minister in Mini Reshuffle (6:11 p.m.)
Andrew Murrison will become a minister of state at the Foreign Office, replacing Alistair Burt who quit on March 25 to oppose the government on Brexit. According to statement from number 10 Downing Street, Robert Buckland will move from his role as solicitor general to become a minister at the Ministry of Justice. He'll be replaced by Lucy Frazer, who was previously a junior minister at the department. Paul Maynard will take her previous role.

McVey to Stand for Tory Leader (2:20 p.m.)
The field of contenders to replace May grew again on Thursday when former Cabinet minister Esther McVey announced she would stand. Asked whether she will be a candidate once May resigns, McVey told talkRADIO: "I have always said quite clearly if I got enough support from my colleagues, yes I would. Now people have come forward and I have got that support, so I will be going forward."
The pro-Brexit politician is a former TV presenter and spearheaded a campaign earlier this year called Ladies for Leave. She quit May's team in November because she couldn't accept the terms of the divorce deal the premier had agreed to with the EU.
The Conservative Party needs a leader who "believes in Brexit", and "the opportunities" it can offer, she said.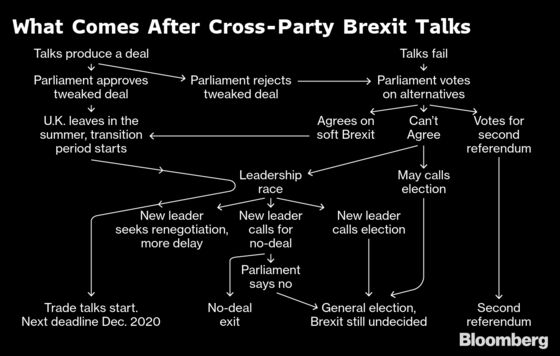 Can May Stay Until October? Rudd Won't Say (12:30 p.m.)
Work and Pensions Secretary Amber Rudd dodged a question about whether she'd run to succeed Theresa May as Tory leader and refused to speculate on whether the prime minister could stay in her job until October.
"The prime minister has said she's going to leave after the first stage of Brexit is completed," Rudd said at an event in central London. "My response is that we need to hold our nerve and allow her to do that."
Rudd said she is hopeful a deal can be struck with Labour and if that doesn't work, May will hold a series of Indicative Votes on different options. The Withdrawal Agreement Bill be brought to the House of Commons "when we have the numbers," Rudd said.
Hammond: Tories Must Move Fast After May Exit (12 p.m.)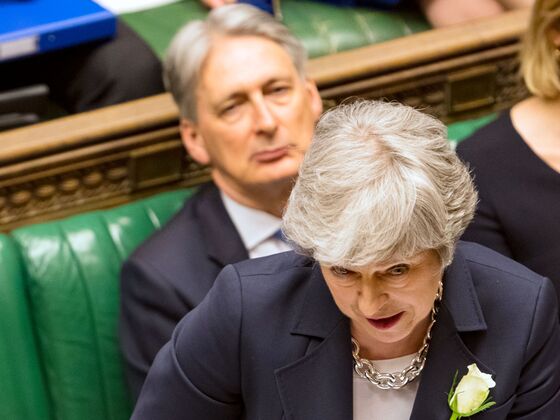 In an interview with the Evening Standard, Chancellor of the Exchequer Philip Hammond said a leadership contest must take place "as soon as possible" after a Brexit deal is done and Theresa May steps down. He didn't rule out a new leader being in place in time for the annual party conference in the fall, according to the newspaper.
"For those who think she should go sooner, the answer is simple: vote for the deal and it's done and we can move on," Hammond told the newspaper.
'Significant Work' Still Needed in Talks (11:45 a.m.)
Government talks with the Labour Party will continue on Thursday, Prime Minister Theresa May's spokesman, James Slack, told reporters in London, adding that "there is definitely significant work still to do if we are to find a way forward."
"There have been two significant and lengthy discussions between the two groups this week," Slack said. The government is working toward building a majority for the Withdrawal Agreement Bill and hopes to bring it back to Parliament as soon as possible, he said.
"The prime minister is focused on getting Brexit over the line," he said.
Corbyn: Government Must Move Red Lines (11:40 a.m.)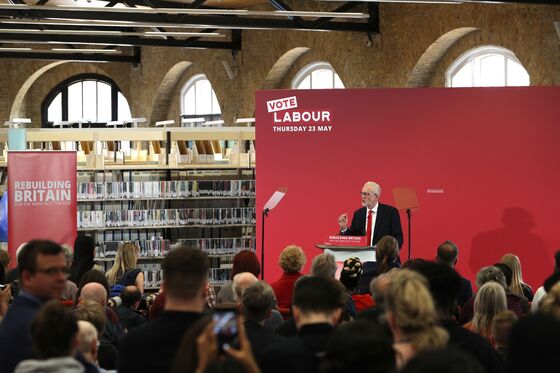 Labour leader Jeremy Corbyn has launched his party's European elections campaign. The bulk of his speech in Chatham, southeast England, was an attempt to move the conversation away from Brexit, on which Labour is split.
But he did mention the talks with the government. "They have been difficult, because essentially the government is in some degree of disarray itself," he said. "The government has to move its red lines."
No Brexit Bill Scheduled in Commons Next Week (11:10 a.m.)

Andrea Leadsom, leader of the House of Commons, didn't announce the return of Theresa May's Brexit deal to Parliament when she outlined next week's business on Thursday morning.
The introduction of the Withdrawal Agreement Bill is "subject to the talks with the opposition," Leadsom said. "It's the government's intention to seek cross-party agreement to get a bill the whole house can support."
"It's absolutely essential we leave the European Union, it's utterly unacceptable we haven't done so yet," Leadsom told MPs.
Cable Doesn't Expect Government-Labour Deal (9:30 a.m.)
Liberal Democrat leader Vince Cable said he doesn't expect talks between the government and the opposition Labour Party to get a Brexit deal over the line unless it's put to a second referendum or confirmatory public vote -- something Theresa May has repeatedly ruled out.
"Certainly I and my party, and the other Remainers in the House of Commons would vote for the deal if it were subject to a referendum," Cable said in an interview on Bloomberg TV on Thursday. "It's the only way out of this mess."
Cable said he still plans to step down as leader despite the party's better-than-expected showing in local elections last week, and the party is working on a succession. There's a "high probability" of a general election this year, he said, though he added that wouldn't resolve the Brexit problem because Parliament was likely to end up just as split.
"There may be a shuffling of the pack, but the fact is the country is badly divided," he said.
Gauke: Let May Stay And Deliver Brexit (Earlier)
Justice Secretary David Gauke said the Conservative Party shouldn't try to eject the prime minister "until we have addressed the manner of our departure from the European Union." In a speech about the future of the party, he ruled himself out of running to succeed her, and warned contenders against going down the path of populism.
In a coded attack on former Foreign Secretary Boris Johnson, who has argued the Tories should take inspiration from Donald Trump, Gauke warned that the party was already in retreat in London, and could suffer more "if we are seen to be hostile to the values of liberal, university-educated, centrist voters."
In a swipe at May, he said it was a mistake for the Conservatives to try to represent only one side of the Brexit debate. And he accused Brexiteers of refusing to "accept that some choices have cost," with the result that "the debate about our future relationship has been, too often, characterized by wishful thinking." This, he said "has not survived the collision with reality."