May to Tell G-20 Her Brexit Deal Is Good for the World Economy
(Bloomberg) -- U.K. Prime Minister Theresa May headed to the Group of 20 summit in Argentina with a message for world leaders: Her Brexit deal is good for the global economy.
The claim is at odds with analysis by May's own economic advisers, who say Britain's best option would be to stay in the European Union. But it's a variant on her sales pitch since sealing a deal with the EU at the weekend on the terms of Britain's departure and a political framework for its future relationship.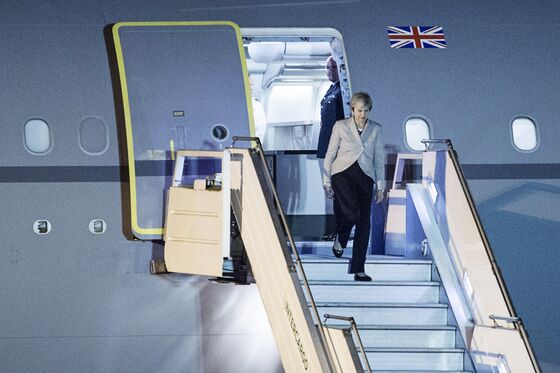 In Buenos Aires, she'll set out what Brexit means for Britain's trading relationships around the world, her office said.
"For the first time in more than four decades, the U.K. will have an independent trade policy," May will tell leaders, according to remarks emailed by her office. "We will play a full and active role in trade on the global stage, working with friends new and old, at a time of unprecedented global interconnectedness."
The timing of the summit is tricky for May. The people she most needs to persuade of the merits of her deal are back in the U.K.: the 650 members of the House of Commons who on Dec. 11 will vote on whether to give it their support.
There's every sign they won't, and that would leave May with a set of unpalatable options that range from taking Britain out of the bloc without a deal -- with potentially disastrous economic consequences -- to holding a second referendum.
The visit to Argentina also has potential pitfalls. The person she most wants to sell the deal to is U.S. President Donald Trump because a trans-Atlantic trade deal has been held up as one of the greatest prizes of Brexit. But the president has criticized her agreement with the EU and said it could hamper attempts to broker a deal. May's office says she hasn't sought a bilateral meeting with him.
There is also potential for awkwardness in the presence of Saudi Crown Prince Mohammed bin Salman. While Saudi is a close ally of the U.K., questions surround its role in the killing of journalist Jamal Khashoggi at the Saudi consulate in Istanbul. A senior U.K. government official signaled she'd shake hands with the prince if the occasion arose and would request full transparency on the Khashoggi case.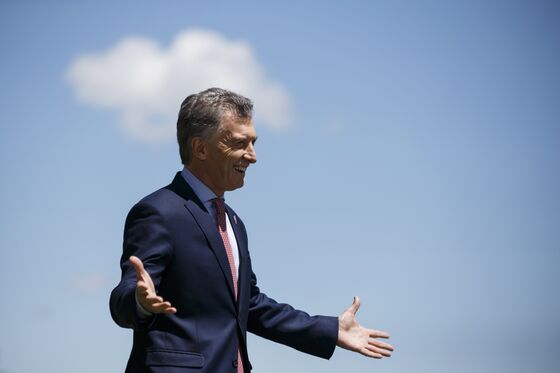 May's visit is the first by a U.K. prime minister to the Argentinean capital and on Friday she'll meet with President Mauricio Macri. The two nations fought a war in 1982 over the Falkland Islands, and while the issue of the islands' ownership is likely to be raised by the hosts, their discussions are likely to center on strengthening economic and trading ties.
At the G-20, May's office indicated she'll also:
Speak in favor of overhauling World Trade Organization rules to make them relevant to the modern economy -- including liberalizing trade in services
Announce the first ever U.K. trade envoy to Argentina
Discuss with Chilean President Sebastian Pinera the progress made in rolling over its EU trade deal to apply to Britain after Brexit
Call for the G-20 to take action to ensure that all girls receive 12 years of quality education by 2030
Underline the U.K. commitment to tackling climate change