May Tells U.K. Conservatives End of Austerity Is in Sight
(Bloomberg) -- Prime Minister Theresa May promised austerity-weary Britons an end to years of public spending cuts, in a speech designed to paint a positive vision for the country outside the European Union.
"A decade after the financial crash, people need to know that the austerity it led to is over and that their hard work has paid off," May told the Conservative Party conference in her keynote speech in Birmingham Wednesday.
Chancellor of the Exchequer Philip Hammond has faced months of calls to end the squeeze after a backlash cost the Conservatives their parliamentary majority last year. The government has already relaxed a 1 percent cap on pay increases in place since 2010 and promised extra funding for the National Health Service, a response to the electoral threat from the opposition Labour Party led by socialist Jeremy Corbyn, who has pledged to increase spending.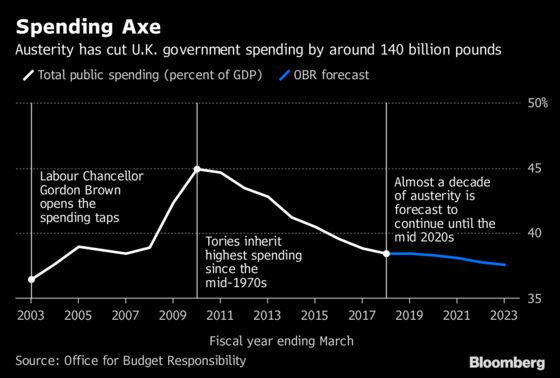 Britain has brought down the budget deficit from a peacetime record of almost 10 percent of gross domestic product in 2009-10 to less than 2 percent in the last fiscal year, but the cost has been felt keenly, with almost 140 billion pounds ($182 billion) of spending cuts hitting public services and social aid at a time when wage packets for millions of people effectively stagnated.
Public spending in Britain has fallen to about 38 percent of GDP from 45 percent in 2010, according to figures from the Office for Budget Responsibility. Nowhere has the ax fallen hardest than on local authorities, which have shed more than half a million jobs -- around a tenth of their workforce -- over the past eight years.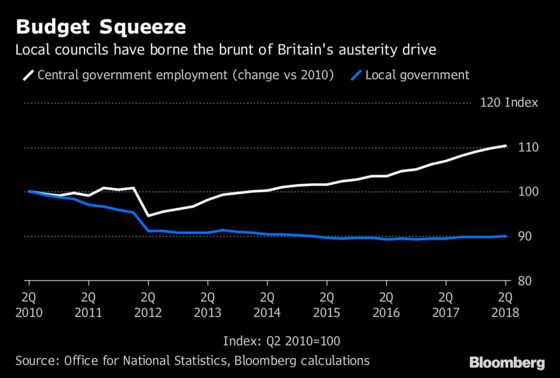 But May's claims that austerity is ending were questioned by economists, with the Resolution Foundation noting that further tax rises and spending cuts will be needed if Hammond is to achieve his ambition of balancing the books in the next decade.
An extra 12 billion pounds of spending will be necessary in 2022-23 to prevent real day-to-day spending per person falling as planned, Director Torsten Bell said. And even then there would be losers, as savings are sought to pay for budget boosts pledged to departments such as health.
May contrasted her government's pursuit of "sound finances" with the "endless expensive promises" of Labour, which has committed to nationalizing industries, ending university tuition fees and spending more on public services if it wins office.
The government's new approach will be set out in a Spending Review next year "after we've secured a good Brexit deal for Britain," May said.