May Talks Trade as Domestic Troubles Mount Over Brexit Deal
(Bloomberg) -- Prime Minister Theresa May began a day of meetings with foreign leaders aimed at strengthening the U.K.'s future trade ties as domestic opposition to her Brexit deal mounted.
May met on Saturday with her counterparts from Australia, Japan, Canada and Chile at the Group of 20 summit in Buenos Aires. All offered supportive remarks on trade ties. Australian Prime Minister Scott Morrison and Japan's Shinzo Abe expressed support for the agreement May reached with the European Union on Sunday, setting the terms for Britain's departure from the bloc, and praised her leadership.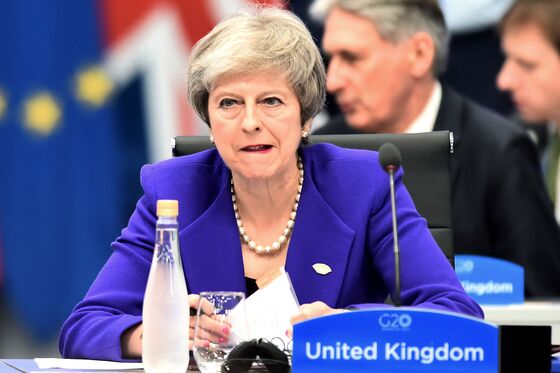 Back in Britain, the premier was hit by the resignation of Science Minister Sam Gyimah, who slammed her Brexit deal in a lengthy Facebook post, while Culture Secretary Jeremy Wright appeared to go off-message, suggesting that if Parliament rejects May's agreement with the EU it could lead to a second referendum. That's something May has said won't happen on her watch. Wright told BBC radio on Saturday that people rejecting May's deal should compare it to the alternatives, and not an "idealized" vision of Brexit.
The alternatives "don't look attractive," he said. "They are essentially either we leave with no deal which would have serious economic consequences, or we say to the British public: 'I'm sorry you got it wrong, you're going to have to do it again,' which I think would have serious democratic consequences."
U.K. lawmakers are set to vote on May's Brexit package on Dec. 11, and all the signs are she's heading for a large defeat. All opposition parties say they'll oppose it, as do her allies in Northern Ireland's Democratic Unionist Party, and about 100 members of her own Conservatives.
Brexit-supporting Tories have been the most vociferous antagonists of the deal, which they say would turn Britain into a "vassal" state of the EU. Gyimah -- the 22nd ministerial resignation since last year's election -- swells the growing ranks of pro-European Conservatives voicing displeasure, with many calling for a second referendum, or People's Vote to resolve the issue.
"We shouldn't dismiss out of hand the idea of asking the people again what future they want, as we all now have a better understanding of the potential paths before us," Gyimah wrote. Under May's deal, Britain has "surrendered our voice, our vote and our veto."
May herself has stuck rigidly to the line that she can win the parliamentary vote, and refused to tell reporters traveling with her to Buenos Aires whether she had a plan B. She's counting on the support of foreign leaders to buttress her case, with a message that rejection of the deal would put voters' jobs at risk.
Both Abe and Morrison paid tribute to May's leadership and expressed optimism about future trade ties. The Japanese leader issued an appeal for May "to avoid no deal as well as to ensure transparency, predictability as well as legal stability in the Brexit process."
Canadian Prime Minister Justin Trudeau and Chilean President Sebastian Pinera both discussed with May progress on rolling over existing EU trade deals into bilateral agreements with the U.K. after Brexit. Trudeau said U.K. and Canadian officials have been "working behind the scenes over the past year plus to ensure that there is a seamless transition."
"That's obviously a big part of making sure that the CETA trade deal that we have with Europe moves smoothly and completely to the U.K. on Brexit," he said.
On Friday, May held a controversial meeting with Saudi Crown Prince Mohammed bin Salman, who's under fire over the killing of columnist Jamal Khashoggi. It was the sole bilateral meeting that May's office didn't invite the U.K. press to, only offering reporters a single official photo of a stony-faced May sitting a short distance from the prince.
The damage-limitation effort was thwarted by the Saudis, who invited a camera crew in to film the two shaking hands. She planned to raise the issue of Kashoggi's murder also with President Recep Tayyip Erdogan in her final meeting on Saturday.