May Appeals to Voters as Gibraltar Spat Drags on: Brexit Update
Prime Minister Theresa May is fighting to win domestic backing for her Brexit deal and is appealing directly to voters over the heads of politicians.
Gibraltar has popped up as a last-minute snafu as May races to finish line
May is doing some outreach directly to public to try and corral support
Lots of war-gaming going on about how she can get deal past Parliament
Government Launches Brexit Rebuttal Blog (5:12 p.m.)


Theresa May's government has taken the unusual step of launching a blog to "offer rebuttal to criticisms and inaccurate reporting in the lead up to Parliament's meaningful vote" on the prime minister's Brexit deal.
The blog so far contains responses to a City A.M. article on "the 10 capitulations of Theresa May" and a Spectator piece giving "the legal verdict" on May's deal. It dismisses various claims in both articles as "incorrect" and "untrue."
Hunt Backs May For 'Hardest Job' in Western World (4:40 p.m.)
Foreign Secretary Jeremy Hunt gave his support to May in a Facebook Live video Friday, saying he'd received a "huge number" of emails asking about her Brexit deal and whether it is a sellout.
He said it offers what people voted for and that they have to ask themselves, now they have seen both the political declaration and the withdrawal deal, "can this agreement be a staging post to what you want?" He added that that prime minister has the hardest job of any leader in the Western world.
Sanchez Has an Eye on Elections in Andalusia (3 p.m.)
It's worth remembering that there's a domestic political backdrop to Spain's stance on Gibraltar -- elections on Dec. 2 in Andalusia, a traditional stronghold for Prime Minister Pedro Sanchez's Socialist party. Fitch Solutions made that point today in a research note saying Sanchez's forthright stance on the Gibraltar text wording may boost his appeal to voters in a region that is next door to the Rock.
Spain Says U.K. Relents on Gibraltar (1:52 p.m.)
Spain might have jumped the gun. A junior EU affairs minister, Marco Aguiriano, said that "we have a commitment or promise from the British government to declare that they share the interpretation" of Spain with regards to Gibraltar. But there is no sign that the U.K. have budged on this issue. A EU diplomat said that the U.K. has been asked to make a statement but there are no guarantees that it will.
In the draft of the Summit's conclusions seen by Bloomberg, there are two placeholders for sections which are left blank. The first placeholder is titled 'Art. 184 of the Withdrawal Agreement' and the second 'territorial scope of future agreements'. Both appear to be related to Gibraltar and are the only loose ends remaining in an otherwise done deal. Draft wording on these sections will be circulated tonight, the EU diplomat tells us, whether there's a U.K statement or not.
May Says U.K. Can Build Better Future (12:57 p.m.)
With her former Brexit secretary saying earlier Friday that May's deal is worse than staying in the European Union, even the Prime Minister couldn't be pushed to give a resounding backing to Brexit.
Asked by a BBC listener if Britain would be better off after Brexit, she hesitated before eventually saying Britain could build a better future outside the EU.
"It's a different sort of environment and a different approach we'll be taking to things," said May. "What will make us better off is not so much whether we're in the EU or not but what we can do."
Back at Square One (12:50 p.m.)
May was asked in a BBC phone-in what happens if the deal doesn't get through Parliament the first time. This is widely seen as a risk.
"If this deal doesn't go through what happens is we end up back at square one," said May. "What we end up with is more uncertainty and more division, frankly."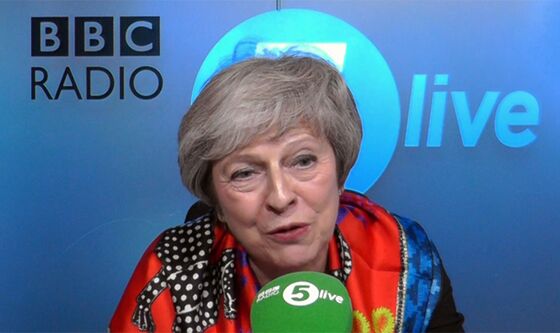 She ruled out the European Union being willing to renegotiate the deal and said "this is the deal."
Declaration Approved With No Amendments Seen (12:30 p.m.)
Senior aides to EU leaders met this morning in Brussels and, as expected, they approved the political declaration on the future ties between the bloc and the U.K., an official familiar with the behind-closed-doors meeting told us. As the text is now considered stable, it is unlikely that EU governments will accept amendments, either after May's visit to Brussels on Saturday, or to satisfy Spain over Gibraltar.
On Gibraltar, the sherpas failed to conclude on the wording of a planned separate statement to be issued at Sunday's Summit and intended to address Spain's concerns, the official told us. Two other officials said work is continuing, and even though we are not there yet, there is light at the end of the tunnel, as more talks are planned for this afternoon.
"We are working hard," Michel Barnier said when asked about the matter after the meeting.
Officials also added further caveats to a separate addendum which will be attached to Sunday's EU Summit decision. The annex reiterates that an EU-U.K. fisheries agreement building "on existing reciprocal access and quota shares," and that any decision on the extension of the transition period will take into account the fulfillment of the obligations by the U.K under the withdrawal agreement, including its Northern Ireland protocol. EU governments will vow to be directly involved in any decision to grant an extension to the transition period.
Gibraltar Compromise Being Sought, Barnier Says (12:09 p.m.)
"We are working hard," EU's chief Brexit negotiator Michel Barnier says, when asked whether a compromise over Gibraltar has been reached.
EU and Spanish officials to continue working on a satisfactory solution to be reflected in EU statement on Sunday after aides failed to finalize a deal over Gibraltar during a meeting on Friday morning in Brussels to discuss Brexit.
Luis Marco Aguiriano, Spain's Secretary of State for the European Union, told Onda Cero radio earlier this morning that the chances of getting an accord were six out of 10.
EU Tight-Lipped On Gibraltar Issue (11:40 a.m.)
A European Commission spokesman dodged a stream of questions from journalists on the topic of Gibraltar during the daily press conference in Brussels. When asked whether the row could lead to the postponement of Sunday's EU summit, Alexander Winterstein said: "I expect it to take place."
Answering criticism of the Commission and chief Brexit negotiator Michel Barnier over the Gibraltar issue, he said they had "negotiated in good faith." He said the text of the Brexit deal was agreed "in principle," and it still needed endorsement by national governments.
Strategies to Get Deal Through Parliament (11:23 a.m.)
With eyes now on how May will defy parliamentary math to get her deal through, her spokeswoman was asked about something that's become known as the two-step vote process. Essentially it would entail bracing the government for a defeat at the first attempt, watch the markets have a meltdown and then put it to the vote again having spooked lawmakers into submission.
May's spokeswoman Alison Donnelly said it absolutely was not the government's strategy. An official, speaking on anonymity, said it would be a wildly irresponsible undertaking.
This is where this particular rumor got started.
Give Us Our Money Back (10:52 a.m.)
U.K. Lawmakers, angered by payments to the EU after Brexit, are trying to find ways to claw money back. Parliament's Defence Committee and European Scrutiny Committee this week took evidence from a junior defense minister, Stuart Andrew, who told them that Britain had contributed 1.15 billion euros ($1.3 billion) to the EU's Galileo satellite navigation system program.
The EU refuses to give Britain full access to the secure elements of the program after Brexit, and so the U.K. has vowed to go it alone with its own array of navigational satellites. The heads of the two committees, Julian Lewis and Bill Cash, flagged up that expenditure in a statement on Thursday, with Lewis saying "we should demand a rebate, with interest, of that sum."
Tories Risk Losing Voters With Brexit Plan: Davis (10:36 a.m.)

Former Brexit Secretary David Davis is the latest to call on May to rethink her Brexit plan, saying in a blog on news website Huffington Post that the Conservatives risk losing the next general election otherwise.
"If this declaration is allowed to stand and the Withdrawal Agreement is passed we will not be easily forgiven and we will inevitably be sleepwalking to electoral defeat at the next General Election," he said.
Davis added that the proposed agreement means the U.K. will "not really be leaving in March" and will instead be trapped in the backstop and tied to EU institutions.
EU Officials Meet in Brussels to Sign Off on Deal (10:20 a.m.)
Aides to EU leaders from the 27 member states, known as sherpas, are meeting in Brussels today to sign off on the deal on future U.K.-EU ties. The meeting, which started at 10 a.m. CET, should hopefully pave the way for the summit on Sunday to simply rubber-stamp the deal.
The risk is that after the Commission sought to sidestep individual countries' objections by rushing the deal out Thursday, some may use the Sunday meeting to make their objections heard.
Avoid 'Thelma & Louise' Brexit, Gibraltar Chief Says (9 a.m.)
With Spain threatening to veto the Brexit deal (which it can't) over the issue of Gibraltar, the territory's chief minister Fabian Picardo appealed for calm.
If Spain succeeds in reopening the text of the agreement at a summit this weekend, it will allow Tories in London, and the French government and others to demand changes to the deal as well. That could unravel the whole process, he said.
Picardo told BBC Radio 4's Today program that MPs should back the deal rather than driving the U.K. into a chaotic exit. "We are paid to bring certainty to the lives of individuals and to the prospects of business," he said. "Anybody who says my political view, my political prospectus is that we should drive over this cliff like a political Thelma & Louise isn't thinking about the best interests of the people of the United Kingdom or Gibraltar."
Hinds Says Parliament Will Block 'No Deal' Brexit (8:20 a.m.)
May sent her education secretary, Damian Hinds, onto the airwaves on Friday to defend her plan and rally support for it. He did not sound confident that MPs will back the package, saying only that while it seemed to lack support now, it will gain "more traction" before it comes to a vote.
Crucially, Hinds endorsed the view that Parliament ultimately won't allow the U.K. to crash out of the EU without an agreement. It's probably correct that there's no parliamentary majority for no deal, he told BBC Radio's Today program.
The minister also accepted that the outline of a future trade accord -- published on Thursday -- does not repeat May's promise of "frictionless" trade between the U.K. and the EU.
Raab Says the Deal Will Get Voted Down (7:50 a.m.)
Former Brexit Secretary Dominic Raab predicted May's deal will "inevitably" be voted down when Parliament has its say. At that point alternative plans -- including a No Deal exit -- will need to be considered, he said.
The former minister -- who quit May's cabinet in protest at her plans last week -- renewed his criticism of her deal in an interview with BBC Radio 4's Today program. He said the EU wanted to lock the U.K. into its trade regime with no say over the rules, so that Britain can't get a "competitive advantage" over the bloc. "We would have to kowtow to them."
May Appeals to the Public (7:30 a.m.)
May will try to sell her Brexit deal directly to the public on Friday, with a simultaneous BBC radio and television question and answer session.
Her plan seems to be to get the public to put pressure on members of Parliament to vote for her deal when she puts it to the House of Commons -- probably in December.
On the current showing, it seems that May is struggling to get enough of her own party on board to win that so called "meaningful vote."
Veteran Brexiteer Iain Duncan Smith -- who's influential with fellow euroskeptic Tories -- says her outline agreement with the EU for the future trade negotiations is not enough to persuade him to vote for the prime minister's overall package.
Former minister Greg Hands told German radio there are about 80 Conservative MPs who either oppose it or won't vote for it. He is skeptical, but won't "necessarily" vote against it.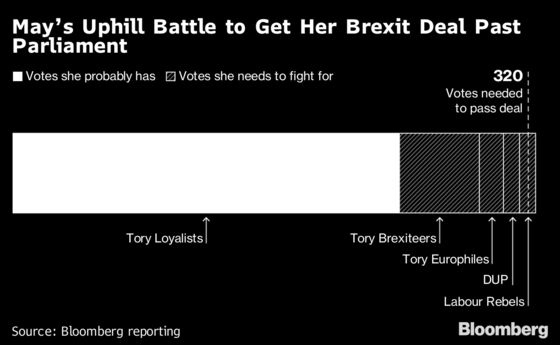 Northern Ireland's DUP Digs In (7:30 a.m.)
DUP lawmaker Jeffrey Donaldson said Parliament will vote down May's Brexit deal, given some elements are "unacceptable." In an interview with broadcaster RTE , he issued a veiled threat to the party's continued support for May's minority administration, saying the supply and confidence arrangement continues " for the moment" but Brexit is a "crucial" part of the accord.
May heads to Brussels on Saturday to meet EU Commission President Jean-Claude Juncker