May Set to Catch a Summer Break After Months of Brexit Crisis
Theresa May, a prime minister for whom every week seems to be worse than the last, could finally be getting a break. With only six days left until lawmakers disappear for the summer, the prospects of an immediate challenge to her leadership seem to be receding.
Officially, the summer recess makes no difference to whether Conservatives can depose their leader. But a person familiar with the process said that realistically it would be difficult to administer a vote of confidence while members of Parliament are on the beach.
As Parliament wound down after weeks of tense votes and ministerial resignations, May took questions in Parliament, then more questions from senior lawmakers, and then faced the Tory rank and file in a private meeting. She emerged, if not triumphant, then at least unscathed.
Conservative lawmaker Robert Halfon afterward compared her to a jack-in-the-box. "Whatever you throw at her, she is always jumping out," he said. "She was bloody good."
Two hours earlier, as Boris Johnson rose to explain why he'd quit May's cabinet to the House of Commons, the question was whether this was going to be the moment that marked the end of May. Nearly three decades earlier another former foreign secretary, Geoffrey Howe, standing in almost the same spot, had given the speech that destroyed Margaret Thatcher.
The subject then, too, was Europe, the downfall of Thatcher and every Tory prime minister since. But though Johnson was damning of May's Brexit strategy, he ultimately pulled his punches against the prime minister herself.
He opened by praising her "courage and resilience," before going on to argue that she had had the right vision for Brexit in January 2017, when she first set out a plan. Since then, he complained, "a fog of self-doubt has descended." The government had engaged in "18 months of stealthy retreat" to the position May is now trying to defend.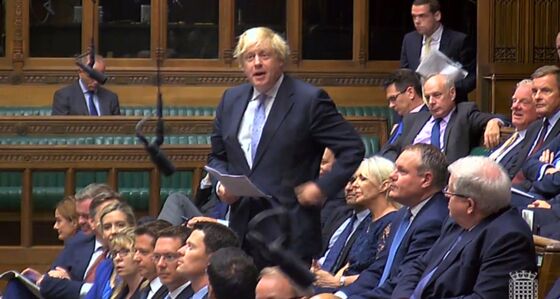 A former cabinet colleague disputed Johnson's claim that he told May he wouldn't be able to support her policy when she first set it out on July 6. Indeed, at the time Johnson was said to have, after initially expressing reservations, praised the prime minister in a brief speech over dinner. It wasn't until three days later, when Brexit Secretary David Davis quit, that Johnson announced he, too, could not support her plan.
On Wednesday, Johnson's criticism of May's plan was that it amounted to "Brexit in name only," keeping Britain too close to European Union rules. It is a view shared by many other Tory lawmakers who sat alongside him, nodding as he spoke.
But he finished not by ordering them to the barricades but simply by imploring the prime minister to change course and "deliver a great Brexit for Britain, with a positive and self-confident approach."
His reluctance to plunge the knife into his leader reflects political reality. On Tuesday, May barely won a vote on her policy of not seeking a customs union with the EU. There is no reason to think that the 12 Conservative lawmakers who voted against her would be less likely to rebel if Johnson were prime minister, and every reason to think that others might join them if a new leader were to seek a harder Brexit. For all that Conservative Brexit-backers criticize May, she could still be their best bet.
It's not even clear that there are enough Tories who want May gone to trigger a vote of confidence, the first stage in removing her. Under party rules, 48 of them need to write a letter requesting such a vote. At the meeting of Conservative lawmakers Wednesday, one of them, Simon Clarke, told the prime minister he had previously written such a letter, but had now withdrawn it.
"We all want Brexit to succeed -- that is the reality," he told reporters outside the meeting. "I don't want to go into the summer feeling like the Conservative Party is at war with itself."
That explains why May, talking to reporters before the meeting, seemed relaxed. Asked if she would survive the summer, she smiled: "I think you know the answer to that."