May Seeks Support for Brexit Plan as Cross-Party Talks Stall
(Bloomberg) -- Prime Minister Theresa May will meet with her cabinet Tuesday as she comes under increasing pressure to pull out of Brexit talks with the opposition Labour Party and set a date for her departure.
The latest in a series of cross-party meetings aimed at ending the parliamentary deadlock over leaving the European Union broke up without substantive progress Monday evening, according to a person familiar with the discussions.
Monday night's meeting "took stock across the range of issues discussed in talks over the last few weeks," May's office said in a statement that tried to downplay its significance. "We continue to seek to agree a way forward in order to secure our orderly withdrawal from the EU."
There is increasing anger among members of May's Conservative Party at her continued talks with Labour and later in the week she will meet with rank-and-file members of Parliament who want a firm timetable for her to step down. In a letter to The Times on Tuesday, 13 former Cabinet ministers urged the premier not to agree to stay in the EU's customs union -- as Labour wants -- for fear of losing the "loyal middle" of her party.
Olly Robbins, May's lead Brexit negotiator, will travel to Brussels on Tuesday for talks on possible ways to redraft the EU accord on post-Brexit ties if a cross-party deal can be struck, according to a U.K. official.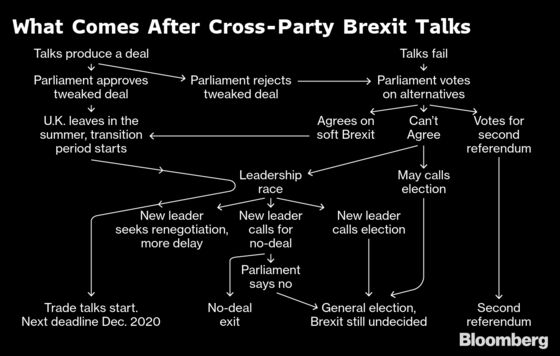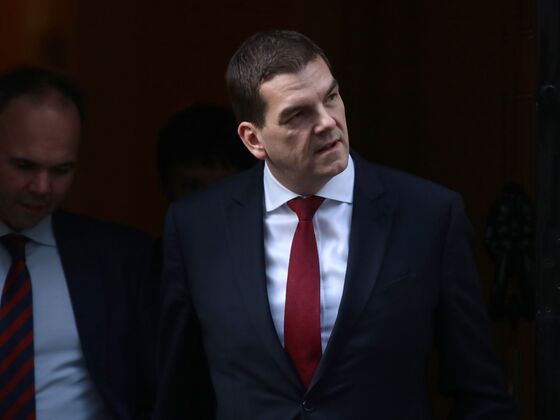 And as May's authority wanes, the fight to replace her gathers pace, with potential leadership rivals making speeches that go well beyond their briefs. Late Monday Foreign Secretary Jeremy Hunt, who is a contender to replace May, said the U.K. should leave the EU "cleanly and properly" and if it doesn't, it would "betray the promise of democracy."
In a speech in London that appeared to be targeted at Conservative Party members who will elect May's successor, Hunt also said Britain should increase its military spending as it strives to reassert its place in the world after leaving the EU.
"It is simply not sustainable to expect one NATO ally to spend nearly 4% of its GDP on defense while the others spend between 1% and 2%," Hunt said, referring to the U.S. share of the alliance's budget. "It is time for the next Strategic Defence and Security Review to ask whether, over the coming decade, we should decisively increase the proportion of GDP we devote to defense."