Theresa May Seeks More Time to Negotiate Brexit Deal With EU
(Bloomberg) -- U.K. Prime Minister Theresa May will address lawmakers in the House of Commons on Tuesday as she seeks more time to renegotiate her Brexit deal with the European Union.
Four weeks after she saw her agreement with the bloc defeated by the biggest margin in modern Parliamentary history, May met with MPs from across the political divide Monday as she continued to seek a deal that can win a majority in the House of Commons.
May, who is trying to renegotiate the controversial backstop intended to ensure the Irish border remains open after Brexit, will update Parliament on the progress of talks with the EU and outline a motion she'll put before MPs for debate on Thursday, her office said.
After buying time two weeks ago, when she won a vote giving her a mandate to reopen talks with the bloc, the embattled premier is expected to ask Parliament to restate its demand to remove the backstop from the Withdrawal Agreement and to promise a further vote if she hasn't brought a renegotiated deal back to Parliament by Feb. 27.
With just over six weeks before Britain's scheduled exit day on March 29, the move is intended to reassure members from across the House of Commons who are concerned that May is deliberately running down the clock and risking a potentially disastrous no-deal divorce.
Jack Dromey, the Labour MP whose cross-party amendment with Conservative Caroline Spelman to block a no-deal Brexit was passed by the House of Commons on Jan. 29, said he is waiting until after May speaks Tuesday before deciding whether to propose another.
"We can't go down the path of no-deal, we can't allow the continuing drift towards the cliff, because if the country falls into the abyss the consequences will be catastrophic," Dromey said. "The question is has she got the message?"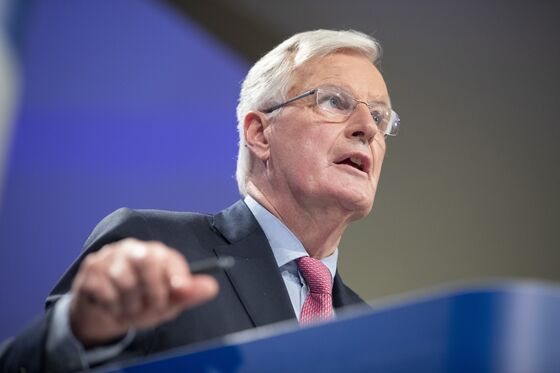 Brexit Secretary Stephen Barclay traveled to Brussels for talks with the EU's Chief Negotiator Michel Barnier on Monday evening to try to find a way out of the impasse. The European Commission said the two men discussed the "urgent" need to find a solution that satisfies the other 27 EU member states and can win a "strong" majority in Parliament.
"It's clear from our side that we're not going to reopen the Withdrawal Agreement, but we will continue our discussion in the coming days," Barnier told reporters after the meeting. The EU negotiator said earlier that clarity on the next steps would have to come from London.