May Looking at Cash for Labour Areas Whose MPs Back Brexit, Official Says 
(Bloomberg) -- Theresa May's government is considering whether to offer lawmakers from the opposition Labour Party extra money for their districts in return for votes on her Brexit deal, according to a government official.
May saw off attempts to take control of the Brexit process and won a mandate to seek changes to the agreement with the EU this week with the help of rebel Labour members of Parliament. Despite instructions to vote against May, some backed her while others abstained.
That showed a possible way May could get a version of her deal through. There were enough Labour rebels to offset anti-Brexit Conservatives on her own side. But she's likely to need more help if a group of hardcore pro-Brexit Tories reject her deal after any changes she manages to secure.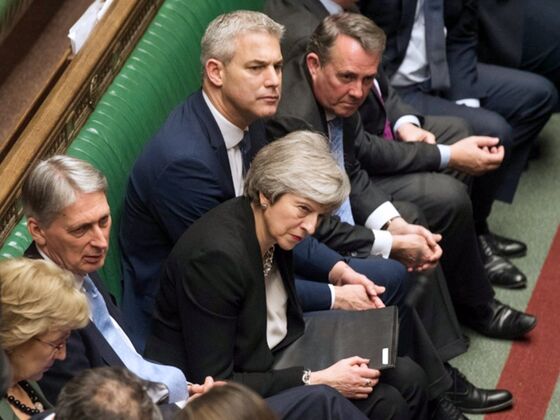 The Times reported on Thursday that the government is looking at encouraging more Labour MPs to vote its way by offering money for deprived areas of the U.K. that voted to leave the EU. A government official said something on these lines is under consideration.
Such a move would be controversial. Anna Turley, a Labour MP who represents Redcar, a leave-voting district in the northeast of England, accused ministers of offering "bribes and sweeteners" to her colleagues.
"The prime minister's deal we know will make those constituencies worse off," Turley told the House of Commons. "Given this is a government that has taken six billion pounds out of northern constituencies, isn't it about time we had a proper debate about funding for the north instead of bribes and pork barrel politics?"
May's spokesman James Slack denied the proposal would amount to cash in exchange for votes.
"The prime minister has a long-standing commitment to tackle inequality between communities," Slack told reporters in London. "No community should feel that they are left behind."
Lisa Nandy, a Labour MP who has suggested she might be willing to back a Brexit deal, said she hasn't yet been approached with an offer.
"If they did I would tell them there's no point investing in towns if they're taking us down a route that destroys jobs, wages and workers rights," she said, referring to Labour's official policy to maintain close ties to Europe's single market. "A permanent customs union and commitment to workers rights remains the issue."