May's Northern Irish Ally Skeptical of `Temporary' Brexit Plan
(Bloomberg) -- Democratic Unionist Party leader Arlene Foster said she's skeptical about claims the U.K. will be able to escape "temporary" links with the European Union, adding another hurdle to Prime Minister Theresa May's efforts to break the Brexit impasse.
While May has dropped a demand for a time limit on any backstop designed to avoid a border in Ireland after Britain leaves the EU, the U.K. government still insists the backstop would be temporary and Britain could still exit the arrangement by as some yet-to-defined mechanism.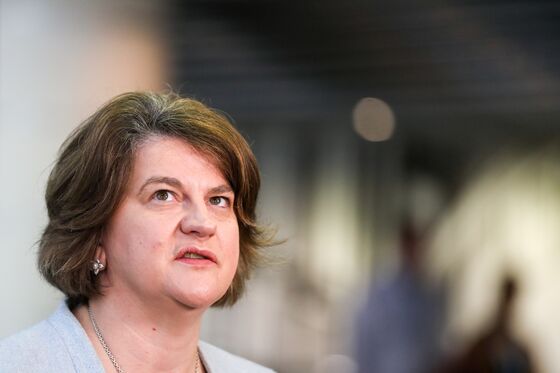 Under May's plan, the whole U.K. would stay tied to EU customs rules as a so-called backstop. There would also be some new checks on goods between Northern Ireland and mainland Britain, until a better solution is found to avoid the return of infrastructure on the frontier.
"I am skeptical of claims about any agreements or arrangements being temporary," Foster wrote in the Impartial Reporter, her local Northern Irish newspaper. "I am not in the camp that 'no deal' is the best way forward. However, no unionist can sign up to a deal which cuts Northern Ireland off from the rest of the U.K."
Foster's view matters because May effectively relies on the DUP to keep her in power. She again repeated that she wants no hard border in Ireland, and criticized figures such as Irish Prime Minister Leo Varadkar for saying that any border infrastructure could lead to a resurgence in violence.
"The suggestions about a return to violence as a result of Northern Ireland leaving the EU are incredibly careless," Foster wrote. "Such claims by democratic politicians only serve as recruiting calls for those who would prefer the bomb or bullet over the ballot box."