May Defends Her Deal, Saying It Protects Economy: Brexit Update
Prime Minister Theresa May has got a deal and is now meeting with her Cabinet to try to get them to back it.
Key details of deal expected after Cabinet meeting. May will go back to Parliament on Wednesday or Thursday. EU summit on Nov. 25 and Parliamentary vote some time in December
At least two Brexiteer ministers set to back the deal; two others still thinking about it
It's far from clear if the deal will get through Parliament
Future Finance Ties Said Based on Equivalence (4:02 p.m.)
According to a person familiar with the matter, U.K. banks will trade with the EU on the basis of equivalence after Brexit -- in line with what ITV reported just now (see 4 p.m.).
Banks Face a Downgrade After Brexit (4 p.m.)
ITV's Robert Peston reports that banks will trade with the EU on the basis of so-called equivalence after Brexit. That's a downgrade from the status quo, but is pretty much what the City was expecting. Equivalence means the EU unilaterally decides whether another country's banking regulations are adequate. The trouble for businesses, is it can be withdrawn at short notice.
But Peston reported there will be a "formal codified review process" so U.K. businesses will have time to prepare if the permission is revoked.
Labour Backbencher Says Deal Looks Acceptable (3 p.m.)
A rank-and-file member of the Labour party, who declined to be named, said the deal May has brought back looks like it complies with a lot of what the opposition was calling for. The lawmaker, who has spoken out in favor of implementing the referendum result before, said a lot of people are worried about the consequences of no deal.
However, a person familiar with the Labour whips' position said the deal fails the party's tests. The party will want to be seen to look at it seriously, but are set to vote against it, the person said.
You Do the Math: Can May Get Her Brexit Deal Through Parliament?
Precautions in Brussels (2:15 p.m.)
Ambassadors from the remaining 27 EU members states have been asked to hand in their mobile phones and tablets ahead of their meeting to discuss the Brexit draft deal, according to an EU diplomat familiar with the situation. Lockers have been installed in their meeting room, in an unprecedented measure to prevent leaks to the media.
Cabinet Considering Divorce Deal, Future Ties (1:35 p.m.)
May's spokesman told reporters the Cabinet is considering both the withdrawal agreement and the outline political declaration on the U.K.'s future relationship with the EU.
"The outline political declaration is as it sounds, it's an outline document," James Slack said. "There will then be a negotiation."
A U.K. government official also said the only people who have seen the draft Brexit deal are Cabinet members.
Labour Likely to Vote Against Deal (1:20 p.m.)
Labour Party leader Jeremy Corbyn's spokesman told reporters the party is likely to vote against the deal in Parliament. Asked whether Brexit can be stopped, the spokesman said: "That's not our policy or our priority. Nor do we have the mechanism to do it."
Speaker Backs Call for Legal Advice to Be Published (1 p.m.)
House of Commons speaker John Bercow told lawmakers that the government must publish its legal advice on the Brexit deal after a motion brought by the opposition Labour Party was passed on Tuesday.
"The house spoke clearly yesterday and that must be acceded to by the government," Bercow said in response to a question from DUP lawmaker Nigel Dodds.
This is important because lawmakers who oppose May's Brexit strategy are hoping that the legal advice will confirm their suspicions that her policy is flawed. That could make it harder to get the deal through Parliament.
May Rules Out Second Referendum, Defends Deal (12:40 p.m.)
May says her deal protects the economy and jobs and will still allow the country to strike its own trade deals around the world -- something not all Brexit-watchers are convinced will be true, at least for many years.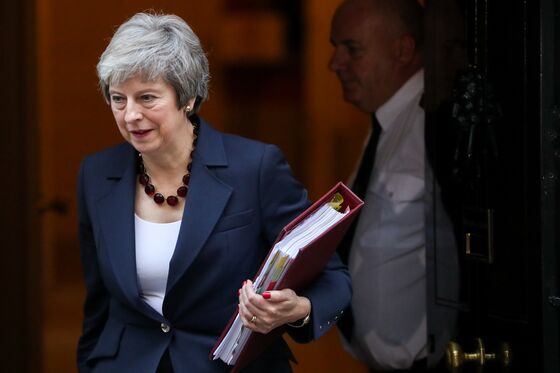 She's facing criticism in the House of Commons for the deal, which opposition lawmakers say will leave the U.K. tied to the EU's trade regime and bound to European regulations.
May promised to come back to Parliament once her Cabinet has discussed the deal. The speaker said that would probably be on Thursday, though he would also be open to scheduling it on Wednesday.
Varadkar Sees Summit on Nov. 25 (12:23 p.m.)
Irish Prime Minister Leo Varadkar says the EU summit to sign off on the deal could be on Nov. 25. Still, he said he needed to be cautious on giving details of the agreement, to avoid potentially "up-ending" the Cabinet meeting in London this afternoon.
While a lot can still go wrong, the U.K. And EU are close to a legally-operable text, which could be published this evening, he said.
May Insists This Is Brexit (12:15 p.m.)
May says the U.K. is leaving the customs union, putting an end to freedom of movement, and taking back control. She again rules out a second referendum. Backbench lawmaker Peter Bone tells her she isn't delivering the Brexit people voted for.
Corbyn Says It's a 'Botched Deal' (12:10 p.m.)
The leader of the opposition says May's Brexit agreement is a "botched deal." If there was ever any doubt Labour would vote against, there isn't anymore. May has made a "shambolic mess" of the negotiations, he said.
Mordaunt Said to Be Unlikely to Quit Today (11:40 a.m.)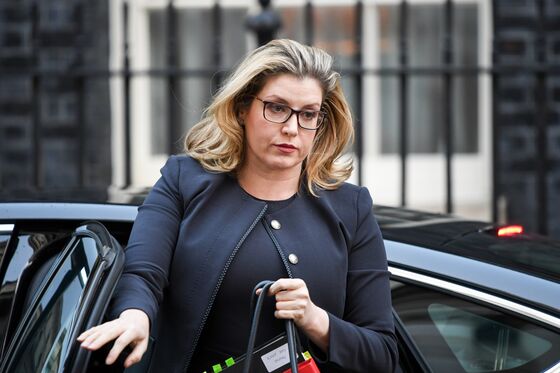 Brexit campaigning Cabinet minister Penny Mordaunt looks unlikely to quit today, a person familiar with her thinking suggested.
Mordaunt -- who's been tipped as a future leadership candidate -- went in to see May this morning after reading the documents last night. Along with other pro-Brexit ministers, she is still waiting for further information and will consider the details before making a decision on whether to back the deal.
But the person added: "Don't expect fireworks today."
Clark Said to Have Reassured Business on Deal (11:25 a.m.)
A call between the government and U.K. business is planned to take place after the Cabinet meeting Wednesday to discuss the draft divorce deal and the impact on companies, according to two people with knowledge of the situation.
The five main lobby groups, including the Confederation of British Industry and Institute of Directors, met with the government's Business Department, Treasury and Brexit Department Wednesday morning, according to the people, who asked not to be identified because the talks were private.
The discussions were high level and Business Minister Greg Clark said he couldn't share the text until after the Cabinet meeting, but said a call was planned for later in the day with them that may also involve chief executives, the people said.
While the lobby groups meet regularly with government, the gathering was scheduled late last week in the hope there would be a deal to discuss, said one of the people.
EU Stays Quiet (11:20 a.m.)
At its regular midday press briefing, the European Commission was giving little away. "There's an ongoing process in London and Brussels right now," spokesman Margaritis Schinas told reporters. "We will not comment on the various press reports over the past 24 hours. We will inform you if there are any updates today or over the coming days."
Business Weighs In (11:15 a.m.)
James Stewart, head of Brexit at KPMG in the U.K., said in an emailed statement the Cabinet meeting is a "big step forward" but warned there's a still a "long, hard road to travel" to seal a final agreement with the EU.
"The businesses we're speaking to are cautiously welcoming the progress being made," Stewart said. "However they are under no illusions about the pitfalls that lie ahead, the potential for an impasse being reached, and the absence of detail on the U.K.'s future trading relationship with the EU."
"Businesses that crave certainty and detail will have heard very little in recent days to make them feel they can now relax," he said.
Meanwhile in Germany, the head of the DIHK industry association urged the U.K. government to "prevent the worst-case scenario" and work toward an "orderly Brexit" that gives companies the information they need to prepare.
"Brexit will in any case lead to high costs for firms, whether from looming tariffs or extra Brexit bureaucracy," DIHK President Eric Schweizer said in a statement. "A disorderly Brexit would, however, be a disaster."
Raab, Barnier to Brief Media Later? (11 a.m.)
It's not definite, but there could be a press conference between the EU's chief negotiator Michel Barnier and Brexit Secretary Dominic Raab late Wednesday in Brussels, according to a person familiar with the situation.
Kinnock: Labour Discussing Vote Strategy (10:20 a.m.)
Opposition Labour lawmaker Stephen Kinnock said in an interview he's in talks with members of Parliament from a cross-party coalition about the upcoming votes. If May's deal fails in Parliament, he will table an amendment demanding the government goes back to the EU and negotiate a settlement in line with the European Economic Area, he said.
But we're still waiting for formal word from the party leadership about how it will order lawmakers to vote on the deal. Labour has set tests it must meet to secure its support, and the signs are that what's on the table won't pass.
Asked about Labour's formal whipping arrangements, Kinnock said "those discussions are ongoing."
Here's a reminder of the arithmetic facing May on Brexit, and how many Labour votes she'll likely need to get a deal through Parliament: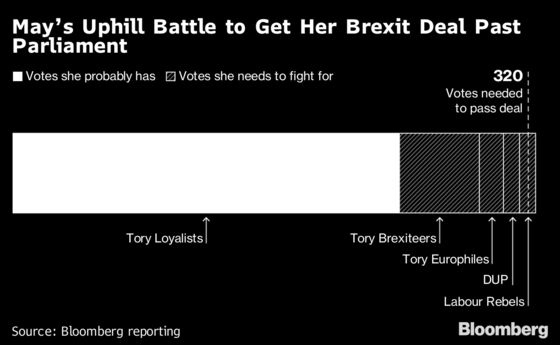 Leadsom on the Fence (10:05 a.m.)
At one time she ran for May's job -- she's now in her Cabinet and in a position to throw her weight around. House of Commons leader Andrea Leadsom is a fervent Brexit backer and she is keeping her boss -- and journalists -- guessing on whether she will back this deal or not.
She told television crews Wednesday she had a good conversation with the prime minister and is optimistic about getting a good deal. But she is looking at the "details" today and "can't answer" the question of whether she'll be able to support what's on the table.
View From the Markets (10 a.m.)
The pound jumped 1 percent against the dollar on Tuesday but has ground to a halt in early trading this morning, and hefty demand for options that protect against a sharp drop reflect worries that May won't be able to get her deal through Parliament.
Currency traders are well aware of the hurdles that still need to be overcome, and Nomura strategist Jordan Rochester set out a five-step road map -- and the implications for the pound -- as follows:
Step 1 -- deal at technical level (GBP/USD currently at 1.30)
Step 2 -- win over the Cabinet (GBP/USD 1.31-1.3250)
Step 3 -- deal with resignations (potential headache for pound)
Step 4 -- deal through Parliament (GBP/USD 1.35-1.40 if by end of year)
Step 5 -- Bank of England starts rate hikes (GBP/USD 1.45-1.50 by end-2019)
'Real Problem Lies Within the U.K.' (9:45 a.m.)
Sophie in t Veld, a Dutch member of the European Parliament and deputy to its Brexit coordinator Guy Verhofstadt, told BBC Radio 4 on Wednesday the "real problem" in the negotiations was in London and the political divisions, including within the Conservative Party.
"The real problem lies within the U.K., within the government, within the Tory party, between the parties, because there hasn't been any agreement over the relationship with the EU between any of them over the last two years," she said. "That is the real problem, because if the U.K. had a single agreed line, backed by the majority of parties and the majority of MPs, then the whole situation wouldn't be so unclear."
When Could Parliament Vote? (9:20 a.m.)
At the risk of jumping ahead -- Wednesday's Cabinet meeting is a significant hurdle -- the obvious question given there's a deal on the table is when Parliament may be asked to vote on it.
Assuming May gets her deal past senior ministers and signed off at a special EU summit in late November, it could be in front of lawmakers within weeks. Parliament goes into recess on Dec. 20.
A View from Dublin (8:35 a.m.)
The well-connected Irish European Parliament member Brian Hayes, a member of Prime Minister Leo Varadkar's ruling Fine Gael party, said that as reported, the proposals looks like the "best possible" deal from an Irish perspective. In an interview with Newstalk radio, he said there's no better deal available to the U.K., adding that the accord may focus minds in Westminster and help Theresa May win backing for the plan.
Gove, Javid Said to Back Draft Deal (8:30 a.m.)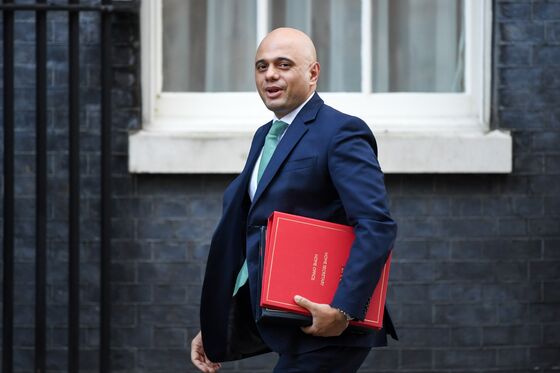 Amid all the backlash, some potentially good news for May. According to people familiar with their thinking, Home Secretary Sajid Javid and Environment Secretary Michael Gove -- both leading pro-Brexit voices in the Cabinet -- plan to support the draft agreement at the meeting Wednesday.
DUP Angry, Foster Heads to London (8:10 a.m.)
The Democratic Unionist Party, the Northern Irish group that props up May's government, is furious with the Brexit deal as it treats the region differently to the rest of the U.K.
Lawmaker Sammy Wilson said he won't vote for "humiliation," and the party will try to change the deal. Party leader Arlene Foster is heading to London, Sky News reports.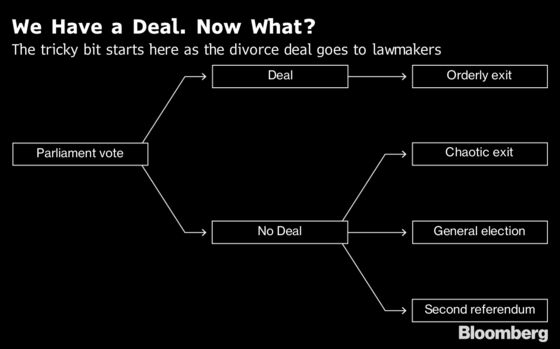 Cabinet meets at 2 p.m.
European Commission briefs EU27 representatives