May and Corbyn Meet as Cross-Party Talks Go On: Brexit Update
(Bloomberg) -- Prime Minister Theresa May is aiming to put a key piece of Brexit legislation to Parliament in the first week of June, according to people familiar with the situation. And she's meeting opposition leader Jeremy Corbyn on Tuesday after the Cabinet agreed that long-stalled cross-party talks should continue.
May and Labour leader Jeremy Corbyn to meet at 7:15 p.m.
Cabinet decides it's "imperative" that the main piece of Brexit legislation is passed by parliament before the summer recess. That's usually late July.
Hunt says the outcome of talks is hard to predict as the whole concept is "alien" to Westminster.
Wages continue to rise as shortage of workers leaves employers struggling to fill jobs
Pound falls 0.4 percent

May, Corbyn to Meet (5:55 p.m.)
May and Corbyn will meet at 7:15 p.m., according to the Labour Party. The cross-party talks have been mostly helmed by May and Corbyn's senior officials. A meeting between the two leaders could be an attempt to show the talks are serious, or an indication that progress is being made.
May Aims to Put Brexit Law to Vote in June (5:35 p.m.)
May aims to put a Brexit law that's a proxy for her deal to Parliament in the first week of June, according to people familiar with the situation.
The bill, known as the Withdrawal Agreement Bill or WAB, puts the divorce deal that May signed with the EU into law and has to be approved before Britain can leave the bloc. Her deal has been rejected three times by Parliament and the speaker has indicated she can't put the accord itself to another vote. The WAB is now the government's focus for delivering Brexit.
The first week of June is when MPs return from a vacation, during which the results of the EU election will be announced. Polls put Nigel Farage's Brexit Party on more than 30%, with the Tories on as little as 10% amid frustration over the government's handling of the divorce.

Hunt Says Fix Brexit Before Replacing May (4:20 p.m.)
Hunt, who has dropped some heavy hints he wants to be prime minister, said Brexit needs to be delivered before the party focuses on who succeeds Theresa May. Asked about his own ambitions, he said there would be "lots of time to have those debates" once May steps down.
The foreign secretary said he hopes a bad result for his Conservative Party in the upcoming elections will help convince MPs to back May's Brexit deal. "I hope that sends a message to my colleagues at Westminster," he told the Wall Street Journal CEO summit.
Hunt also struggled to explain why voters should back the Tories in the elections, and failed to give a clear vision for how to negotiate. He said it had been a mistake for the U.K. to take "no deal" off the table, but said it would be impossible to put it back on the table, because parliament would never accept it.

Cross-Party Talks Are Hard to Predict (3:34 p.m)
Hunt said cross-party talks are "alien" to British politics and it's hard to predict how they will conclude.
"I don't think it's impossible that there could be a deal there," he told a Wall Street Journal summit, adding. "I don't think anyone can be confident of an outcome one way or another."
Asked about the prospect of a general election or referendum to break the Brexit stalemate, Hunt said those options are the "least likely outcomes."
A re-run of the referendum would be "incredibly damaging" to democracy, he said. "Imagine their anger," if voters are told to have another go. Still, Brexit also needs to be delivered in a way that takes into account the views of those who didn't vote for it, he said.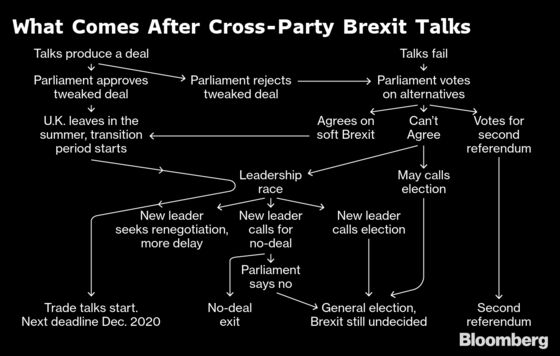 Cabinet Agrees to Keep Labour Talks Alive (2:05 p.m.)
May's Cabinet agreed on Tuesday morning to press on with cross-party talks with Labour, Prime Minister's Spokesman James Slack told reporters. There have been growing calls from within the Conservative Party to walk away.
But ministers also agreed it is "imperative" the main piece of Brexit legislation -- the Withdrawal Agreement Bill -- is passed by the time Parliament goes off for summer holidays, usually around the end of July. No date has yet been set for the summer recess, raising the possibility of MPs being forced to work through the break if it doesn't go through.
Slack didn't say how the government plans to get the bill through Parliament if talks with Labour don't prosper. The bill would put May's Brexit deal -- which has been rejected by Parliament three times -- into law.
German Economy Minister, Barnier to Meet (12:40 p.m.)
Economy Minister Peter Altmaier will meet the EU's chief negotiator Michel Barnier on Tuesday to discuss Brexit, according to the ministry. Altmaier reiterated that the British government and Parliament "must now provide clarity on how they want to proceed."

Olly Robbins to Meet EU on Wednesday (11:30 a.m.)
Olly Robbins, May's chief Brexit negotiator, will meet EU Commission officials on Wednesday, according to an EU spokesman.
He is in Brussels to discuss possible changes to the part of the Brexit deal that the EU has said can be redrafted -- the so-called political declaration on future ties. The government said on Sunday it would seek to rewrite the document to reflect any new consensus that emerges in cross-party talks.
But U.K. officials played down the significance of his trip. "These are informal discussions," a U.K. spokesman in Brussels said.
Robbins will probably meet members of the EU Council, representing national governments, later on Tuesday.