May's Government Faces Contempt Vote Over Brexit Legal Advice
(Bloomberg) -- Theresa May's attempt to sell her Brexit deal to skeptical lawmakers was torpedoed before it had even begun, as opposition parties were granted an emergency debate on whether her government is in contempt of Parliament for refusing to release legal advice about her deal.
May had expected to open five days of debate Tuesday just before 1 p.m. in London, with a speech arguing that her deal delivers on the 2016 vote to leave the EU without damaging Britain's trading relationship with the bloc. It is now expected to start later in the afternoon.
But minutes before Parliament was due to rise Monday evening, House of Commons Speaker John Bercow announced he agreed there was an "arguable case" that ministers were in contempt. The government had earlier said it wouldn't be complying with a Parliamentary demand that Attorney General Geoffrey Cox's full legal advice on May's Brexit deal be released.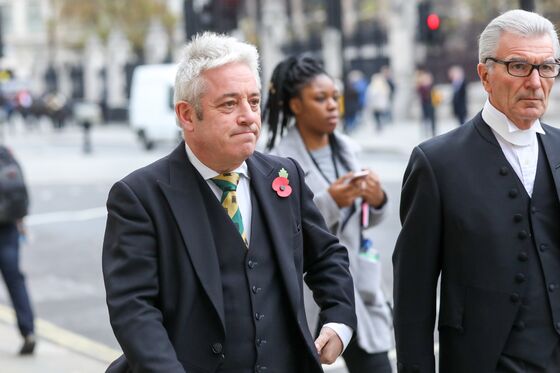 Bercow said this question would be the first order of business for Parliament to debate Tuesday, pushing back the start of May's debate until later in the day and meaning that her inability to get her way will have been vividly illustrated even before she stands up.
The Speaker's announcement triggered a desperate government scramble to minimize the damage. Foreign Minister Alan Duncan, who had been winding up a quiet end-of-day debate about Scotland's place in the world, was ordered to buy time for the government to write an amendment to the contempt motion before Parliament rose. Duncan filibustered for more than half an hour on issues from Scottish music to the nation's inventors.
The motion, supported by six opposition parties -- including, crucially, May's allies in the Democratic Unionist Party -- finds ministers in contempt, without suggesting any sanction, and demands that the legal advice be released. As with the Brexit deal itself, May finds herself fighting not just opposition parties but Conservatives as well. And as with the deal, she has little prospect of winning.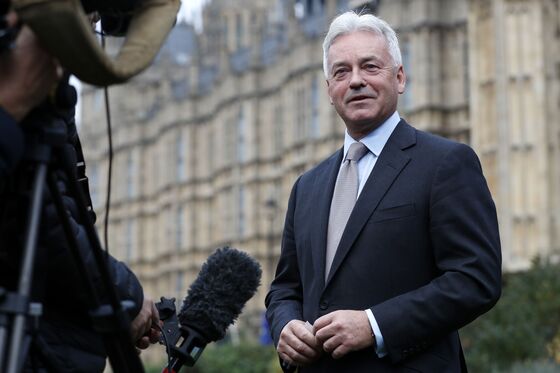 Instead, the government's amendment to the opposition motion seeks to refer the question of whether ministers are in contempt, or are right to refuse the request, to Parliament's Privileges Committee. If that were passed, it would delay addressing the issue until the committee had a chance to reach a decision.
Attorney General's Statement
May's opponents want Cox's advice published because they think it strengthens the case against her deal, by showing that Britain risks being trapped in the European Union's orbit. The government on Monday published a summary.
Earlier in the day, the attorney general himself had taken the highly unusual step of making a statement to Parliament on the Brexit deal and then spending more than two hours answering questions about his legal view. Asked repeatedly why his full advice wasn't being published, he said it would violate the principle that what he tells the cabinet is confidential.
Instead, he tried to sell the deal to the chamber, saying that he had himself found parts of it unpalatable. In particular, he conceded there were difficulties with the "Irish backstop" section, designed to prevent a border between Ireland and Northern Ireland if the as-yet-unnegotiated trade deal between Britain and the EU doesn't solve the problem. Cox confirmed at the outset that the U.K. would have no legal right to walk away from the backstop.
"I make no bones about it, I would have preferred to have seen a unilateral right of termination in this backstop," he said. "I'm prepared to lend my support to this agreement because I do not believe that we're likely to be entrapped in it permanently."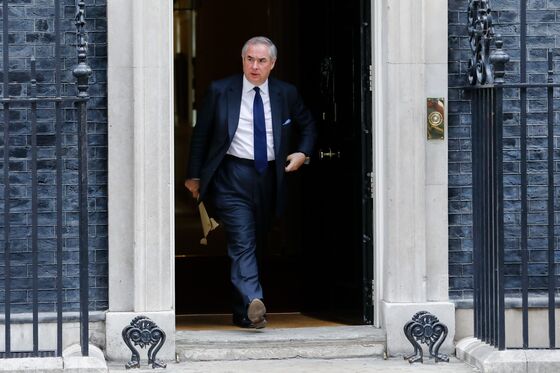 For many in the chamber, it was clear, any risk at all was too great. "The job of any lawyer for any client is generally to assist the client to make decisions as to the balance of risk in any decision that they are about to take," Cox said in reply to one question. "There is no question but that the absence of a right of termination of the backstop presents a legal risk."
With that nod, Cox pivoted to the crux of his argument.
"The question of whether it is one this House should take is a matter of political and policy judgment that each one of us must grapple with. I have taken the view that compared with the other courses available to the House, this one is a reasonable, calculated risk to take."