May Contemplates Defeat for Her Deal in Key Vote: Brexit Update
(Bloomberg) -- Theresa May was defeated for the second time in two days on her Brexit legislation, as lawmakers voted to take control of the timetable for what happens if Parliament rejects her divorce agreement with the European Union.
Downing Street says May will quickly set out next steps if she loses Jan. 15 vote on deal
Parliament defeats May on Brexit motion timetable, forcing government to respond within three days if May's deal is defeated
Government publishes plans for Northern Ireland assembly to get veto powers related to backstop laws; DUP not impressed
May accepts amendment to give Parliament veto over Irish backstop
Labour's Starmer says he thinks delay to Brexit is likely
May Will Be Ready for Defeat in 'Meaningful Vote' (4:30 p.m.)
The prime minister's spokesman James Slack has just finished briefing reporters in London. For the first time he publicly discussed what May's team would do if she loses the vote on her Brexit deal next week. "Our intention has always been to respond quickly and provide certainty on the way forward in the event we lose the meaningful vote and that is what we will do," Slack said.
It's a significant development and a sign that May knows she's losing momentum in her tussle with Parliament over who controls the direction of Brexit.
Government Proposes One-Year Limit to Backstop (4:15 p.m.)
The government will also accept an amendment from Tory MP Hugo Swire that would limit the backstop to one year and would give Parliament a veto over whether the country should enter the fall-back arrangement for the Irish border, May's spokesman James Slack told reporters in London. Slack said technological solutions could be used to avoid a hard border with Ireland, if Parliament blocks both the backstop and an extension of the transition period beyond 2020.
The EU is likely to be unhappy with this idea and the issue could ultimately end up in an arbitration dispute in the next two years.
In a sign of the tension between May and Commons Speaker John Bercow, Slack said the government was "very surprised" that he allowed Grieve's amendment to be voted on because ministers had been led to believe the measure was not allowable under parliamentary rules.
Starmer: Brexit Delay is Inevitable (3:50 p.m.)
Labour Party Brexit Spokesman Keir Starmer has just told Parliament he thinks Brexit is bound to be delayed:
"I actually genuinely think we can't do it on 29 March this year. It's simply not viable, for so many practical reasons. We're going to have to look at what are the available options that realistically are still on the table."
That's interesting particularly because two hours earlier, Labour leader Jeremy Corbyn's spokesman refused to discuss whether Labour would support any delay to Britain's departure.
May Defeated Again (2:30 p.m.)
In her second defeat in two days, May has lost control of the timetable for what happens if she loses next week's vote in Parliament on her Brexit deal. The government now has to hold the debate and vote on what to do next within three sitting days -- realistically, that means Jan. 21.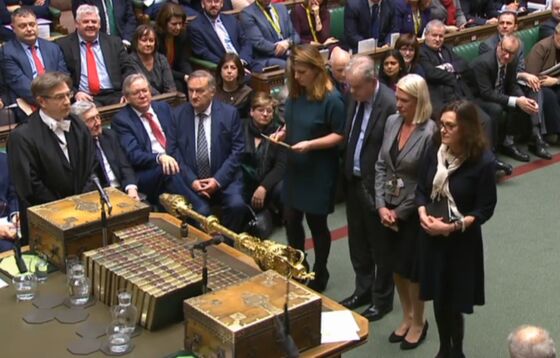 The government was defeated 308 to 297, as the majority in Parliament that opposes a no-deal Brexit once again showed that it can organize itself. Both wings of the Conservative Party have now shown that they're willing to vote against a Brexit that they don't like. And the prime minister is no closer to finding an option that both can live with.
Tories Round on Speaker Over Amendment (1:05 p.m.)
More drama in the House of Commons as a series of furious Conservative politicians have stood up to attack Speaker of the House of Commons John Bercow over his decision (11:30 a.m.) to allow the Grieve "what next" amendment. This would force the government to come back quickly if it loses the vote on May's Brexit deal next week.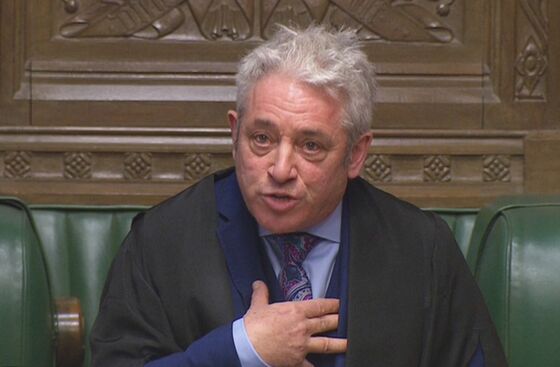 Bercow is standing his ground, while May and senior ministers look on stony-faced. Chief Whip Julian Smith, in particular, looks furious, with his arms tightly crossed.
More Criticism From DUP (12:35 p.m.)
After a morning spent criticizing the government's plan to get the DUP on board with Theresa May's Brexit deal, the party's deputy leader appeared to formally administer the last rites to the idea that Northern Ireland's assembly could veto bits of the backstop it didn't like.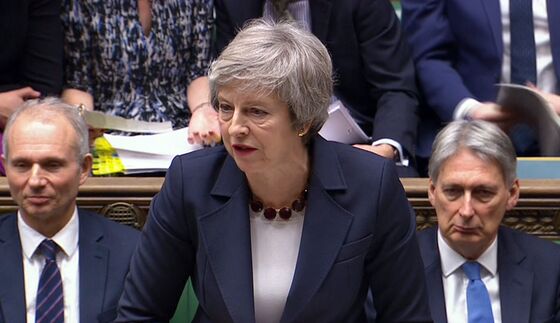 In a statement, Nigel Dodds called the plan "cosmetic and meaningless." He points out that the Brexit withdrawal agreement represents an international treaty which "supersedes and overrides" any domestic laws. Moreover, he said London could overrule efforts by Belfast to block elements of the backstop. The DUP's essential message to May: Must do better, back to the drawing board.
Parliament to Have Vote on Entering Backstop (12:20 p.m.)
Prime Minister Theresa May has been taking questions in the House of Commons. She told lawmakers her discussions with European Union leaders over the so-called Irish backstop are ongoing and that members of Parliament will know the outcome before they vote on the Brexit deal next week.
She also said Parliament would get a vote on whether the U.K. government chooses to extend the transition period or implement the backstop provision -- in the event a broader trade deal hasn't been reached with the EU before the transition period ends. It's all part of May's push to secure support for her Brexit deal -- which looks an uphill task.
Kurz: EU May Need to Consider Brexit Extension (11:40 a.m.)
The European Union may need to consider delaying the U.K.'s exit from the bloc beyond March 29, Austrian Chancellor Sebastian Kurz told reporters in Berlin.
Asked about an extension to Article 50, Kurz said: "At the moment, it's all about doing everything to secure passage in the U.K. Parliament and the European Parliament. If that doesn't happen, then we would need to consider this scenario, but now it's too early."
"I've always been against a hard Brexit," he said. "That would be a disadvantage for the European Union and cause even more damage for the U.K. That's in no one's interest."
More Trouble for May (11:30 a.m.)
After last night's defeat, there's fresh trouble for Theresa May, as opponents of a no-deal Brexit move to take control of the parliamentary timetable. An amendment put down this morning by Conservative rebel Dominic Grieve would force the government to schedule its "what next" debate and vote within three sittings days if -- as everyone expects -- May's deal is defeated.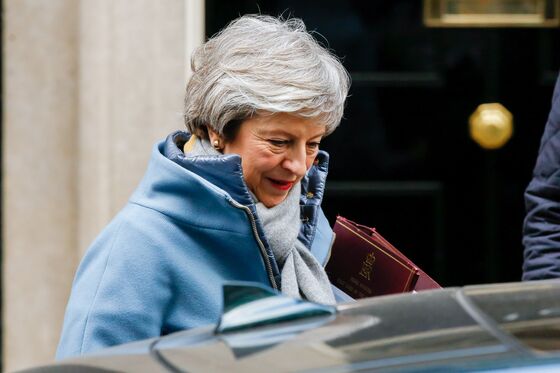 It's an effort to stop the government from running down the clock before Brexit day, and the latest sign of how the prime minister is losing control of the process. As many of the same people who took part in last night's rebellion are supporting it, it has a good chance of passing.
U.K. Says Belfast Agreement to Be Protected (11:20 a.m.)
The government has published its plan to give the Northern Ireland assembly the power to reject new laws stemming from the so-called backstop provision in the divorce agreement, which Prime Minister Theresa May's de facto deputy, David Lidington, referred to in broadcast interviews earlier.
The paper also "sets out the measures which the government intends to take to protect the Belfast Agreement" and ensure Northern Ireland's "voice is heard" in any decision to implement the Irish backstop protocol.
The measures are aimed at trying to get the Democratic Unionist Party, which props up May's government, to support her Brexit deal.
But the party has already rebuffed the government's charm offensive (10:50 a.m.), on the basis that the Northern Ireland assembly -- which is currently suspended -- could be overruled by London.
Gardiner: Labour Plans Confidence Vote If Deal Fails (11 a.m.)
Barry Gardiner, the opposition Labour Party's shadow international trade secretary, said earlier his party will table a no confidence motion in the government if -- as expected -- Parliament votes down Prime Minister Theresa May's Brexit deal.
"Obviously, the next thing to do immediately after that is for there to be a vote of confidence in the government," he told BBC Radio 4. "The appropriate time to table a motion of no confidence in the government is when the government loses its key legislation and no longer commands a majority in the House of Commons."
DUP Not Buckling Over Backstop (10:50 a.m.)
It looks like the government's charm offensive, designed to win over the DUP, is dead on arrival. David Lidington, Prime Minister Theresa May's de facto deputy, today laid out plans (8:30 a.m.) to give Northern Ireland's assembly power to stop new laws coming to play in relation to the backstop. At first glance, this would seem to give the DUP potential to prevent any rule divergence with the rest of the U.K., neutering the backstop.
But the DUP's Brexit spokesman Sammy Wilson moved quickly to kill off any hope this would be enough to sway his party. Speaking to Sky, Wilson dismissed the idea as "window dressing" and pointed out that London could still overrule Belfast if local lawmakers were to block rules flowing from the backstop. The party's position remains that the backstop provision must be removed entirely from the withdrawal agreement or else apply to the entire U.K., he said.
EU Business Goes On (10:10 a.m.)
Seemingly oblivious to the chaos in London, envoys of the EU's 27 remaining governments meet in Brussels at 3 p.m today to discuss the implementation and legal ratification of the withdrawal agreement struck in November.
Ambassadors will discuss a so-called note verbale to be sent to the EU's counterparties in hundreds of international agreements, notifying them that they should continue treating the U.K as if it were a member of the EU during the transition period, according to a draft of the note seen by Bloomberg.
It's a stark reminder of the risk that the U.K crashes out of key international accords, to which it is a signatory in its capacity as member of the EU, if there's no deal and no transition period.
The implementing act also foresees the issuance of a residence permit for all U.K nationals living in the bloc, on the basis of a format and technical specifications to be decided by the EU Commission. The residence status will be "evidenced" in accordance with the withdrawal agreement, according to the draft legal act seen by Bloomberg. If there is an agreement, that is...
Northern Ireland May Get Veto on Backstop Laws (8:30 am)
The Northern Ireland Assembly could be given power to stop new Brexit laws coming into force under plans due to be published today, David Lidington, Prime Minister Theresa May's de facto deputy, said in broadcast interviews Wednesday. The proposals would give Northern Ireland a veto over introducing any new areas of law and policy if the so-called Irish backstop provision in the Brexit deal is triggered.
The move is designed to help sway the Democratic Unionist Party, which props up May's government, to back the divorce terms she negotiated with Brussels. But it may fall foul of the European Union as it could water down the impact of the backstop, which is meant to ensure no hard border on the island of Ireland after Brexit.
It's also not clear that it will be enough to sway the DUP, especially given that the Northern Ireland Assembly is currently suspended.