The Next EU Summit Is Days After May's Big Brexit Vote
Prime Minister Theresa May has scheduled her crunch Brexit vote two days before the next European summit. If she loses, leaders are going to have to scramble to find a way to respond.
EU officials say leaders will confront the fallout at the summit, which was meant to be Brexit-free. But don't bet on them offering her something new. Last weekend, as they signed off on the deal, they declared in unison it was the only deal available and couldn't be changed. Leaders are unwilling to reopen the negotiations, and even less eager to get involved in the talks themselves, officials said.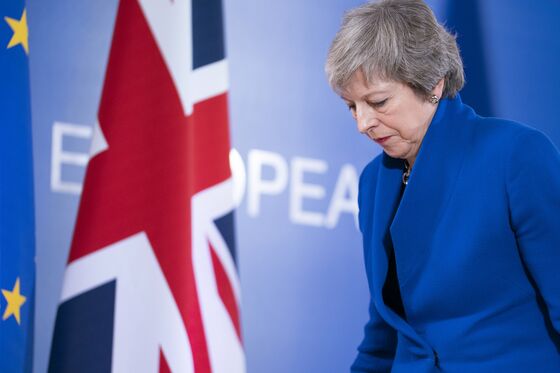 There's a growing expectation in the U.K. that May would have another go at getting her deal through Parliament if it's thrown out the first time. But anti-Brexit campaigners are also planning to use the chaos that would ensue to press their case for a second referendum, or for a new kind of deal that would maintain much closer ties.
EU leaders will have to weigh up if they still want May to win, and how badly they want to just move on.
There's no further EU summit scheduled until March 21, a week before the U.K. is due to leave. So if May continues to face objections to the deal or her government falls, leaders will have to come back together to discuss the way ahead before then.
Under current plans, European affairs ministers from the 27 national governments will meet in Brussels on Dec. 18 to formally hand over the agreement to the European Parliament to ratify.