Exhaustion, Frustration and Anger as Brexit Drags On and On
(Bloomberg) -- Theresa May had 15 minutes to impress European Union leaders with a new way out of the political morass that has become Brexit.
Instead, the British prime minister came across as nervous, speaking too fast for an audience of non-native English speakers. At the end of her pitch in Brussels, no one was any wiser as to what the U.K. was bringing to the table other than a familiar serving of warm words. May left her confused counterparts to dissect her presentation over a fillet of turbot.
German Chancellor Angela Merkel, arguably the person who May needed to impress the most, noted afterward that she didn't really understand what May had said but that she would ask Brexit negotiator Michel Barnier to explain it to her, according to three people briefed on the dinner discussion.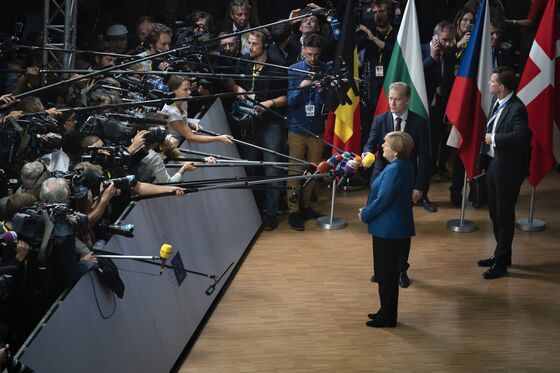 "We do not know what they want. They do not know themselves what they want. That is the problem," Lithuanian President Dalia Grybauskaite said after the dinner. What the U.K. wants "is still a great mystery."
The exhaustion and frustration are palpable as Brexit talks grind on yet remain trapped in a kind of purgatory where progress seems incremental and the obstacles increasingly arcane -- voters are mystified and businesses are stepping up preparations for the worst. And British citizens are queuing up to take out nationality of an EU country.
An end must come: the U.K. has given official notification that it will leave the bloc on March 29, 2019. But with no clarity on whether it will secure favorable divorce terms or crash out with no deal at all, there's a mountain of risk still to come.
Now it looks like December is the next make-it-or-break it moment, but can companies wait that long? This latest in a long series of inconclusive summits may not have been as dramatic as the showdown in Salzburg -- where tempers flared out in the open -- but it certainly reflected the state of paralysis.
An up-and-coming Tory lawmaker, Johnny Mercer, was candid in his assessment of the government and the degree of dysfunction: "I mean, yeah, you realise it's a shit show," he told The House magazine, adding he would never want to be part of May's administration.
The problem, of course, is that so many of the Brexit roadblocks are of May's own making. She called an election and lost her majority in Parliament, so is now stuck trying to orchestrate a type of Brexit that she can ram through. The numbers, however, don't add up. Any concessions she makes to the EU risk leaving her short of the votes she needs.
The bone of contention at the negotiating table is over how to avoid a policed border in Ireland when the U.K. and the EU part ways, with a trade deal potentially years away. Lost in the technical jargon is the fact that while everyone can agree the border should remain invisible, May has backed herself in a corner by committing the U.K. to leaving the customs union.
The EU's solution is to keep Northern Ireland in, but the Democratic Unionist Party propping up May's government insist on being treated like the rest of the U.K. May's counteroffer is a safety net that would see all of the U.K. stay in the customs union -- with a time limit. Anything else would have Brexit hardliners in her party chanting "Brino" (Brexit in name only).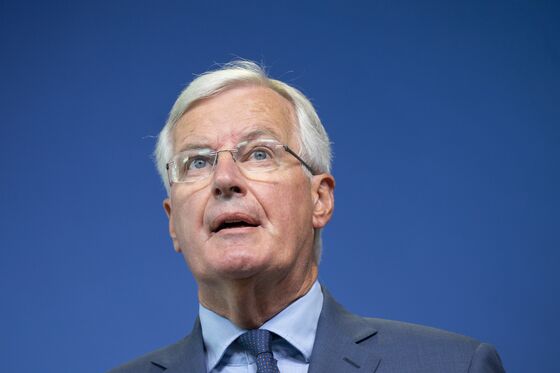 With Britain's departure around the corner, the focus now is on extending the 21-month grace period that's due to kick in on Brexit day. It would essentially preserve the status quo.
History shows -- in the case of the Greek crisis, for example -- that players of the status of Merkel need to fully engage for a breakthrough to happen. That's certainly the assessment of Olli Rehn, a seasoned European politician and currently the central banker of Finland.
"They're also likely to be waiting for Merkel to enter the negotiations for real, he said in an interview on Finland's YLE Radio 1. "She is a very central European leader -- that's when the endgame will take place and it's possible that a deal will be reached then."
For now, Merkel is still on the sidelines. While Brexit is the all-consuming topic in the U.K., she has other things to worry about, from Italy's populists playing fast and loose with EU budget rules to her own party's dwindling popularity at home. There's also the reality that more details need to be ironed out before Merkel and others step in -- and the chancellor deferring to Barnier for an explanation of May's position reflects that.
After another damp squib of a meeting, Merkel and French President Emmanuel Macron decided to stretch their legs without their security detail. It was a warm fall evening in Brussels as they walked from the Council building into the center to the picturesque Grande Place.
In that half hour, they may even have exchanged thoughts on May's predicament. They were then joined by Belgium's Charles Michel and Luxembourg's Xavier Bettel at Le Roy d'Espagne -- a Belgian brasserie famous among tourists for its beer and frites.
Merkel had a glass of red wine, and Bettel picked up the bill. May was nowhere to be seen.