EU Creates New Cliff-Edge as Wrangling Over Brexit Delay Begins
(Bloomberg) -- The European Union will tell the U.K. that if it wants the option of delaying Brexit for more than three months it must hold European Parliament elections, or risk a perilous new cliff-edge in July.
A draft document discussed by ambassadors Friday opens the door to a long extension of membership beyond the March 29 exit day. But if Britain wants to extend beyond June, it has to take part in the election, which could be politically toxic. Otherwise, it will be ejected from the club.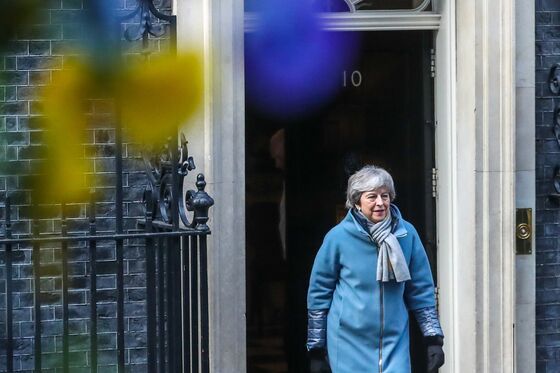 Read more: When May Lost Her Voice, Her Brexit Vote and Almost Lost Control
"If the U.K. requests an extension of the exit deadline beyond June 30, it's obligatory that it carries out European elections," Portuguese Foreign Affairs Minister Augusto Santos Silva said at a press conference on Friday. His Spanish counterpart Josep Borrell concurred: "if they're going to ask for an extension that goes beyond the date when the parliament is formed, they have the obligation to take part in European elections," Borrell said.
The move in Brussels may help Prime Minister Theresa May as she seeks to win support for her Brexit deal. She's planning to put it to a third vote in Parliament next week, and will frame the decision as a choice between accepting her deal or facing the prospect of being trapped in prolonged EU membership. The government is in last-minute talks to win over key allies, and there were signs Friday of progress.
But the EU's plan isn't without danger: if the U.K. doesn't hold elections May 23, then it will face a harder, more dramatic cliff-edge on July 1 than the one it's facing now. If three months doesn't prove long enough to get a deal done, there will be no way back.
It effectively shifts the deadline to get a deal done until the middle of May. The hazard is that the prime minister faces pressure from within her divided government not to hold an election, and if her deal hasn't been passed by the end of June, Britain would crash out of the bloc into legal limbo.
EU governments remain split over the question of how long an extension should last. Their plan discussed Friday made no mention of a final date. And according to European officials, there's some concern about the implications of the U.K. taking part in EU elections and continuing to have a role in decision-making even as it's heading for the exit.
On the EU side, there's also increasing optimism in some quarters that a second referendum could be called. That's another justification for a longer extension, two EU officials said. Still, there's no question of making a plebiscite a condition for a delay.
Instead, leaders want May to set out a road map for the coming months, such as a schedule for votes in Parliament to work out a U.K. Brexit policy that can win majority support.
EU Council President Donald Tusk, who coordinates the strategy of European leaders, said in a Twitter post Thursday that he wants government chiefs to be open to a "long extension" if Britain decides to "rethink its Brexit strategy and build consensus around it."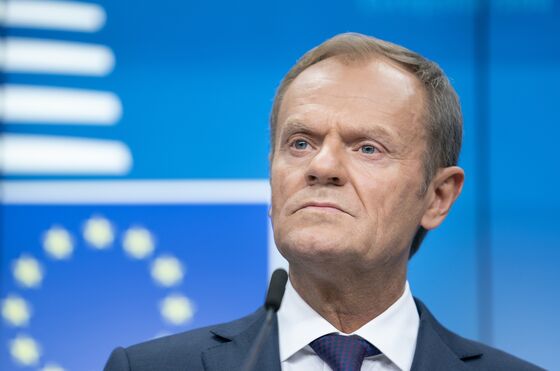 Any request that May makes has to be approved by all 27 EU leaders. They'll discuss the issue after hearing from the prime minister at an EU summit in Brussels on Thursday. And until the leaders of the bloc's other countries have finished their discussions, Friday's plan remains subject to change.