Theresa May Is Having Such a Tough Time Some People Feel Sorry For Her
(Bloomberg) -- With Britain in another meltdown over Brexit, there are signs the attacks on Prime Minister Theresa May aren't going down well with people away from the febrile cauldron of the U.K. Parliament.
Of the 20 or so people sharing their views in two Brexit-backing towns on the outskirts of London, the vast majority thought May should be cut some slack. They said the saga of leaving the European Union has become so protracted and all-consuming that they just want it done.
The common refrain was that May has "the worst job in politics." Others said ministers should show some mettle rather than quit. Those who voted to remain in the EU said she should call another referendum, something she's ruled out. A few on both sides of the Brexit argument wanted her to resign over her handling of the talks. One retired woman said her Conservative Party should stand by her because nobody else had her determination.
"I thought that she was remarkably resilient and persistent and tried her best to get something out of it, but she was on a hiding to nothing from the start," said Martin Berry, a pensioner in Sevenoaks, a Conservative stronghold 23 miles southeast of the U.K. capital. He voted to stay in the EU.
May, 62, is fighting to keep her job against an emboldened opposition and a group of rebels within her own ranks. The morning after the cabinet backed her Brexit agreement, ministers began to resign within hours of each other, including her secretary in charge of negotiations with the EU.
Following months of veiled threats, Brexit hard liners then began seeking a vote of no-confidence in the prime minister to avoid what they see as a betrayal of what leaving the EU should mean.
The phalanx of lawmakers who want to defy Brexit, meanwhile, sees opposition to the deal as a way of forcing a second referendum or a general election, stretching the political process and the endgame further into the future. In a more upbeat statement later on Thursday, May said she was standing firm and vowed to see Brexit through. 
"She has gone through hell and back," said Bernard Chapman, 83, the owner of a flower shop on the main thoroughfare in Harlow, about 20 miles north of where May was being quizzed for more than two hours in the House of Commons. "I feel desperately sorry for Theresa May because she is trying so hard, and you don't mind being stabbed in the back by the opposition, but not when you are stabbed in the back by your own people."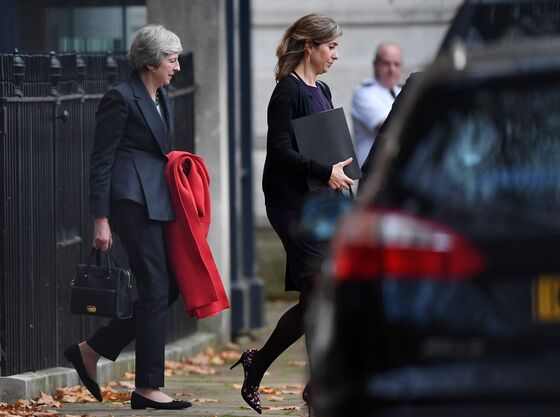 Indeed, the British like nothing more than rooting for the underdog. As May was buffeted between European summits and plots to undermine her at home, polls showed the public's confidence in her ability to deliver a good Brexit deal also took a battering. But, at least anecdotally, she won respect for trying to do an impossible job.
That thankless task resulted in her agreeing a Brexit deal that keeps Britain attached to the EU for the foreseeable future and it's one that now might spell the end of her.
"I don't like her to be fair, but I feel like she is under a lot of pressure so she shouldn't be hated on as much as she is," said Lucy Rowe, 17, a politics student in Harlow, a new town developed after World War II to house displaced Londoners and where an emphatic 68 percent of people voted for Brexit.
Rowe would have voted to stay in the EU had she been old enough. The deal "is the best deal she could have gotten, but I still don't think that we should leave," she said.
Ever since May replaced David Cameron in the wake of the 2016 referendum, she has lurched from crisis to crisis. Some were of her own making, like calling an election that cost her Conservatives a parliamentary majority. Others were simply a misreading of how the European side would react.
Alastair Young, a "leave" voter in the affluent commuter town of Sevenoaks, said the problem is that there's a shortage of capable politicians and that May was "out of her depth." But the ministers who quit should have stayed to sort out her mess, he said. "It's highly unlikely that anyone can read a 500-page document within a few hours and give a proper opinion."