Theresa May Runs Out of Brexit Options
Theresa May flew more than 3,000 miles into the heat of the Egyptian desert in her search for a last-ditch deal with the European Union.
But on the shores of the Red Sea at Sharm el-Sheikh, May and her negotiating strategy seemed finally to have run out of options.
As the mood in the prime minister's inner circle darkened, one European leader after another told her what senior ministers in her government have been saying for days: Brexit must be delayed.
Postponing the U.K.'s departure from the EU would be potentially incendiary for British politics. It risks igniting the fury of euroskeptic politicians in May's Conservative Party, some of whom are even threatening to bring down her government if Britain doesn't leave the EU as planned on March 29.
"I have no idea where we will be by the end of this week," said one government insider, who asked not to be named. "She has nowhere to go."
Some of May's most senior Cabinet ministers are threatening to walk out of her government to stop the no-deal Brexit she insists is the default outcome if Parliament refuses to back her plan. And a showdown in the House of Commons on Wednesday could pave the way for a new law to take control of Brexit out of May's hands.
Then the U.K.'s departure day would be delayed and Britain stuck inside the EU. May would have failed to deliver the one goal that has defined her entire premiership. And the euroskeptic wing of her ruling Conservative Party is very likely to explode.
While a personal failure for May, an extension wouldn't necessarily be all bad. The pound would probably rally, and businesses would breathe a sigh of relief that the prospect of no-deal had been taken off the table. The threat of a delay could even help convince hardline Brexiteers to back May's deal at the 11th hour rather than risk being caught inside the bloc indefinitely.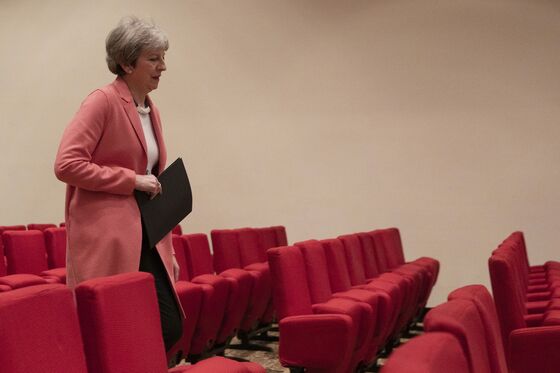 But there's a risk that a delay would spark more political uncertainty and upheaval -- even a general election. May's authority, long undermined, has all but vanished.
Amber Rudd, the pensions secretary, Justice Secretary David Gauke, and Business Secretary Greg Clark have all come out against May in public, even as they flirt with their own political suicides by doing so.
They want to stop May's apparent drift towards the economic cliff-edge of a no-deal Brexit and see this week as their last realistic chance to do so. One question is whether these three ministers -- and as many as 20 others -- would not just quit the government but leave the Tory party too.
Last week saw three pro-EU Conservatives defect to join a new Independent Group of MPs as the Brexit earthquake cracked the traditional party structures that have propped up British politics for decades.
Rudd, Gauke and Clarke broke ranks on Saturday and wrote an unauthorized joint newspaper article in which they effectively threatened to quit to stop a no-deal exit.
May spoke to the ministers last week, when they warned her what they were planning. She will try to win them over in further talks on Tuesday and potentially Wednesday, one person familiar with the matter said. May's chief whip Julian Smith is also doing everything he can to persuade the ministers not to jump.
At the root of the crisis is the mystery that has shaped Brexit: nobody knows what May will do.
For tactical reasons, the prime minister can't promise Rudd and others in the middle of a negotiation that she won't enforce a no-deal Brexit on March 29, any more than she can vow to euroskeptics in her party that she won't agree to delay the divorce.
May must keep up her poker face while asking her doubtful colleagues to trust her. The problem is no one feels they can. And as time runs out for a solution, EU leaders are as mystified as everyone else.
On a warm spring morning in the Egyptian resort, May held meetings with her European counterparts in yet another attempt to get concessions on the most difficult part of the withdrawal agreement -- the Irish border backstop.
During the course of a 45-minute breakfast meeting over pastries, cheese and fruit, German Chancellor Angela Merkel asked May if she's considering a two-month extension to the March 29 deadline.
May is said to have replied -- as she always has to -- that she doesn't want a delay, and is keen to get the deal to leave the EU done on time.
Everywhere she goes, May is dogged by the same question: what happens next if she can't get a deal through Parliament? Will she drive Britain over the edge of the cliff, unleashing economic and political chaos? Or will she back a move to postpone exit day.
On her flight to Sharm el-Sheikh on Sunday, May's exasperation with always getting asked that question was obvious. "Why is it that everybody is always trying to look for the next thing, after the next thing, after the next thing?" she asked reporters traveling her. "I know it's what you do, but it would be quite nice if we focused on what we're doing now, which is working to get a deal."