May Raises Stakes Before Brexit Showdown as EU Hatches Plot
Theresa May once again postponed a final vote on her Brexit divorce agreement, raising the stakes in a battle with members of her own cabinet who are fighting to avert a no-deal exit.
The prime minister set a new deadline of March 12 -- just 17 days before Brexit day -- for Parliament to vote on the accord she's still trying to renegotiate.
Her gamble could make those who are seeking to avoid a catastrophic no-deal departure even more determined to defeat her. They'll have a chance to do that on Wednesday, when they'll try to force her to delay exit day to avoid the economic damage of crashing out. If they succeed, the pound is expected to rally.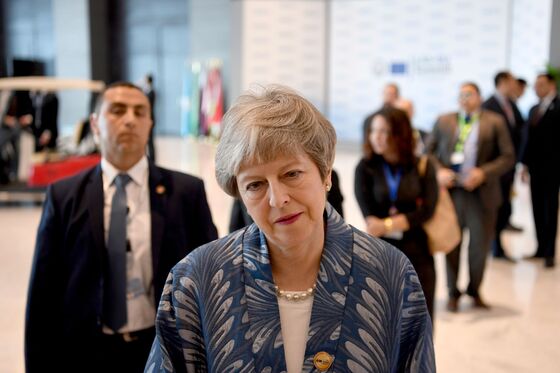 May wants to keep the no-deal threat on the table as she thinks it will help get her unpopular agreement through the House of Commons at the 11th hour. But the prospect horrifies businesses and members of May's own Cabinet. Meanwhile, it emerged on Sunday at a summit in Sharm El-Sheikh, Egypt, that European Union officials are also working on a new plan that could help get the deal over the line at the last minute.
EU officials are considering telling the U.K. that any extension must keep Britain inside the bloc until 2021. The move could force pro-Brexit hardliners to back May's plan to avoid extended membership and the risk that the whole divorce could be reversed.
Three European officials said a long extension made sense as a few months wouldn't be enough to break the deadlock. A fourth said the idea sounded like a scare tactic. There is no consensus yet among the 27 remaining governments over the length of a postponement.
May's proposed divorce agreement was rejected in an overwhelming defeat in the Commons last month. She's trying to re-write the most contentious part of the agreement -- the so-called Irish border backstop.
May has already asked Parliament to give her more time to negotiate twice and ministers in her own government are running out of patience. Several ministers indicated on Friday they were ready to vote against her to prevent a cliff-edge departure -- joining with Labour members of Parliament to do so. Business groups were dismayed on Sunday at May's latest attempt at delay.
"She cannot just keep drifting and dithering like this or there is a real risk our whole country tumbles off a cliff edge into a chaotic no-deal that no one is ready for," said Labour MP Yvette Cooper, who will propose an amendment this week to force May's hand. "The prime minister is making it completely impossible for businesses, public services and families to plan."
Another amendment by rank-and-file Conservative MPs is also being drawn up that would call for an extension if May can't secure a deal, according to an official.
Three Cabinet ministers -- Amber Rudd, David Gauke and Greg Clark -- wrote a joint article on Saturday warning they cannot allow the U.K. to leave without a deal and suggesting they will vote to stop it on Wednesday. May made no attempt to censure them on Sunday.
May met European leaders at the summit, but both sides played down the chances of a breakthrough. European Council President Donald Tusk had more bad news for May, according to an official: He said the EU wouldn't call a new summit of leaders to sign off on changes to the deal until it's clear that the U.K. Parliament would back them. The next summit is scheduled for March 21 -- days before Britain is due to leave.
The EU has said it won't renegotiate the treaty, but can offer reassurances or legal interpretations. May met German Chancellor Angela Merkel in Egypt, and is also expected to meet Irish Prime Minister Leo Varadkar.
"We still have it within our grasp to leave the European Union with a deal on the 29th of March and that's what I'm going to be working at," she told reporters on Sunday.