Brexit in the Balance as May Asks U.K. Cabinet to Back Her Deal
Theresa May will ask her divided Cabinet ministers to back her Brexit deal or quit, as the U.K.'s divorce from the European Union enters its most dangerous phase yet.
After negotiators secured a deal on paper in Brussels, the prime minister will try to persuade her team that the plan is not a sellout at a meeting on Wednesday -- before she faces her toughest test: getting it through Parliament in the face of near impossible odds.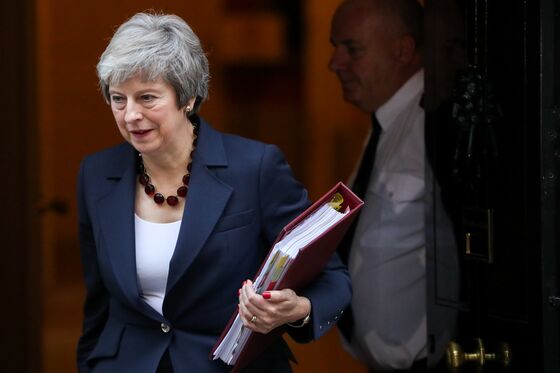 Negotiators have settled on a divorce text that's said to stretch to about 600 pages and May's ministers were invited into her office on Tuesday to read it. On Wednesday they will be asked to sign off on the deal at a 2 p.m. meeting -- though there's a risk some will dislike it so much that they will quit.
Two key Brexit-supporting ministers, Environment Secretary Michael Gove and Home Secretary Sajid Javid back the plan, according to people familiar with the situation.
But others are weighing their options, including May's former leadership rival Andrea Leadsom, and fellow ministers Penny Mordaunt and Esther McVey. While she could probably survive as leader if these ministers resigned, May will be more concerned at the growing chorus of anger coming from Parliament.
Unless she can get a deal through the House of Commons in a crunch vote expected within weeks, the U.K. will be on course to crash out of the EU next March into legal limbo. The alternative would be more political turmoil, and possibly even a second referendum.
Before they had even seen the text, politicians on all sides of the Brexit debate were condemning it as a betrayal of the 2016 referendum result. And in a serious blow to May, the Northern Irish party that props up her government branded it unacceptable.
The pound rose on the breakthrough as talks have been stalled for months. But it won't be a done deal until it clears Parliament.
May has won a concession from the EU over the thorniest issue of all -- how to prevent a border emerging in Ireland as a result of Brexit. But the win comes with expensive conditions attached: the whole U.K. is set to remain in the EU's customs and trade orbit indefinitely, unless a better idea turns up in the next two years.
While business would welcome the arrangement, it's a breach of May's promises. It's also unacceptable to many pro-Brexit Tories who want to break free from the EU's clutches and strike new trade deals around the world. Pro-EU Conservatives have also become more skeptical in recent weeks as they see the U.K. handing over sovereignty rather than taking it back.
Jacob Rees-Mogg, a leading Brexit-backer, said the deal took the U.K. from being "a vassal to a slave."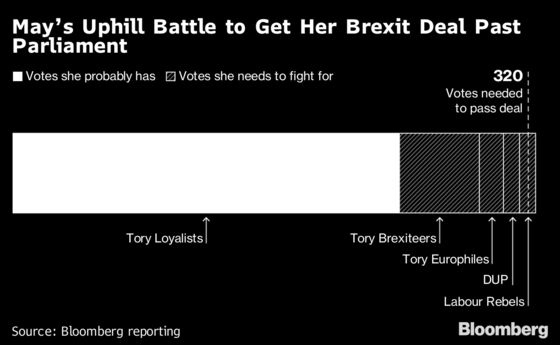 May has already survived the loss of some of key figures in her Cabinet including former Brexit Secretary David Davis and Foreign Secretary Boris Johnson. She has defied the rules of British politics since almost losing a general election last year, and has staggered on against the odds, even amid criticism from her Cabinet. She could probably keep going if a minor figure walked out.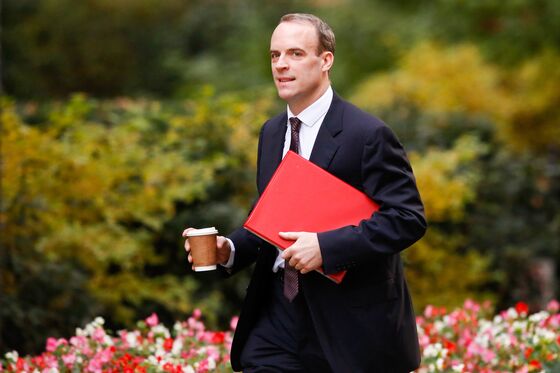 But for every minister who leaves, her vote count in Parliament looks trickier. Even if they all stay, getting it through Parliament remains a struggle.
If all goes well on Wednesday, then a summit could be called toward the end of November -- officials said Nov. 25 was a likely date. May is keen to get the deal done in November to avoid having to ramp up spending on no-deal planning. Business is desperate for the terms to be nailed down so that they can start banking on the two-year transition period that's included in the divorce agreement.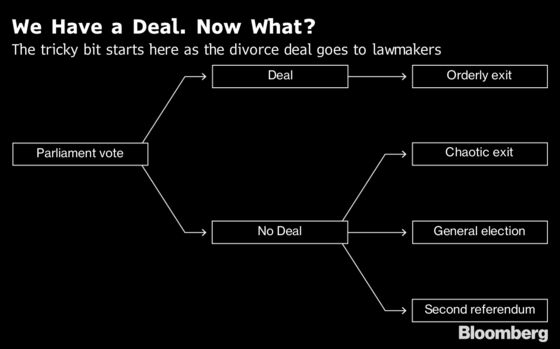 In some good news for May, Iain Duncan Smith, an influential Brexiteer, reckoned that Cabinet ministers would back her, if only out of spinelessness.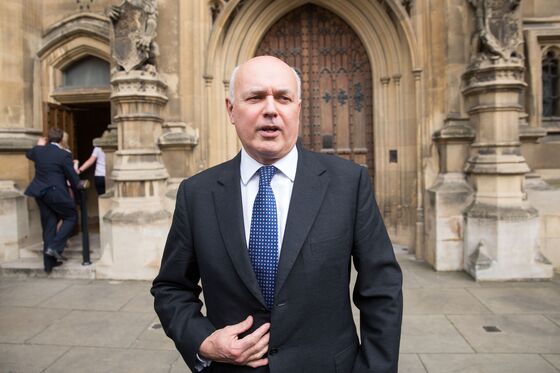 He told reporters: As Margaret Thatcher "once said to a friend of mine, but it may apply to the Cabinet: 'Your spine does not yet meet your brain.'"
Julian Smith, May's chief whip, also sounded upbeat: "I am confident we will get this through Parliament." The government is betting that the reality of having a deal in hand -- and the prospect that rejecting it would bring chaos -- will convince Tories to fall in line. The math doesn't support their optimism.