May Presses Brexit Case as Opposition Party Floats Another Vote
(Bloomberg) -- British Prime Minister Theresa May looked likely to survive any attempt to oust her over Brexit for now, but she risks a permanent rupture in the governing Conservative Party and is leaning on political opponents to help get her plan through Parliament.
Despite the resignations of two of her most senior ministers in one day -- an event without parallel in recent decades -- most of her Conservatives appeared content on Monday evening with a proposal that would keep Britain close to the European Union on trade and regulations.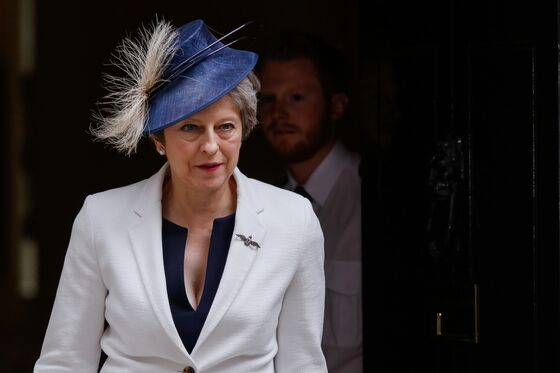 While keeping her government together is key, another critical part of the puzzle is getting the EU side to engage with her plan. On Tuesday, Airbus SE urged Brussels to go easy on May, and the EU's chief negotiator Michel Barnier is likely to weigh in from New York, where he's addressing the Council on Foreign Relations.
With May looking at a busy week -- a NATO summit and hosting U.S. President Donald Trump -- she is not out of danger yet.
A handful of lawmakers who want a clean break from the EU said privately they had submitted letters calling for a vote of confidence in May, though they hadn't met the threshold of 48 needed to trigger such a ballot. But should they ultimately do so, the prime minister also looked to have enough support to survive.
May lacks a parliamentary majority, so she can only pass legislation if her party is united or if she borrows support from across the aisle. On Monday, her office attempted to woo opposition Labour Party lawmakers, a move that outraged dissident Conservatives, who are prepared to vote to block her plan if it comes to the House of Commons unchanged later in the year.
"There is one issue of grave concern and that is that the government has been briefing Labour members of Parliament,'' Jacob Rees-Mogg, chairman of the pro-Brexit European Research Group, told reporters. "If the government plans to get the deal through on the back of Labour Party votes, that would be the most divisive thing it could do, and it would be a split coming from the top."
It is also not at all clear that it would work. The group of Tories Rees-Mogg speaks for won't support the Brexit plan as it stands, but Labour lawmakers said it wasn't yet close enough to their position to win their support.
"It's conceivable that there's no majority for any deal," Labour's deputy leader, Tom Watson, told the BBC on Tuesday. He said that if Parliament was deadlocked, Britain might need to hold another referendum on leaving the EU.
Still, the apparent lack of an imminent threat to May helped to steady the pound on Tuesday, with the British currency little changed at $1.326 against the dollar in London. It fell as much as 0.7 percent on Monday after Johnson's resignation.
The latest chaos for May unfolded within 48 hours of what was supposed to be a breakthrough in uniting a fractious government behind her road map for Brexit. Instead, it underscored the intractability of the issue for a country stymied by infighting as the rest of the continent looks on. Britain is due to leave the EU in nine months, and its governing party is still arguing about what kind of relationship it wants with the bloc afterward.
There are no recent precedents for two secretaries of state and a junior minister resigning in the space of 24 hours in protest at the government's central policy.
In 1982, three foreign office ministers quit, taking responsibility for Argentina's invasion of the Falkland Islands. In 1958, the chancellor of the exchequer and two junior ministers resigned in protest at increased government spending.
But when May appeared in Parliament on Monday afternoon, she didn't look like a woman who was facing an existential crisis. She eyeballed Labour lawmakers opposite, and made jokes at the expense of their leader, Jeremy Corbyn.
From there she went to a private meeting of the Conservative Party's 1922 Committee, where she was cheered warmly on arrival. That was a little deceptive. One lawmaker told the prime minister that her plan wasn't what the country had voted for. Another suggested the events were the result of a plot to sabotage Brexit. But May left to more cheers.
Late on Monday evening, she pieced together a new Cabinet. Health Secretary Jeremy Hunt replaced Boris Johnson as foreign secretary and she picked Brexit supporter Dominic Raab to replace Brexit Secretary David Davis. Hunt campaigned to stay in the EU, though since has said would vote to leave if the referendum were held now.
In his resignation letter, Johnson spoke for angry Conservative Brexit-backers when he complained that voters weren't going to get the things he'd promised them when he campaigned to leave the EU. "That dream is dying, suffocated by needless self-doubt,'' he wrote. "It is as though we are sending our vanguard into battle with the white flags fluttering above them.''
May's response was caustic. "If you are not able to provide the support we need to secure this deal in the interests of the U.K., it is right that you should step down,'' she wrote.
Later that evening, Rees-Mogg's European Research Group met to discuss what many of its members see as a betrayal. There were calls for May to scrap her proposals and tell the EU that the U.K. is leaving without a deal, according to one person who was present.
There were different estimates for how many were at the meeting, ranging from 20 to 30 to, according to one person, more than 80. If the latter number is correct, May would be in serious trouble. But even the smaller numbers are enough to block legislation.