May Delays Brexit Vote to Buy Time as Ministers Threaten Revolt
Theresa May pushed back the deadline for Parliament to vote on her Brexit deal, in a gamble she hopes will buy more time for negotiations but which risks inflaming the revolt against her.
The British prime minister confirmed she won't bring a new divorce deal back to the House of Commons for a final vote this week. Instead, she's asking already skeptical members of Parliament to give her more time to renegotiate, promising they will get a vote by March 12. That's just 17 days before the U.K. is set to leave the bloc -- with or without a deal.
Politicians in London -- including ministers in May's own Cabinet -- are fast running out of patience with the premier as she struggles to renegotiate her deal in Brussels. And business groups reacted with dismay on Sunday to the latest sign of delay.
There are signs that a showdown in the Commons on Wednesday will be the "high noon" moment when Parliament forces May to delay the March 29 exit date. That's because a growing band of politicians are worried that the U.K. will lurch out of the EU with no deal if the drift is allowed to continue --- with catastrophic consequences for the economy.
Ministers said privately on Friday they had already agreed to grant May more time twice and weren't prepared to do so again.
May's proposed divorce agreement was rejected in an overwhelming defeat in the Commons last month. She's trying to re-write the most contentious part of the agreement -- the so-called Irish border backstop.
Some of May's team think her opponents -- inside the EU and within Parliament -- can be persuaded to back her if she runs down the clock and forces them to stare over the cliff edge at the prospect of a no-deal exit in March.
The EU, meanwhile, is coming up with its own new tactics. Officials are considering telling May that if she can't get her deal through Parliament then the alternative to a no-deal crash is a long extension. Three EU officials said the idea of a 21-month extension is being considered, a move pro-Brexit hardliners in the U.K. will see as an attempt to frighten them into backing May's accord. Such a long extension could allow anti-Brexit campaigners the chance to reverse the whole divorce.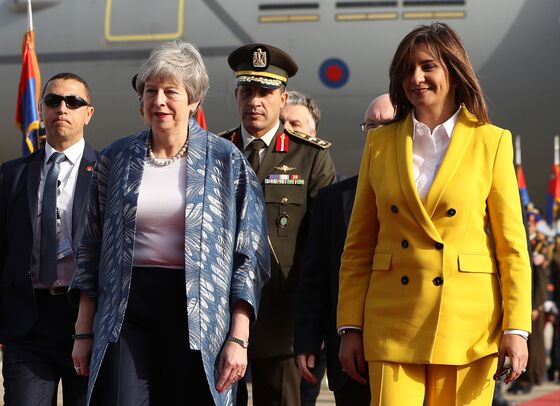 May arrived in Egypt braced for what could be the most difficult week of her troubled premiership. In an attempt to persuade them to give ground, May spoke to European Council President Donald Tusk and is expected to speak to leaders including German Chancellor Angela Merkel on the sidelines of a summit at the Red Sea resort of Sharm el-Sheikh.
Tusk told her that he won't call another summit of EU leaders to endorse any changes to the deal until she can prove that the changes will win support in Parliament. That's difficult for May to deliver.