May Pays Penalty as England World Cup Glory Turns Into Headache
(Bloomberg) -- For Prime Minister Theresa May, England's unexpected progress in the World Cup in Russia has turned into a political own goal.
In normal circumstances, a British leader would have jumped at the chance to bask in the glory of an all-too-rare sporting success. But in May's case, not only is her lack of interest in soccer a problem, she's tied her hands with the decision to boycott the event over the poisoning of a Russian spy in Salisbury.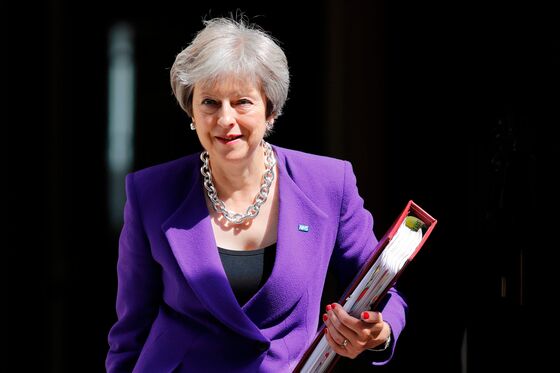 "There will be no attendance by ministers, or indeed members of the royal family, at this summer's World cup in Russia," May told lawmakers on March 14 as she outlined a suite of retaliatory measures after former spy Sergei Skripal and his daughter was poisoned in western England. Her office said on Wednesday that they will be sticking to that line.
The pressure on her is mounting as the team made it to the quarter-finals. In what would be a particularly cruel twist of fate, England could even cross paths with Russia on July 11 in the semi-finals. It's not as if May doesn't have enough to worry about next week: a testy NATO summit, hosting Donald Trump and the perennial headache that is Brexit.
Imagine the coup of Putin having to publicly offer his congratulations if the game were to happen and England were to win. As if to rub it in, the Guardian reported that Russia has renewed its invitation to May. Ministers argue that attending would lend legitimacy to Vladimir Putin, who Britain believes was behind the order to murder Skripal with a nerve agent.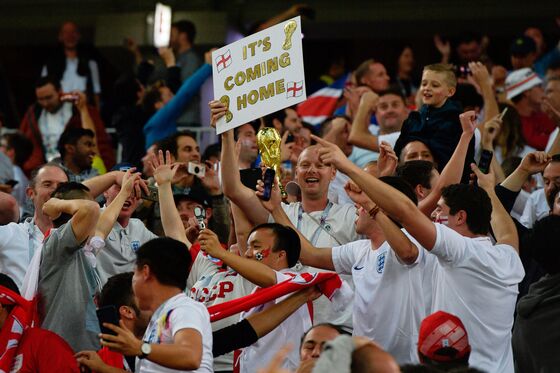 The U.K.'s ambivalence over the tournament also extended to discouraging fans from traveling to Russia, meaning that at Tuesday's game against Colombia -- which ended with England's first ever victory in a penalty shoot-out -- they were massively outnumbered by their opponents. The image was of England as a bit-part player, not the major global power it would like to be.
Most fans have been left at home listening to BBC radio pundits extolling the delights of Russian hospitality and the carnival atmosphere in the host cities. Not quite in keeping with the warnings over hooliganism and "anti-British sentiment or harassment" issued before the tournament.
To add to May's discomfort, opposition leader Jeremy Corbyn's spokesman said on Wednesday that there's no ban on his senior team traveling to Russia to watch England.
The premier's spokesman said after Wednesday's denouement that she "struggles to watch penalties." She might struggle even more to see her rival scoring points at her expense.