May Should Delay Vote to Avoid Defeat, Brady Says: Brexit Update
(Bloomberg) -- Prime Minister Theresa May has five days to avoid a devastating defeat in Parliament over her Brexit deal.
May is seeking ways to make the most controversial part of the deal -- the Irish backstop -- more palatable to Tory Brexiteers
Influential Tory Graham Brady says it's possible to delay vote to find a compromise
Buzzfeed reports some of May's advisers have recommended she consider a second referendum; others have argued for a softer Brexit
Brady Says It's Possible to Delay Brexit Vote (4:45 p.m.)

Graham Brady, the influential chairman of the 1922 committee of rank-and-file Tory members of Parliament, said Tuesday's vote on the Brexit deal could be postponed to give time for May to find a compromise with lawmakers over a mechanism for ending the Northern Ireland backstop.
"I'm sure the House of Commons would be happy to give her a few more days," Brady said in an interview with Sky News after May met with senior MPs to discuss the growing prospect of a big defeat in Parliament. "I don't think there's any point in plowing ahead and losing the vote heavily."
Tory lawmakers are ready to do a deal but want reassurance that if the backstop is triggered, the U.K. will be able to leave it, he said.
"We're very happy to compromise, we appreciate the difficulty of this situation," he said. "We do need to know that if we go into that backstop arrangement we can get out of it."
Blair: Parliament Acting as 'Shadow Government' (4:05 p.m.)
Following his interview on Bloomberg TV earlier, former Prime Minister Tony Blair set out the case for a second referendum at a lunch in Westminster. Once it's become clear that no proposed model can command a majority in Parliament, going back to the people will be the only option, he said.
Parliament was now acting as a "shadow government," he said, and had realized that its essential choice was between a "painful Brexit," going for maximum distance from the EU and hurting the economy, or a "pointless Brexit" -- remaining close to the EU but effectively as a rule-taker. He put May's deal in the second category.
"Do Brexit or don't," he said. "But not half-in, half-out."
He urged May to become a "facilitator," and said any referendum should offer a simple choice: Remain, or "Proper Leave" -- a hard Brexit.
Churchill's Grandson Urges Support for Deal (1:25 p.m.)
A powerful intervention in defense of May's plan from the grandson of another Tory prime minister. Nicholas Soames, who is descended from Winston Churchill, says the deal on offer is a "golden prize" which manages to divorce the U.K. from the EU "with frankly minimum damage" to either side. Lawmakers would earn the "undying contempt" of the British people if they reject it, he said.
"I feel very strongly that we really must not reject this agreement and thus go back to square one, which would mean perhaps another deeply divisive and very unhappy referendum," he said.
Hammond Says Renegotiated Deal a Delusion (11:55 a.m.)
Chancellor of the Exchequer Philip Hammond told lawmakers who believe May can go back and renegotiate her deal that they're out of tune with reality.
"This deal is the best deal for leaving the EU that is available or is going to be available," he says in the House of Commons. "The idea that there's a better deal to be negotiated at the 11th hour is a delusion."
A no-deal Brexit would leave Britain fractured and divided and be a "very, very bad outcome" for the country, with Britain the only advanced economy trading on WTO terms, Hammond says. If these terms are "so fantastic," he asks, "why do we need to negotiate free-trade deals?"
Hammond highlighted the Bank of England's assessment that the economy could be almost 2 percent larger by the end of 2023 under a negotiated deal, relative to forecasts made in November, but fall into a recession worse than the financial crisis in the event of a disorderly departure.
Blair Says May's Deal Is a 'Pointless' Brexit (11:40 a.m.)

Former Prime Minister Tony Blair said a second referendum on whether to leave the European Union will become the "only sensible way" out of the parliamentary gridlock he expects to follow the defeat of May's Brexit deal next week.
"She believes the important thing is to do Brexit, even if we still remain tied to Europe's rules," Blair said, adding that the compromise nature of her deal makes it unpalatable to either side of the debate. "In my view if we do that type of Brexit, it's effectively pointless."
With May's Conservative Party "highly unlikely" to go for a general election in the event the deal is voted down, Blair laid out a scenario in which various types of Brexit are then put forward by lawmakers -- with only the rejection of a no-deal Brexit able to command a majority.
"The only way to resolve this is to go back to the people," he said.
May is Listening, and Mulling Ideas (11:30 a.m.)
May is talking to ministers and members of Parliament in the run-up to the vote on Dec. 11, and is considering ways of making the Irish backstop more acceptable, her spokeswoman told reporters.
"She is currently talking to colleagues, and listening to them," said Alison Donnelly, May's spokeswoman. "She is obviously aware that there is strength of feeling on this issue."
One of the ideas is to give Parliament a say over whether the U.K. should go into the backstop or extend the transition period instead. But there are also other ideas that could be more attractive to Brexit-backers, according to a government official, who declined to be named.
U.K. Says EU Citizens Can Stay if No Deal (10:37 a.m.)
Brexit Secretary Stephen Barclay released a written statement guaranteeing the rights of EU citizens and their family members to "continue to work, study and access benefits and services on the same basis as now" in the event of a no-deal Brexit.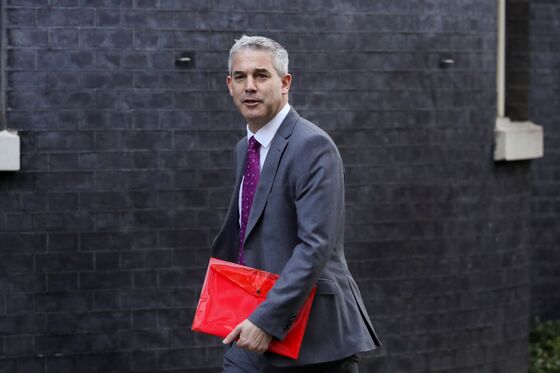 Citizens affected -- those who are resident in Britain before the end of March -- will have until December 2020 to apply for a status under the plans, according to Barclay.
Barclay urged other EU governments to reciprocate for British citizens in their nations. He said where this doesn't happen, "we will support U.K. nationals through this unlikely outcome" with measures like bilateral healthcare arrangements.
Barnier Tells U.K. Politicians to Back Deal (10:30 a.m.)
The EU's chief Brexit negotiator, Michel Barnier, said the vote in Parliament is now key. "This has serious implications for the future of the country," he said. "We respect democratic and parliamentary debate within the U.K.," he said, but added: "Everybody needs to do their bit, take on their responsibilities."
He also offered them some reassurance on the bit they hate most -- the Irish backstop. He said the bloc would do its utmost to avoid applying it and highlighted the option of using an extension of the transition period instead.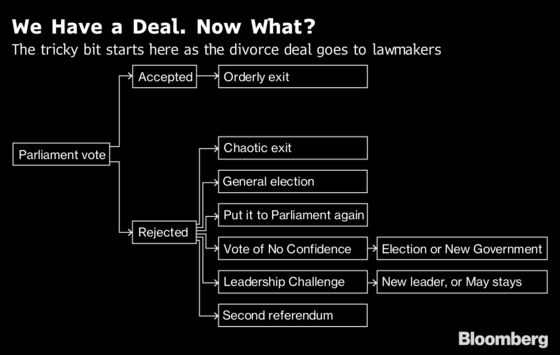 EU Court to Rule on Brexit Case Ahead of Vote (9 a.m.)
The European Union's highest court will decide Dec. 10 -- ahead of the key vote in the U.K. Parliament -- on whether Britain should be allowed to reverse Brexit in a landmark ruling that could offer hope to those who want the country to stay in the bloc.
Specifically, the EU Court of Justice will issue a ruling in a case to clarify whether Article 50 can be unilaterally reversed and if not, what the U.K. must do. Advocate General Manuel Campos Sanchez-Bordona of the Luxembourg-based court said in a non-binding opinion this week that the U.K. can reverse its notice, without conditions attached.
May Offers Parliament Role in Brexit Backstop (8:30 a.m.)

May said she's in talks to offer Parliament a say over whether to extend the Brexit transition period beyond Dec. 2020 if needed, rather than enter into the so-called backstop arrangement designed to stop the implementation of a hard border in Ireland.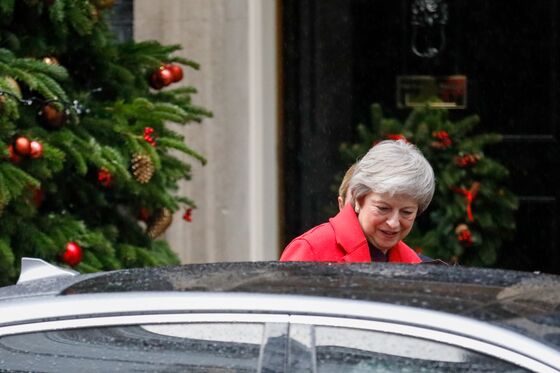 "The backstop is not automatic. If we do need to do it there's a choice to be made," May told BBC Radio 4. "I'm looking at the question of a role for Parliament in that choice."
It's part of an attempt to win support for her deal among lawmakers angry about the terms agreed with the European Union over the backstop, which could remain indefinitely after the U.K. quits the bloc. Parliament will vote on the deal on Dec. 11.
As Bloomberg reported earlier, the idea she's hit on is a so-called parliamentary "lock" that would mean lawmakers would need to give their consent before the most contentious part of the exit deal comes into force.
It's effectively a veto for the House of Commons which could vote to stop the U.K. entering the Irish border backstop arrangement, a part of the deal loathed by pro-Brexit Tories because it binds Britain to EU rules they want to escape.