May Hopes to Seal Brexit Deal, Stay as PM Until 2021, Times Says
(Bloomberg) -- U.K. Prime Minister Theresa May's allies are making plans that would keep her in office for more than two years after Brexit, the Sunday Times reported, citing a senior cabinet minister it didn't name.
The plans being floated would allow May to hang on to power until autumn 2021, when she would be replaced by a new Conservative party leader less than a year before the next scheduled general election in 2022, according to the report.
The plan -- developed as optimism grows that May will win support for a Brexit withdrawal bill -- had been discussed with leading party figures, possibly including May, the loyalist said. The move would allow May to carry out at least two more Cabinet reshuffles before leaving Downing Street, the report said.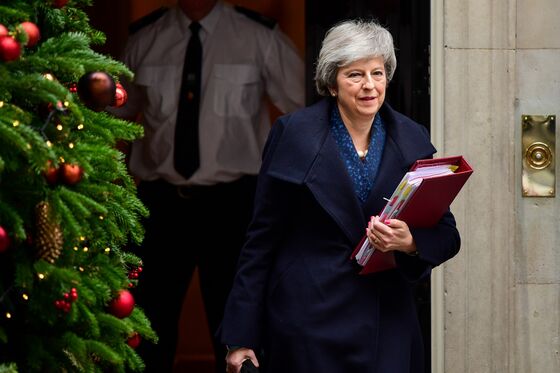 The first, expected shortly after the U.K. leaves the European Union in March, would let her promote a new generation of cabinet ministers, according to the Sunday Times. Chancellor Philip Hammond, Transport Secretary Chris Grayling, Trade Secretary Liam Fox and Business Secretary Greg Clark could all be axed to make way for fresh talent and a younger cabinet, with the majority then being aged under 50, it said.
May's supporters are encouraged by what they believe to be a substantial shift in political arithmetic in the Commons, the newspaper said. Her allies report a rise in the number of lawmakers ready to back May's withdrawal agreement, according to the Times. Before Parliament began its Christmas break last week, opposition to the bill appeared to doom the measure to defeat.
Separately, the leader of Parliament's lower house, Andrea Leadsom, warned lawmakers that the only way to prevent the U.K. from leaving the EU without a deal was to pass May's proposal or some variant, the Sunday Telegraph reported. Leadsom commented as some Cabinet colleagues are calling for Parliament to play a greater role in determining the next steps in the Brexit debate.
Graham Brady, head of the Tory 1922 Committee who oversaw a party confidence vote in her leadership this month, told the prime minister in a meeting last week that she should sack the next lawmaker to publicly undermine government policy, the Telegraph reported. Conservative Nick Boles wrote in the newspaper Sunday that he will leave the party if the government backs a no-deal exit from the EU.
"It would be grotesque for a Conservative government to start rationing medicines and mobilizing troops to secure a negotiated settlement to Brexit," he wrote, advocating a Norway-style deal if May's is rejected. "I will vote to stop it. And if the government pursues it, there will be one fewer Conservative MP in the House of Commons."