May Says Talks on Solution to Pick Up Pace: Brexit Update
Prime Minister Theresa May held "constructive" talks in Brussels on how to change the divorce deal so that British members of Parliament can accept it. An agreement is being worked on behind the scenes, but the European Union is reluctant to offer concessions until it knows they will be enough to swing lawmakers behind the deal.
Both sides are trying to figure out how to get a deal over the line before March 29. If there's no deal by then, Britain crashes out into legal limbo.
May says work on solution to continue "at pace;" a person familiar with her plans says she wants to show Parliament some progress by next week
EU wants to know British lawmakers support proposed tweaks to the backstop before getting leaders to sign off on them at a summit, according to people familiar
An agreement is already being hammered out, Spanish Foreign Minister says
EU's Tusk says a delay would be better than no-deal
Ministers are considering voting against May next week, and daring her to fire them
May Says Talks to Continue 'At Pace' (8 p.m.)
May said she and European Commission President Jean-Claude Juncker agreed that work on a solution to the Irish backstop -- the most controversial part of the divorce deal -- will continue "at pace." It's in both sides' interest to avoid a disorderly exit, she told broadcasters after meeting Juncker.
May Meets Juncker for 'Constructive' Talks (7:30 p.m.)
May and Juncker met in Brussels, where they had "constructive" talks. In their joint statement afterwards, it was clear that the U.K. is no longer asking for something the EU has long rejected -- to re-open the withdrawal deal. Instead, the pair discussed the "guarantees" that could be given about the Irish backstop -- the most controversial part of the deal.
EU Wants Proof MPs Support Changes Before Calling Summit (6 p.m)
The EU is reluctant to offer concessions to the U.K. which are then rejected by the U.K. Parliament. They want to be sure that what they offer will be enough to get the deal over the line, according to people familiar with the process.
So they have a plan: Get the U.K. Parliament to vote on the proposed changes to the backstop and then once they're sure it will do the trick, get EU leaders to sign off on the text at a summit. Two European officials commented on the plan.
It's a high-wire strategy as it pushes final approval back to the end of March, just before exit day.
Attorney General Geoffrey Cox and Steve Barclay are expected to present a proposed text on Thursday in Brussels, the EU officials said.

May Aims for Progress on Backstop By Next Week (4:20 p.m.)
May wants to be able to show Parliament that she's made significant progress on getting the Irish backstop fixed by next week, according to a person familiar with her plans.
May will attend an EU summit in Egypt on Sunday, and talks on Brexit are expected on the sidelines. Still it's not a European Council meeting -- not all leaders are expected to attend -- so major decisions can't be made.
May is racing to beat a deadline of Feb. 27, when Parliament is due to have another vote on Brexit. If she has nothing to show for her efforts by then, rank-and-file lawmakers are threatening to seize control of the process, and force her to postpone the March 29 exit day.
Hunt Says U.K. Seeks Clarity on Backstop (3:58 p.m.)
Foreign Secretary Jeremy Hunt said the U.K. needs to know what "temporary" means in the text of the Irish backstop. "So we need to put flesh on the bones to say what temporary really means," he told reporters in Berlin. That sounds less demanding than some of the U.K.'s earlier requests to re-write the backstop.
He also said that if Brexit "goes wrong" it will be a "disaster" for Britain and the rest of Europe.
More Tories Likely to Quit: Allen (1:45 p.m.)
Speaking at a press conference in London, Heidi Allen said she expected more Conservatives to quit the party. Sarah Wollaston said she hoped ministers in the government would resign in protest over the direction of Brexit.
Next week Parliament is due to vote on either May's deal or what should happen if there's no deal. Wollaston said ministers who've talked about resigning in order to vote against a no-deal departure should "stand up for what they know is right for this country and not allow no deal to go ahead."
All Terribly British (1 p.m.)
In an indication of the embarrassment heaped on both the Conservatives and the Labour opposition, May completes her weekly question-and-answer session in the House of Commons without a single mention of the defections.
Want a Brexit Deal? Back My Plan, May Says (12:20 p.m.)
Challenged by Labour leader Jeremy Corbyn to rule out a no-deal Brexit -- and the damage it would do to business and jobs -- May threw the ball back into his court. She said people's livelihoods and jobs are now in the "hands" of members of Parliament and it's up to them to back her deal if they want to avoid crashing out without one.
Defectors Sitting Tall and Proud (12:12 p.m.)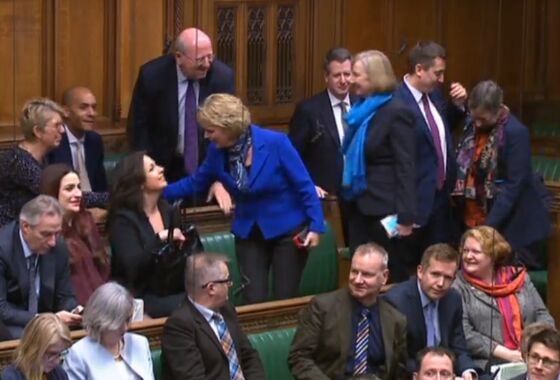 The three Conservative defectors are sat with the eight Labour defectors in the House of Commons behind the Scottish National Party and next to the Northern Irish Democratic Unionists. Anna Soubry, Heidi Allen and Sarah Wollaston are flanked by Luciana Berger and Anne Coffey and all are sitting tall and looking proud.
New Group Branded a 'Blairite-Tory Coalition' (11:50 a.m.)

Momentum, the grassroots Labour Party movement which supports Corbyn's brand of socialism, said that by accepting three Conservatives into the group of independent politicians, it had been exposed as "a Blairite-Tory coalition aimed at resurrecting a dead agenda of privatization, deregulation and tax cuts for the super-rich.''
Despite Tony Blair winning three consecutive terms in office for the Labour Party, the accusation of Blairism highlights the party leadership's disdain for a centrist agenda. Momentum's national coordinator Laura Parker called for a series of special elections so voters could decide the future of their members of Parliament.
Three Tories Quit to Join New Party (11:10 a.m.)
Three Conservative members of Parliament -- all outspoken opponents of Brexit -- have quit the party to join a new centrist group.
Anna Soubry, Heidi Allen and Sarah Wollaston will join the new Independent Group, which already consists of eight former Labour members.
While dramatic -- and possibly the start of a major fracture in British politics -- in the short-term it probably doesn't affect the math for getting May's Brexit deal through Parliament. They were all likely to vote against her anyway.

Hunt Says Government Sees How to Get Deal Through (9:45 a.m.)
Hunt said the government can now see a way to get a parliamentary majority for a Brexit deal. A compromise needs to be reached on the Irish backstop that allows Attorney General Geoffrey Cox to change his legal advice about the risks posed to the U.K. by that guarantee.
It needs a "simple, but important change," he said.
"The critical thing is that the British Attorney General, Geoffrey Cox, needs to be able to change his advice to parliament that currently says that it's possible, if not likely, that Britain could be under the current backstop arrangements, trapped in the customs union forever against its will," Hunt said.
He also said he wants to see an "open, optimistic" Brexit deal, and one that the 48 percent who didn't vote to leave the bloc can live with.
Hunt Urges EU to Avoid No-Deal (9:30 a.m.)
Hunt calls on EU leaders to show "generous" and "far-sighted leadership to avoid a no-deal Brexit.
In a wide-ranging speech, in which he also spoke some German, Hunt has said it would be "an enormous mistake" for the EU to turn inwards as introspection potentially provides an opportunity for Europe's adversaries.
"We mustn't allow Brexit to be all consuming," Hunt said in a speech on Anglo-German relations in Berlin. "And that means an orderly departure from the EU is of paramount importance."