May Faces Tory Fire Over Brexit as Hammond Attacks Boris Johnson
(Bloomberg) -- Prime Minister Theresa May faces the battle of her political life to retain control of the governing Conservative Party as top Tory politicians undermined her leadership.
After arch rival Boris Johnson went for the jugular, Chancellor Philip Hammond swept in to defend her in an increasingly chaotic political scene.
May arrived at her party's annual conference in Birmingham needing to reassert her authority and to convince Tories to back her blueprint for Britain's departure from the European Union. Johnson, her top diplomat until three months ago, called her plan "deranged."
The next few days will be critical, and her political opponents have an advantage that she doesn't address delegates herself until Wednesday. Below are the highlights of day one at the conference.
May's proposal to keep close to the EU's single market in goods -- which would establish a new free trade area with the U.K. -- has been bluntly rejected by European leaders, and is under attack from euroskeptic Tories led by Johnson who want a quick, clean split from the bloc.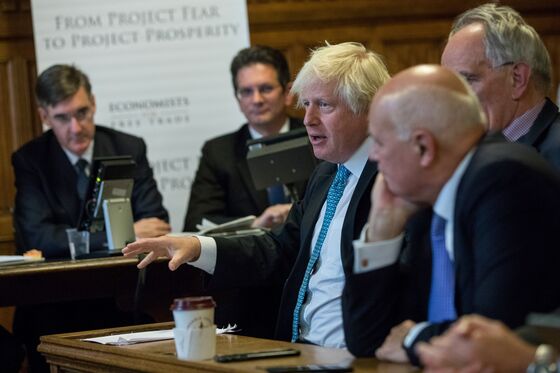 Johnson has been criticizing May's so-called Chequers plan for months, but he turned it personal in an interview with the Sunday Times. Her idea to require Britain and the EU to collect each other's tariffs was "entirely preposterous," he said.
"Unlike the prime minister I fought for this, I believe in it," Johnson said. "I think it's the right thing for our country and I think that what is happening now is, alas, not what people were promised in 2016."
It wasn't just May coming under fire. Writing in the Sunday Telegraph, former Brexit Minister Steve Baker said May's blueprint -- the reason why he quit the government -- is the product of "excessive political influence'' by the country's biggest business lobby, the Confederation of British Industry.
"The CBI is a grave menace to the political stability and economic prospects of the U.K.,'' Baker wrote. "The voice of business should be heard. Companies are entitled to seek minimal interruption to commerce and, as the party of free enterprise, Conservatives should listen. But the CBI is not that voice.''
May has her cheerleaders. Earlier in the day Ruth Davidson, leader of the Scottish Conservatives, told the BBC that "in terms of a period of silence, I would be very welcoming of one."
Ahead of his speech on Monday, Hammond got uncharacteristically personal -- against Johnson. He predicted the former London mayor would fail in a leadership bid.
Hammond mocked Johnson's cut-glass British accent and accused the former foreign secretary of being unable to grasp details, in an interview published on Sunday night with the Daily Mail newspaper.
He defended May's Brexit negotiating approach, while arguing Johnson's own plan would never work because it would split Northern Ireland from the rest of Britain, which could in turn prompt demands from Scotland for a hard border there.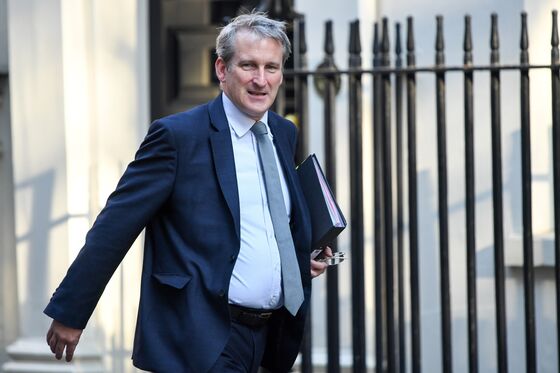 Education Secretary Damian Hinds was also supportive of May's plan. "It's a good package," he told Bloomberg. "Of course you can pick holes. You can pick holes in any package. But unless you've got something better to put forward as an alternative, that is what there is.'
Later, the premier received rapturous applause when she made an unexpected appearance at a reception hosted by the government of Gibraltar. Chief Minister Fabian Picardo -- a socialist -- said she had been Gibraltar's "champion'' in the Brexit talks and called her "our star striker in this final countdown.''
That prompted a quick comeback from May: "It was going fine until that point.'' On her way out, she posed for selfies and looked relaxed chatting with the party faithful.
Business Secretary Greg Clark rejected both a no-deal Brexit and the kind of Canada-style free-trade deal being pushed by Johnson, and said he's confident the party will ultimately back an agreement modeled on May's blueprint.
"No deal is something that wouldn't be in the interests of either side, and Canada wouldn't achieve our objectives: we've got to be tenacious about this,'' Clark told Bloomberg TV Sunday. "It was totally predictable that this would be the time when breakthroughs would be made and agreements would be forged, and that is what I think will happen in the weeks ahead.''
Even so, Clark said businesses "need to prepare for all eventualities." He also dismissed the notion of Tories backing a potential leadership bid by Johnson: "I don't see any appetite for that kind of division. Quite the reverse."
A potential contender in a future leadership race, Foreign Secretary Jeremy Hunt got the tone of his keynote speech just right on Sunday.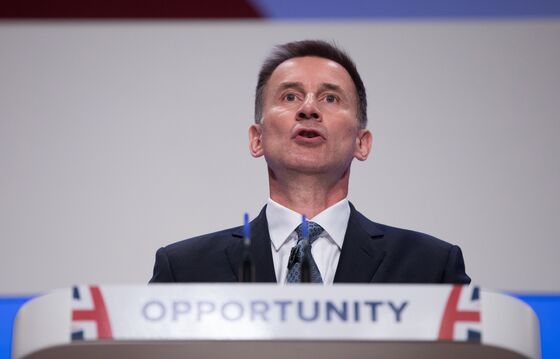 There was a joke at his predecessor Johnson's expense. But it was a harmless one: "I walked up the Grand Staircase in the Foreign Office and looked at the pictures of my distinguished predecessors gazing down from the wall. One of the recent ones seemed to have forgotten to comb his blond hair."
He also referenced past leaders Margaret Thatcher and Winston Churchill, who always go down well among rank-and-file Tories.
But the most important takeaway was on Brexit, which despite being a relatively recent convert to the cause, Hunt navigated without sounding treasonous. Taking a crack at the French for being mean captured the current Tory zeitgeist, as did his comparison of the EU with the Soviet Union that "stopped people leaving."
"Never mistake British politeness for British weakness... Because if you put a country like Britain in a corner, we don't crumble. We fight." It was tub-thumping stuff.
The hot ticket was for the Brexit cheerleaders' event. The headline act was Jacob Rees-Mogg, the informal leader of the hardliners.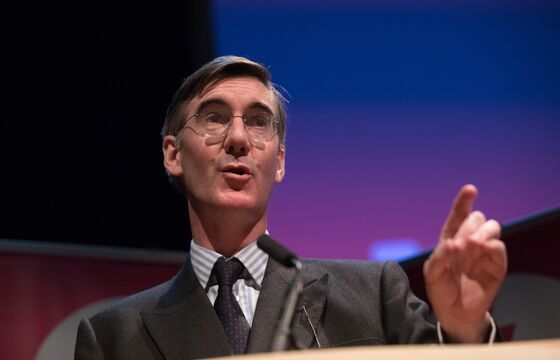 Totem bags were handed round bearing the slogan "Let's Get Brexit in the Bag," along with pamphlets titled "Project Cheer 3, even more reasons to be cheerful about Brexit." Rees-Mogg was among friends; someone even wolf-whistled.
Perhaps the most notable line came from Tory lawmaker Conor Burns, former parliamentary private secretary to Johnson, who said Brexiteers don't want to change May -- they just want her to abandon her plan. It's been their line for weeks now; the next few days could go a long way to deciding what happens if she refuses.
In a speech Monday, Brexit Secretary Dominic Raab will say Britain would leave the EU with no deal rather than opt for membership of the European Economic Area or the EU's customs union if May's proposal isn't accepted by the bloc. The extracts of his conference speech were notable for not mentioning the type of Canada-style free-trade deal being pushed by Brexiteers.
"Our willingness to compromise is not without limits," Raab will say, according to his office. "We are leaving the European Union in fact, not just in name. If we can't obtain a deal that secures that objective... if an attempt is made to lock us in via the back door of the EEA and Customs Union... or if the only offer from the EU threatens the integrity of our Union. Then we will be left with no choice but to leave without a deal."
Though the Brexiteers are typically loudest, May must also mind the group of pro-EU Tory lawmakers. Their de facto leader, Dominic Grieve, wrote in the Sunday Telegraph "the time has come for a polite rebellion," with a "significant" number of Tory politicians prepared to back a second referendum on Brexit.
Just how many "significant" means will be crucial to May's chances of getting her deal through Parliament, especially after the Labour Party agreed last week it would keep all options -- including another referendum -- on the table if they can't support whatever agreement the prime minister brings back from Brussels.
The group of Conservatives supporting a second Brexit vote hold a fringe meeting in Birmingham Monday.
Labour used their own conference last week in Liverpool to put pressure on the Tories with a series of policies aimed at overhauling the economy. They included a major house-building program, appealing to voters unable to afford homes -- a problem that is especially acute in London and southeast England.
The government doesn't want to cede ground to Labour on such a key issue, and said on Sunday it will raise the tax on foreign buyers of homes in the U.K, with the money raised to be used to help the homeless. It comes weeks after May announced 2 billion pounds ($2.6 billion) of funding to encourage non-profit housing groups to build cheaper homes over the next decade.
On Monday, Hammond will also ask businesses for help to improve the unpopular apprenticeship levy -- an attempt to boost the party's appeal among top executives. The 18-month-old program has failed to boost the number of trainees, while some businesses paying the charge say it's too bureaucratic, rigid and essentially a stealth tax.