May Faces a Brexit Showdown as Home-Front Negotiations Sour
(Bloomberg) -- A dramatic week in U.K. politics, full of tragicomic fumbles and accusations of betrayal, has left one thing clear: Parliament's growing role in Brexit has only added to the obstacles in Prime Minister Theresa May's path.
In four months' time Britain is meant to have sealed a deal with the European Union on the terms of a divorce its people voted for two years ago. But the U.K. is still stuck in negotiations with itself, both inside May's cabinet and in Parliament, where lawmakers in her Conservative Party are making common cause with Jeremy Corbyn's Labour Party to block her.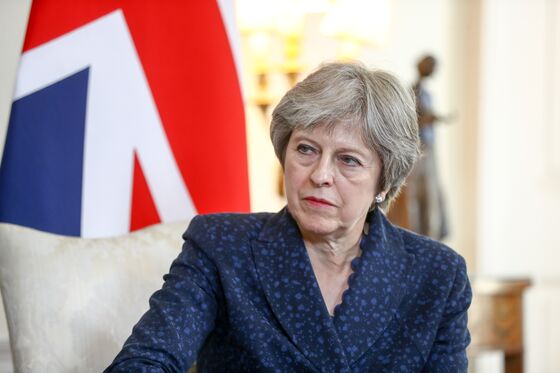 Brussels looks on in horror. Talks are stalled, and this week officials talked privately about the possibility of whether the U.K. might need to stay in the bloc past March 2019 if Brexit negotiations don't accelerate over the summer.
It's becoming increasingly difficult to see how May can deliver the Brexit she promised. Even if she's replaced, the parliamentary arithmetic -- reflecting a deeply divided country -- remains the same. Much of May's strategy so far has been fudge and delay, but those tricks are working less and less.
There have been an extra set of disappointments to digest in the process, which went largely unnoticed because of the fight at home. The EU has informed the U.K. that it cannot maintain full participation in the bloc's foreign policy and has made it harder for U.K. companies to win contracts for the next stages of the multibillion-euro Galileo satellite navigation program.
The problem is that the domestic drama is all-consuming. So much government time and energy is spent on preventing revolts either from the pro-EU wing of her party or the Brexit supporting one -- never mind trying to focus on preparation for worst-case scenarios or active engagement with EU negotiators.
So where do things stand? On the one hand, May's latest effort to quell a pro-EU mutiny looked to be in trouble. A proposed compromise over a "meaningful vote" amendment -- a proxy for whether Parliament can direct the final stage of Brexit negotiations if a chaotic no-deal scenario looks imminent -- was furiously rejected within minutes of it being published.
But the government thinks some rebels are willing to switch sides to support May, according to two people familiar with the negotiations. This should be enough to save the premier from a damaging parliamentary defeat, they said. 
At stake is the question of what should happen if negotiations with the EU don't produce a deal, or if Parliament rejects the accord the government gets. For business -- the risk of a no-deal Brexit is the worst-case chaos scenario, and that's the situation the rebels are trying to prevent. It's bad news for business if the pro-Brexit faction gains the upper hand.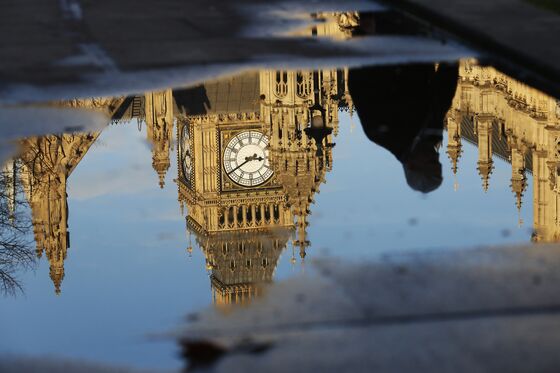 In the short term, May faces a knife-edge vote next week over her flagship Brexit legislation in the upper House of Lords on Monday, and then a showdown with rebels in the lower chamber on Wednesday. This week had all been about securing a truce -- until talks fell apart, apparently with one side calling the other's bluff.
A small group of Conservative lawmakers, who argue that Britain needs to stay close to the EU, want Parliament to have the power to tell the government what to do if a no-deal becomes a possibility. The government argues this is giving away too much power. Those in May's party who want more distance from the EU say it could be used to block Brexit altogether.
May's problem is that she doesn't have a majority in either chamber of Parliament, so she can't pass the bill without making compromises. However any deal has to be acceptable to the pro-Brexit flank of her party, who fear they are losing influence over what Britain's ultimate relationship with the bloc will be. They suspect the pro-EU lawmakers of trying to reverse the result of the referendum in 2016.
Two days of negotiations between the government and the two sides to draft an acceptable amendment to the bill had seemed to succeed in finding common ground early Thursday afternoon, with rebels saying they had secured an agreement that would allow them to veto a messy Brexit.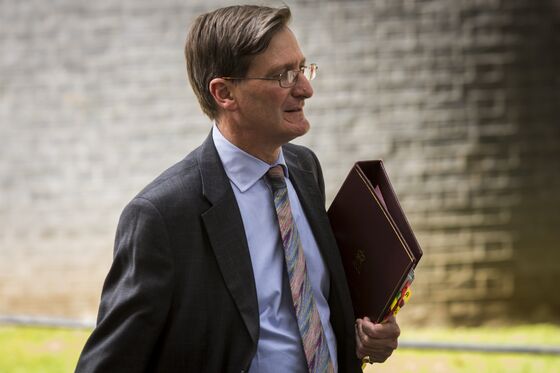 But as the moment for the amendment to be published approached, it became clear there was a hitch, and within minutes of it being tabled, the leading rebel, former Attorney General Dominic Grieve, declared it "unacceptable."
"We came to a really good agreement," he said in an interview. "At the very, very last minute a change was introduced. We can't live with that."
Brexit supporters, on the other hand, said they were satisfied.
And as a sign of May's confidence that she has done enough, her officials are not planning any more compromise talks with the rebels. Nevertheless, offering a deal some of them don't accept is a gamble.
For weeks, the pro-Brexit wing of the party has been urging her to stand up to the other side, arguing that if she did, she'd win.
If they're right, she might just emerge more powerful. If they're wrong, the so-called Brexiteers will have demonstrated their own weakness rather than hers.