Tories Give May Breather Amid `Difficult' Talks: Brexit Update
(Bloomberg) -- Prime Minister Theresa May can breathe a short sigh of relief as her party stepped back from a threat to make it easier to oust her. But talks with the opposition aimed at getting a Brexit deal are "difficult," according to her deputy, and she's still facing calls to put a date on her exit. The pound fell.
Tory party leaves rules on leadership challenges unchanged -- amid calls to change them to make it easier to oust May
May sticks to her plan to stand aside only once she's delivered Brexit
Chairman of 1922 Committee Graham Brady says May aims to put Brexit bill to Parliament before EU elections on May 23
Cross-party talks resume. Deputy premier David Lidington says they have been "difficult"
Data shows the threat Brexit poses to London schools reliant on foreign staff
Brady Expects Vote on Brexit Bill Before May 23 (6 p.m.)
Graham Brady, chairman of the 1922 Committee which speaks for rank-and-file Conservative MPs, told reporters he expects Theresa May to bring the Withdrawal Agreement Bill back to Parliament in the next two weeks -- before European Parliament elections on May 23.
"I think it's the intention to have a further vote, provably on second reading of the WAB, before the European elections take place," he said. "And hopefully in the much nearer future than that."
Brady met May twice this week, as Tories continued to call publicly for May to go. She will address the executive of his committee next week.
Lidington: Talks With Labour Have Been 'Difficult' (5:40 p.m.)
David Lidington, May's de facto deputy, told reporters in London that talks aimed at reaching a compromise with the opposition Labour Party had been "difficult," but constructive.
Speaking alongside Northern Ireland Secretary Karen Bradley and Irish Foreign Affairs Minister Simon Coveney, Lidington said the public expects politicians to get on with Brexit, adding: "I hope we can make progress sooner rather than later."
Tories Keep Leadership Rules Unchanged (5:25 p.m.)
May can breathe a small sigh of relief as a key panel of rank-and-file lawmakers kept the rules on leadership challenges unchanged, according to two people familiar with the situation. Some pro-Brexit members of Parliament had been calling for a change so that they could oust the unpopular prime minister.
May survived a leadership challenge in December and under party rules that means she can't be challenged again until December this year. May has promised to go once she has delivered Brexit, but that's not soon enough for many in her party.
May has agreed to meet the executive board of the so-called 1922 committee of rank-and-file MPs next week. She told Graham Brady, the chairman of the committee, that she is expecting to make progress on the divorce deal in the near future, according to Tory MP Simon Hart, who was at the meeting.
Not everyone is satisfied though, and MPs are still calling on May to set a date.
"We need to make sure we get a final decision soon," pro-Brexit MP Nadine Dorries said. "Because everybody needs it."

Slack: Talks With Labour Are in 'Serious Spirit' (4 p.m.)
Prime Minister Theresa May's spokesman, James Slack, told reporters that negotiations with the opposition Labour Party are taking place "in a serious spirit," and that the government will only turn to exploring Plan B options if the talks fail.
"The talks with Labour have to this point been focused on Plan A," Slack said. "We would start to talk about those alternatives only if it becomes apparent that there is no way through."
Talks Could Collapse Tonight, Peston Says (2:22 p.m.)
Cross-party talks could collapse without agreement as soon as Wednesday night, according to ITV's Robert Peston.
One reason is that Labour is due to launch its European election manifesto on Thursday, he wrote in a blog post. The leadership is consulting members and stakeholders to prevent a backlash when talks are pronounced dead, he reported.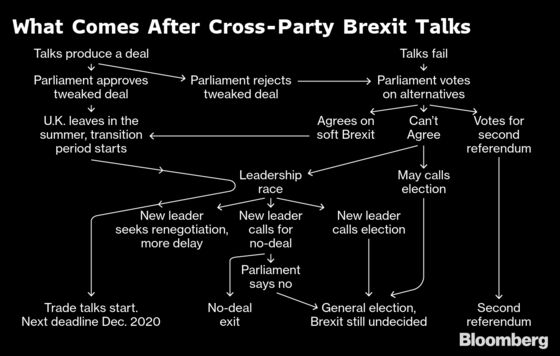 Leadsom: 'Concerned' About Doing Labour Deal (1:45 p.m.)
Cabinet Minister Andrea Leadsom, who is ostensibly touring TV studios to talk about the need to refurbish Parliament's decaying buildings, is instead making news on Brexit.
Having said earlier that she is "seriously considering" standing to be the next Tory leader, she then sought to appeal to Conservatives appalled by Prime Minister Theresa May's attempt to win support for her Brexit deal by negotiating with opposition Labour leader Jeremy Corbyn.
"I'm certainly concerned about us doing a deal with the Labour Party, it's not something that I would welcome," Leadsom told ITV News. "But the reality is we have to leave the European Union and we are in a hung Parliament."
Labour Says Talks Can't Be Indefinite (1:15 p.m.)
Labour is looking to "nail down in the next few days whether and how far the government is willing to move," in Brexit talks, according to a spokesman for the party.
The opposition does believe a majority exists in Parliament for the right deal, he said.
U.K., Ireland Agree on Common Travel Post-Brexit (1 p.m.)
The U.K. and Ireland signed an agreement to maintain free travel between the two countries after Brexit.
The move was expected, as the common travel area of the two countries predates membership of the European Union.
May Is Sticking to Her Timetable (1 p.m.)
May's spokesman reiterated that her plan is to deliver the first phase of Brexit -- getting the divorce done -- and then she will stand aside.
May Says Sorry for Election Losses, But Won't Go (12:35 p.m.)
May said she was sorry for the thrashing her Conservative Party suffered in local elections last week, but rejected the suggestion she should step down.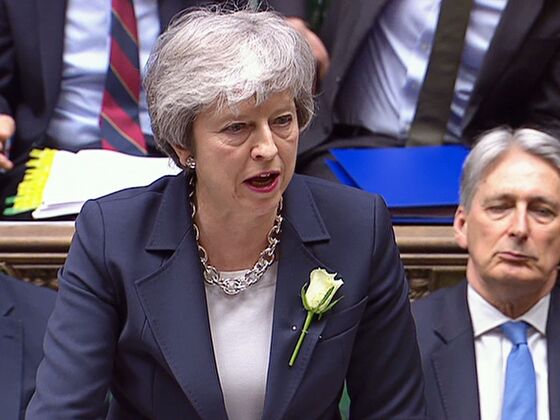 "I am sorry that we saw so many good Conservative councillors lose their seats, very often through no fault of their own," she said.
But she brushed off the call from an MP on her own side that she should stand aside, suggesting it's not her fault -- but that of other MPs -- that Brexit hasn't yet been delivered.
"Actually this is not an issue about me and not an issue about her," she said. "If it were an issue about me and about how I vote, we would already have left the European Union." This line has become May's standard defense of why her Brexit plan has failed.
Barnier Says Farage Wants to Destroy EU (12:30 p.m.)
EU chief Brexit negotiator Michel Barnier urged Europeans to vote in the EU parliamentary elections, in part to keep Nigel Farage's Brexit Party from power.
"Mr. Farage wants to destroy the EU from within," Barnier said at an event in Zagreb, Croatia. "Some people want to do it from the outside, but he wants to do it from the inside."
"Take care of Europe, make time to vote at the European elections," he said.
May Says Talks Continue (12:30 p.m.)
May told MPs that talks with Labour continue and she's still aiming for a deal that can secure a majority in Parliament.
"We are indeed talking to the Labour Party. A very clear message was given last week to this House by the public. They want us to get on and deliver Brexit," she said, referring to local election results on Friday.
Asked repeatedly about a second referendum, she reiterated her opposition. "I remain absolutely of the view that we should be delivering on the result of the first referendum."
May's Pledge to Step Down Is Damaging Her Authority (9 a.m.)
By announcing she will stand down once her Brexit deal has passed, May has kicked off a leadership contest (see 8:30 a.m.) among her Tory colleagues -- even though the Times newspaper reported Wednesday she intends to stay in post until the fall. She now faces repeated entreaties from rank-and-file Tory members of Parliament to quit sooner, while senior activists will gather in London next month to debate a petition calling for her to resign.
Leadsom joins International Development Secretary Rory Stewart in formally declaring their interest in the leadership. But a much wider field, including former Brexit Secretary Dominic Raab, Health Secretary Matt Hancock and former Cabinet minister Esther McVey have given interviews about their vision and background, setting the stage for when they formally declare their hands.
Leadsom 'Seriously' Mulling Standing for Leader (8:30 a.m.)
Cabinet Minister Andrea Leadsom said she is "seriously considering standing" as Conservative Party leader once Theresa May steps aside. She was speaking to ITV's Good Morning Britain.
Pro-Brexit Leadsom made it to the final two candidates against May in 2016, but withdrew after suggesting being a mother would make her a better leader. May had publicly spoken about her unsuccessful desire for children.
Leadsom used her interview to appeal to pro-Brexit Conservative lawmakers and the party's membership, which has the final say over two candidates selected by MPs. She said she is "disgusted'' that three years after the referendum result the U.K. hasn't left the EU, describing herself as an "utterly determined Brexiteer.''
Leadsom, 55, described May's Brexit deal as "tolerable'' and said that while she doesn't favor leaving the EU without a deal, "I don't think no-deal would be the disaster everyone thinks it is.''
Prime Minister's Questions at noon
U.S. Secretary of State Mike Pompeo meets May and Foreign Secretary Jeremy Hunt. Press conference with Hunt at about 3 p.m.