Labour's Corbyn Says He'll Back 'Public Vote': Brexit Update
Labour leader Jeremy Corbyn has come out in favor of a "public vote" on Brexit, in a shift to the main opposition party's stance that could make it more likely that Britain holds a second referendum on its divorce. The pound rose.
Jeremy Corbyn says Labour will back a public vote on Brexit -- though he doesn't say exactly how
May didn't secure any concessions from EU at summit in Egypt
EU Council President Tusk backs an extension to Brexit day; lawmakers will try to force May into an extension on Wednesday
Labour Moves to Back 'Public Vote' on Brexit
Labour leader Jeremy Corbyn said he'll put forward or support an amendment that supports a "public vote to prevent a damaging Tory Brexit."
It's a major shift for Corbyn and comes after members of his team have been pushing him toward a second referendum. Corbyn is more anti-EU than his party, the membership of which backs a second referendum.
But any amendment will struggle to win support in Parliament, as some Labour MPs from Leave-voting areas will likely oppose a re-run of the 2016 referendum.
At a weekly party meeting this evening, Corbyn is expected to also confirm Labour will back a cross-party effort led by lawmakers Yvette Cooper and Oliver Letwin to prevent the U.K. crashing out of the EU on March 29.
"One way or another, we will do everything in our power to prevent No Deal and oppose a damaging Tory Brexit based on Theresa May's overwhelmingly rejected deal," he will say.
Government Estimates of No-Deal Impact 'Shortly' (4:30 p.m.)
Theresa May's office said government estimates of the economic impact of a no-deal Brexit will be published "very shortly."
The material was promised to former Tory MP Anna Soubry on Feb. 14, before she defected to join Parliament's new Independent Group. It includes some information that wasn't in the Treasury assessments published last year, May's office said.

How is High Noon Shaping Up? (2:20 p.m.)


Members of Parliament from all parties including one government minister indicated there probably will be enough support on Wednesday to force May to delay Brexit. The so-called Cooper-Letwin amendment seeks to throw a safety net under Brexit talks by removing the possibility of Britain crashing out without an accord.
May wants to maintain the threat of no-deal as a negotiating tool.
Labour supports the amendment as do the 12 lawmakers of the newly formed Independent Group, according to one of their members.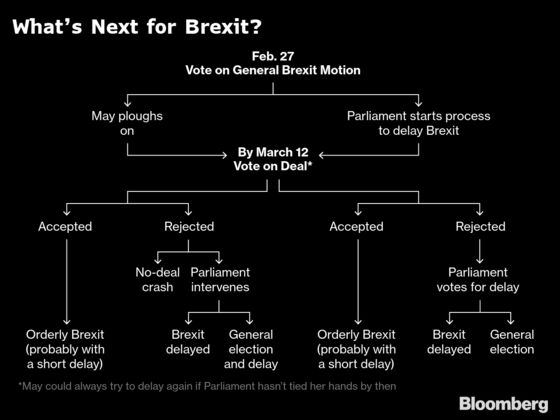 Minister Tells Brexiteers to Back Deal (2:15 p.m.)
Foreign Office Minister Alistair Burt doubled down on his warning that he won't accept a no-deal Brexit. His position is "no to no-deal," he said in an interview in Egypt, where he was accompanying May.
"I think I am following government policy," he said. "It is clear from everything the prime minister says she does not want a no-deal situation. She wants a situation where there is an agreement. She is right to do so. I think she had an agreement. I wish all my colleagues agreed."
He called on Brexiteers to back May's plan, as the only way of ensuring the U.K. leaves on time.
"This is an opportunity for my colleagues to accept that the prime minister negotiated a deal and that if they want to leave the EU on the 29th of March with a deal, they should get behind it. It's a week when they should consider very carefully where they are going."


May: Delay Won't Resolve Anything (1:15 p.m.)

May pushed back against Donald Tusk's suggestion that a delay in Brexit would be the "rational solution" to the current impasse.
A delay in Article 50 won't help to deliver Brexit and it is "within our grasp" to leave the EU with a deal on March 29, May told a press conference in Sharm el-Sheikh.
"An extension to Article 50, a delay to this process doesn't deliver a decision in Parliament, it doesn't deliver a deal," May said. "Any extension of Article 50 isn't addressing the issue."
Tusk Increasingly Sees an Extension (12:49 p.m.)
European Council President Donald Tusk said he discussed the possibility of an extension with May.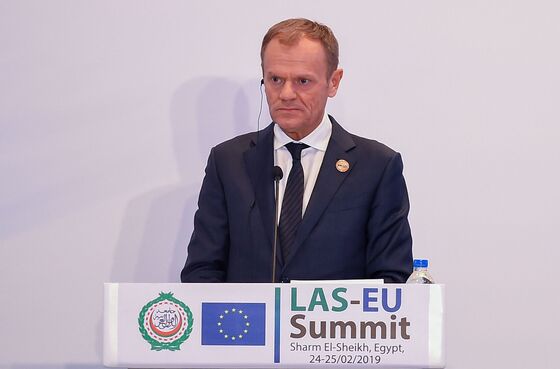 "I can say first of all that prime minister May and I discussed yesterday a lot of issues, including the legal and procedural context of a potential extension," he said at a news conference. "For me, it's absolutely clear that there is no majority in the House of Commons to approve a deal. We will face an alternative: a chaotic Brexit or extension. The less time there is until the 29th of March, the greater the likelihood of an extension."
He added: "And this is an objective fact, not our intention, not our plan – but an objective fact. I believe in the situation we are in, an extension would be a rational solution."
He ended by saying that May " still believes that she is able to avoid this scenario." But by his tone, he didn't sound very convinced.
Deal Looks More Likely, Eurasia Says (12:15 p.m.)
Mujtaba Rahman, managing director at Eurasia Group, said the chances of Theresa May forcing her Brexit deal through Parliament are rising, and now stand at about 65 percent.
Rahman bases much of his analysis on a sense that a delayed Brexit, or the threat that the U.K. won't exit the EU at all, is having "a chilling effect" on hardline Brexiteers in the European Research Group. Some accept privately that they will cave in, Rahman wrote in a note. Moreover, potential new legal advice from Attorney General Geoffrey Cox, suggesting the U.K. won't be trapped in the backstop, may provide cover for the DUP to drop its opposition to the plan, Rahman said.
However, at least one pro-Brexit Tory, Marcus Fysh, rejects such a scenario. When asked if the ERG is ready to back down, he said "the short answer is 'no' and the longer answer is: when you read the terms of the Withdrawal Agreement, I couldn't put my hand on my heart and agree to that and I am astonished that colleagues can."
Juncker, May Have Another 'Constructive' Meeting (11:45 a.m.)
European Commission President Jean-Claude Juncker and May agreed that they needed to get an agreement on changes to the Brexit agreement in time for a summit of EU leaders on March 21, an EU official said.
The pair, who met on the margins of the summit, had a constructive meeting, the official said, adding that there's been good progress on the deal to date.
EU chief Brexit negotiator Michel Barnier will hold talks with U.K. Brexit negotiators in Brussels on Tuesday, the official said.

Varadkar Sees Extension as Only Alternative to Deal (11 a.m.)
Before his meeting with Theresa May, Irish Prime Minister Leo Varadkar appeared to suggest a no-deal is off the table for now.
In remarks tweeted by the Irish Independent from the summit, he said: "What's evident to me is absolutely no-one wants the U.K. to crash out with no deal, that's a lose-lose-lose scenario for everyone. That gives me confidence, or a sense at least, that the UK will not crash out without a deal on March 29. We'll either have a deal or have an extension."
That sums up why May wants to keep the threat of no-deal on the table. If there's no danger, why should the EU move on the backstop?

Merkel Questions May on Brexit Delay (9:40 a.m.)
May met German Chancellor Angela Merkel for breakfast in Sharm el-Sheikh and the pair discussed Brexit, among other issues.
During a 45-minute meeting over pastries, cheese and fruit, Merkel asked May about a British media report that the U.K. is considering a two-month technical extension to Article 50 to give more time to get the legislation through Parliament, according to a person familiar with the matter.
May is said to have replied that she doesn't want a delay, and is keen to get the deal done in time to leave the EU as planned on March 29. A British official said May believes delaying Brexit will not solve the issue but only postpone the moment when a decision must be made.
The official said May also met Dutch Prime Minister Mark Rutte, and will hold talks with Irish premier Leo Varadkar later.
Hinds Says No-Deal Won't Be Government Policy (8:30 a.m.)
Cabinet minister Damian Hinds insisted the government would not make it official policy to pursue a no-deal Brexit. "We are not going to make no-deal government policy," Hinds, the education secretary, told BBC Radio on Monday.
May wants to keep the no-deal threat on the table as she thinks it will help get her unpopular divorce agreement through Parliament. But several ministers indicated on Friday they were ready to vote against her to prevent a cliff-edge departure -- joining with Labour members of Parliament to do so.