May Takes Charge of EU Talks, Pro-EU Rudd Returns: Brexit Update
(Bloomberg) -- U.K. Prime Minister Theresa May is trying to fend off an attempt to oust her by Conservative Party colleagues.
May takes charge of talks with EU, relegating Brexit department
Remain-supporter Amber Rudd returns to Cabinet
Pro-Brexit minister Michael Gove confirms he's not resigning
More than 20 Tories known to be demanding no-confidence vote
Pound gains 0.5% against the dollar after near 2% plunge Thursday
Pro-EU Tory Rebel Stephen Hammond Made Minister (5 p.m.)
Hammond, who rebelled against the government in a key Brexit vote last December and was subsequently fired as Conservative Party vice chairman, was named a minister in the health department as May continued reorganizing her government following Thursday's resignations. Other ministerial appointments include John Penrose at the Northern Ireland Office and Kwasi Kwarteng at the Brexit department.
May Begins Charm Offensive With Local Tories (4:39 p.m.)
May is speaking to the chairs of local Conservative Parties by phone this afternoon to persuade them of the benefits of her deal with the EU, her office said. The timing of the charm offensive is significant as lawmakers from May's Conservative Party will spend the weekend consulting with their constituency parties over a possible challenge to her leadership.
Euroskeptic Health Minister Named Brexit Secretary (4:30 p.m)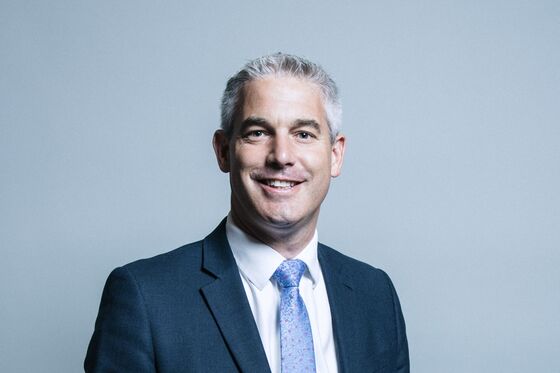 Stephen Barclay, a pro-Brexit health minister, named Brexit Secretary, May's spokesman tells reporters. Barclay replaces Dominic Raab, who resigned on Thursday in protest at May's draft deal with the EU. May will take charge of Brexit talks, stripping the Brexit department of the role.
Remain-Supporter Amber Rudd Returns to Cabinet (3:59 p.m.)
Amber Rudd, a prominent pro-EU former Cabinet minister, is returning to the government as work and pensions secretary. Rudd resigned as home secretary in April over the Windrush immigration scandal. She succeeds Esther McVey, who followed Raab out of the door on Thursday.
Deal Support Will Build as Precipice Nears, Irish Premier Says
Irish Prime Minister Leo Varadkar said as things stand, May will find it hard to win U.K. parliamentary backing for the deal but that support may build over time. "As reality kicks in, as the precipice approaches, you may find more and more people willing to support this deal as the best possible outcome that can be achieved," he told reporters in Dublin.
But the the accord can't be reopened in the short term, he said. While the Article 50 process could be extended, it would have to be at the U.K.'s request.
Pro-Brexit Ministers Said to Seek Deal Change (2:50 p.m.)
Five pro-Brexit Cabinet ministers are working on plans to overhaul May's withdrawal agreement with the European Union so they can stay in government and support it, a person familiar with the matter says on Friday. The ministers involved are Andrea Leadsom, who is convening the group, Liam Fox, Chris Grayling, Penny Mordaunt and Michael Gove.
They might struggle to make a difference, however. The EU has made clear that it's not open to renegotiating -- EU leaders have reiterated that on Friday. And a summit to sign off on the deal is scheduled for Nov. 25, so they don't have long. May has said the deal she's brought back is the only one available. Still, it's a sign of May's weakness that these ministers are able to plot to rewrite what's now official government policy -- and the most important policy of all -- and still keep their jobs.
Euroskeptic Doesn't Know How Many Letters Are In (1:51 p.m.)
Leading euroskeptic Steve Baker says he believes enough letters have been submitted by Tory MPs to trigger a no-confidence vote in May but repeats he doesn't know exactly how many.
A vote will be held if Graham Brady, the chairman of the 1922 Committee of rank-and-file Conservatives, receives 48 letters calling for one from Conservative MPs. More than 20 have submitted, or plan to submit letters, according to public statements.
MP Chris Green Seeks No-Confidence Vote in May (1:17 p.m.)
Conservative Member of Parliament Chris Green confirms, "with a heavy heart," that he has submitted a letter calling for a vote of no-confidence in May.  
"My constituents want a clean break from the European Union, taking back control of our laws, our borders, our money and our trade," the representative for Bolton West & Atherton in northwest England said in a tweet. "The withdrawal proposal from the prime minister will not help deliver that result."
Marcus Fysh has also submitted a letter, according to the BBC.
Brexit Gives Diplomats More Weekend Work (12:18 p.m.)
Conscious of the fast-moving situation in London, ambassadors from the remaining EU 27 governments are to meet in Brussels at noon on Sunday, a diplomat said. It will give them the opportunity to stay abreast of developments a week ahead of the scheduled summit. They'll also discuss making changes to forthcoming political declaration on future ties.
European affairs ministers will continue the conversation in Brussels at 8.30 a.m. on Monday.
EU Governments Don't Want to Change Deal (12:06 p.m.)
The 27 remaining EU governments sent a not-so-subtle message to the U.K. that the Brexit deal isn't up for renegotiation by agreeing on Friday morning in Brussels that they are fine with it. A meeting of ambassadors was the first chance the EU-27 have had to properly scrutinize the draft withdrawal treaty after its publication by negotiators and, despite a few misgivings, it's unlikely they'll want to request any changes, a diplomat said. There's still time -- the draft is now being read in national capitals -- but officials don't expect difficulties.
A second document, the outline of the future relationship, might be a different case, however. The EU is planning to publish that in full on Tuesday and member states are still considering additions, including more conditions to prevent the U.K. under-cutting the European economy.
Gove, the environment secretary, confirms he's staying in the Cabinet, saying "it's absolutely vital that we focus on getting the right deal in the future." He's the minister whose resignation would have been most destabilizing to May.
"I've had a very good morning in a series of meetings with my colleagues here at Defra, just making sure that we have the right policies on the environment, on farming and on fisheries for the future," he said in a statement. "And I'm also looking forward to continuing to work with all my government colleagues, and all my colleagues in Parliament in order to make sure that we get the best future for Britain."
Well, at least Theresa May has one supporter. In a behind-closed-doors debrief of EU27 envoys in Brussels this morning, EU's chief Brexit negotiator Michel Barnier said: "we have to pay homage to the courage and tenacity of Theresa May given the difficulties she has with the Withdrawal Agreement," according to one of our sources in the room.
That said, the negotiator signaled that the bloc couldn't and won't offer any more concessions. "Whatever the internal difficulties in the U.K. we have a duty to preserve the four freedoms and our values," he added. Crucially, Barnier asked national governments to refrain from comments and interventions that could further sour the atmosphere in London.
Brexiteer Ministers Are Sticking with May (10:49 a.m.)
On Thursday, Bloomberg reported that Liam Fox and Penny Mordaunt are also staying in the Cabinet, at least for now. And Andrea Leadsom, another Brexiteer, said in public she was staying. The Times said on Twitter the ministers took a collective decision not to quit.

Whips Convene (10:10 a.m.)
Government whips have been told to convene in Westminster, according to a person familiar with the situation. But it shouldn't be seen as a sign the threshold to trigger a no-confidence vote has been reached, the person said.
Why else could they be meeting? There are lots of possible reasons: They could be planning an operation to rally support for May from wavering Tories, for example.
May Signals No Free Vote on Deal (8:30 a.m.)
May signaled that all Tories including ministers will be ordered to vote for the Brexit deal. That's not a surprise but Penny Mordaunt -- a pro-Brexit minister -- has been calling on the premier to allow MPs to vote with their consciences. The pair met last night.
A "free vote," as it's known, would allow Mordaunt and others to vote against May's deal. But without that freedom, they will have to quit the government in order to oppose the Brexit agreement when it's put to Parliament.
May was also asked about speculation Environment Secretary Michael Gove will quit. She said she had a "very good conversation" with him last night. She refused to answer a question about whether she asked him to be Brexit Secretary, and said she'll appoint someone to that role in the next day or two.
May: We Are Still Working with the DUP (8:10 a.m.)
May told LBC listeners that she had not had a "testy" exchange with Arlene Foster, leader of Northern Ireland's Democratic Unionist Party, which props up her minority government. Foster and her colleagues have been highly critical of May's proposed Brexit deal, because it imposes a different set of rules on Northern Ireland. The DUP cares most about ensuring the region stays fully part of the United Kingdom, with the same laws and business rules. "We are still working with the DUP," May said. But she accepted she had to try to persuade the party's members of Parliament to back her plan.
Earlier, the Telegraph reported that Foster was demanding May be replaced with a new leader, as the price for continuing to support the minority Conservative government. If the DUP pulls out of the "confidence and supply" arrangement with the Tories, the government is likely to fall.
Brexit Means Chaos or Relief, How Do You Trade That?