May Courts Labour as Tory Hardliners Threaten Brexit Trouble
(Bloomberg) -- Prime Minister Theresa May reached out to the opposition to help her push her Brexit deal through Parliament, as hardliners on her own side warned they would continue to make trouble.
May told Parliament on Wednesday she was counting on lawmakers "across this house" to put "the national interest first."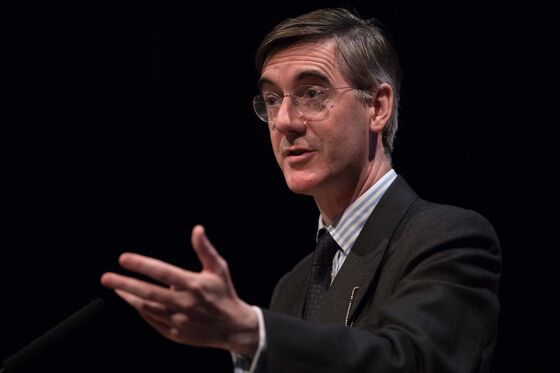 May doesn't have a majority in Parliament and is facing opposition on all sides to the deal she hopes to bring back from Brussels next month. The most vociferous opponents are the pro-Brexit group in her Conservative Party, led by Jacob Rees-Mogg.
He signaled late Tuesday that his group of lawmakers could even be willing to vote against crucial legislation such as the budget as a tactic to force May to ditch her Brexit stance in favor of a tougher approach. He says he can count on more than 40 lawmakers.
In an interview, Rees-Mogg said voting against May's finance bill would not be impossible, before quickly adding: "That's not the sort of territory we are in any way close to."
That Rees-Mogg could even entertain the notion of going against the government on such a key piece of legislation -- Chancellor of the Exchequer Philip Hammond delivers his speech on Oct. 29 -- shows just how entrenched Tory divisions are as Brexit negotiations with the EU reach a make-or-break stage. The rebels argue that May's plan to keep the U.K. in the EU's single market for goods isn't properly leaving the bloc.
Former Brexit Secretary David Davis and his former minister, Steve Baker, have both said there are about 40 Tories willing to vote down May's deal. Without giving a number, Rees-Mogg said that tally doesn't include a "surprising number'' who have changed their mind recently.
The hardliners -- who have made more noise than impact in recent months -- risk losing their leverage if May reaches out to the Labour party. The Times reported on Wednesday that as many as 30 Labour politicians could be willing to support May.
Around six Labour members of Parliament have consistently backed May, while 15 defied their party in June to vote against the U.K. staying in the European Economic Area. Some Tories are talking up the chances of a Labour revolt. Once May has a deal, the plan is to rush it through Parliament within a couple of weeks, according to people familiar with the situation.
What Rees-Mogg's European Research Group of Conservative lawmakers do next depends on any deal May brings back from Brussels. Ahead of a crucial summit next week, officials from both sides are wrangling over a potential solution to the biggest sticking point: How to keep the Irish border free from customs infrastructure after Brexit.
Rees-Mogg said he has enough support to defeat the prime minister, though he's holding fire as Brexit negotiations enter their final phase. He was dismissive of the idea that a parliamentary defeat for May would bring down the government, pointing to legislation allowing the prime minister to choose the timing of the next general election. He's still hoping for a deal he can support.
"We don't know what the government is going to come back with, and I think to start saying we will throw our weight around before we know what we don't like is a mistake,'' he said.