Theresa May Asks Business to Help Out With Hard Sell on Brexit Deal
(Bloomberg) -- Prime Minister Theresa May is seeking the help of businesses to sell her Brexit deal to the British public and her own rebellious lawmakers, three people familiar with the matter said.
The premier and her chief of staff, Gavin Barwell, hosted more than 120 business chiefs at Downing Street on Monday in order to explain details of the deal she sealed at the weekend with the European Union. Business leaders were asked to lobby their local members of Parliament and emphasize that the job security of their constituents depends on the deal, according to the people, who asked not to be named because the meeting was private.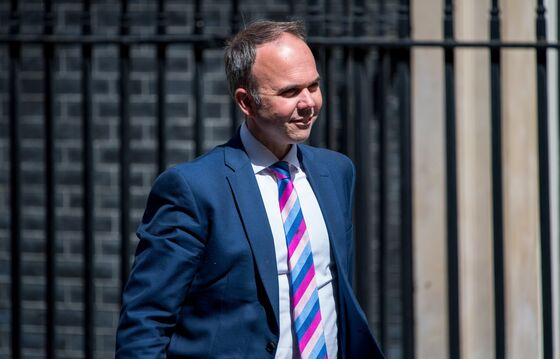 May spent Monday afternoon trying to sell the agreement to lawmakers in Parliament, during more than two hours of debate. Proceedings were dominated by criticism that laid bare the struggle she faces to get the deal approved by the House of Commons. She has until a decisive vote on Dec. 11 to persuade lawmakers to back the deal, and has warned that the alternative is either no deal or no Brexit. On Monday, few legislators spoke to support her.
"It's clear that some of the negotiating victories have been lost in a shrill counter-narrative," said Brent Hoberman, who co-chairs the government's council for start-ups, entrepreneurs and scale-ups. He attended Monday's business reception.
One attendee said government speakers were "very much in sell mode." The premier was said to acknowledge the difficulty in persuading Parliament to back the deal -- but expressed confidence that she could win lawmakers over.
"I am acutely aware that for employers like you this is about realities on the ground and the practicalities of doing business," May told the reception, according to a statement from her office. "Taken together, the Withdrawal Agreement and the broad terms of our new relationship, should provide your businesses with the reassurance and certainty that I know is so important to you."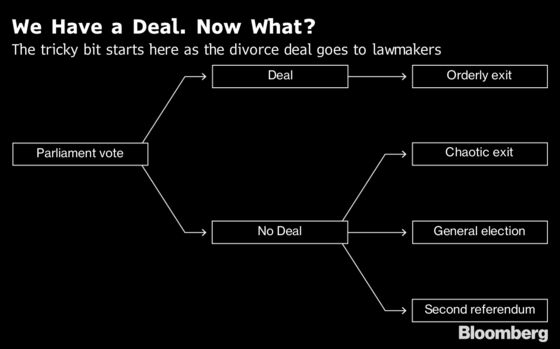 Chiefs of the country's main business lobby groups were among attendees at the meeting, as well as Marks & Spencer Group Plc Chief Executive Officer Steve Rowe, Santander U.K. Plc Chairman Shriti Vadera and former Merrill Lynch banker Bob Wigley, according to one of the people familiar. Business Secretary Greg Clark, Brexit Secretary Stephen Barclay and Chancellor of the Exchequer Philip Hammond also attended, according to May's office.
"The mood was very supportive from business leaders, and it was made clear that this was a hard-fought deal with the EU," said Stephen Martin, director-general of the Institute of Directors.
Barwell gave the main presentation as attendees consumed canapes and drinks, and May joined the meeting later, taking questions for about 15 minutes. Representatives from businesses including BT Group Plc, Royal Dutch Shell Plc and BlackRock Inc. asked questions, May's office said.
Business Leaders' Concerns
One concern raised by business chiefs was that May has dropped her push for "frictionless trade" in the U.K.'s post-Brexit relationship with the EU, according to the people familiar. The answer came that this was still an "aspiration" that the government hopes to achieve. Another centered around immigration and the tone of recent remarks made by the premier on the issue. May and Barwell replied that the government wants a flexible immigration policy that also addresses concerns about too many people coming into the country.
May on Tuesday will embark on a national tour to persuade voters of the merits of her deal, and her outreach to business is part of an effort to show lawmakers that the country at large is behind her.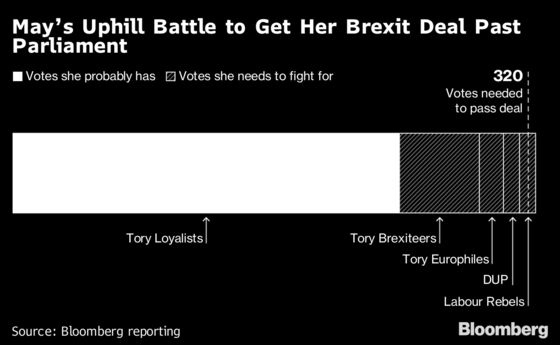 The signs for now aren't good that she can get he deal past Parliament. All the other parties, including her supposed allies, Northern Ireland's Democratic Unionist Party, have said they'll oppose it, as have dozens of rank-and-file lawmakers in her own Conservatives. Some -- like pro-European former ministers Justine Greening and Anna Soubry -- want a second referendum, while others, including former cabinet ministers Boris Johnson and David Davis, say the deal doesn't deliver on the last vote.
Unlike the country's politicians, business has been largely supportive of May's deal, with the main lobby groups issuing a series of supportive statements last week, though they're still seeking more certainty on the future ties that will set in at the end of a planned implementation period that's scheduled to end in December 2020. For now, their priority is to bank that transition period.