Mattis Signals He's Likely to Approve Extension of Border Troops
(Bloomberg) -- U.S. Secretary of Defense Jim Mattis said he's likely to approve a request to extend troop deployment on the southern border through the end of January -- a move that would require some service members to spend Christmas on the job.
Speaking at a defense forum in California, Mattis said he planned to review the request from the Department of Homeland Security and would sign it if he found it to be constitutional and lawful.
"I will make certain what we are doing is appropriate for our troops, and if it is and border patrol needs the help, of course we will provide it," Mattis said during a wide-ranging question and answer session that followed a speech at the Reagan National Defense Forum.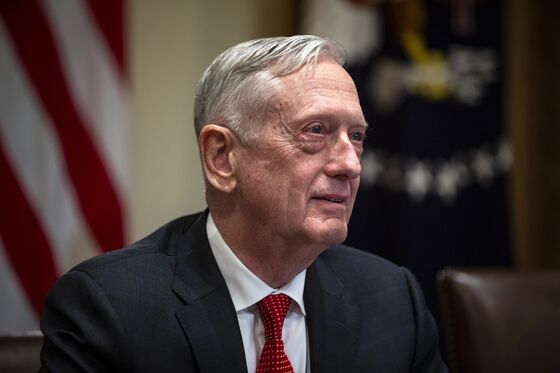 About 6,000 active-duty U.S. troops were deployed to the Mexican border in October after President Donald Trump said they were needed to address a "national emergency" as caravans of asylum-seeking migrants from Central America made their way north toward the U.S. Without an extension, the deployment is only authorized through Dec. 15.
The move was criticized by Democrats as a pre-election stunt by Trump, who made the approaching caravan a major part of his closing argument before the mid-term elections. The tactic had mixed results, as the Republican Party lost its majority in the House while picking up seats in the Senate.
The DHS request that the Pentagon extend its assistance through Jan. 31 "refines support to ensure it remains aligned with the current threat, the nature of the mission" and with Customs and Border Patrol operational requirements, the Defense Department said in a statement on Friday.
At the same time, Homeland Security Secretary Kirstjen Nielsen has requested that civilian law enforcement personnel from several federal agencies also be sent to the border as early as next week.
Nielsen made what appears to be an unprecedented request to the departments of State, Labor, Energy, Transportation, Interior and Justice, according to Politico, citing an internal memo they obtained.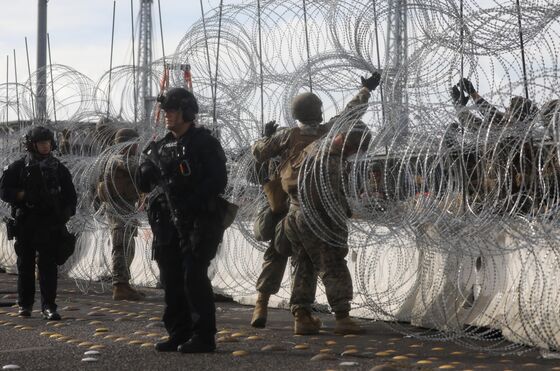 The U.S. last month reportedly reached the framework of a deal with Mexico's incoming government in which Central American migrants massed on the U.S. border would be required to wait in Mexico until their asylum claims are processed by U.S. courts.
Officials with the government of Andres Manuel Lopez Obrador said no deal has been reached on treatment of the asylum seekers. But U.S. Vice President Mike Pence said on Saturday that discussions continue.
"Those conversations and those negotiations are ongoing, but we remain hopeful that we'll be able to reach that agreement going forward," Pence said as he prepared to leave Mexico City after attending Lopez Obrador's inauguration.
The U.S. "invests hundreds of millions of dollars in the Northern Triangle countries of Guatemala, Honduras and El Salvador," Pence said. "We need those countries to step forward to address the migrant caravans that continue to come north to challenge our border. But rest assured that that'll be one of the topics that President Trump addresses with President Obrador going forward."