Mattis Condemns Russia's 'Brazen' Aggression Against Ukraine
(Bloomberg) -- U.S. Secretary of Defense Jim Mattis condemned Russia's recent attack on Ukrainian ships, and criticized China for "predatory economic behavior" during a speech Saturday at a defense forum in California.
Russia "brazenly violated" a 2003 agreement allowing Ukrainian ships free passage in the the strategic Kerch Strait when Russian forces fired on Ukrainian warships injuring servicemen and capturing three vessels with their crews Sunday, Mattis said in remarks prepared for the Reagan National Defense Forum.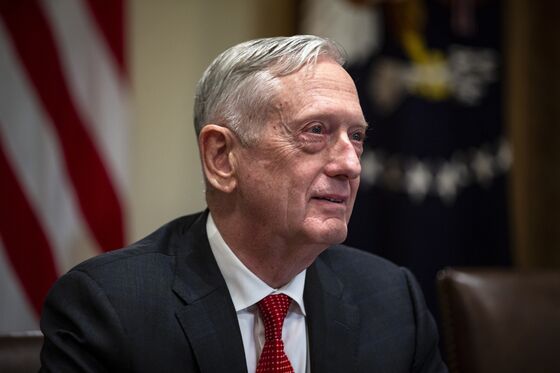 The incident threatened to disrupt a key shipping choke-point and reignite a simmering conflict that has claimed more than 10,000 lives. Citing the unresolved standoff, President Donald Trump canceled a planned meeting with Russian President Vladimir Putin at the Group of 20 gathering in Buenos Aires that's now under way.
Mattis also touched on the U.S. intention to quit the Intermediate-Range Nuclear Forces Treaty, which the U.S. says Russia is violating, according to a transcript provided in advance. "We will re-energize our arms control efforts, but the onus is on Russia," Mattis said.
On Beijing, Mattis said the U.S. is seeking a "constructive reciprocal, results-oriented" relationship.
"But we do not accept predatory economic practices or coercion of smaller states," Mattis said. "No one nation can, on its own, change the international order or veto other nations' diplomatic, economic, or security decisions."
Mattis has previously said China has been encouraging smaller countries to acquire massive debt.. Saturday's comment came hours before Trump is scheduled to have dinner with Chinese President Xi Jinping in Argentina, at a time the world's two largest economies are engaged in an escalating trade war.
Mattis, 68, a former U.S. Marine Corps general, said the U.S. and it's allies would show respect for other nation's sovereignty while exercising "constructive vigilance."