Masked Lawmakers to Vote in Person to Pass $484 Billion Stimulus
(Bloomberg) -- Welcome to legislating in the pandemic era: U.S. House members in masks, disinfectant, silent committees and hundreds of billions in deficit spending.
The House plans to convene at 10 a.m. Thursday to give final passage to a $484 billion interim rescue plan to bolster a staggered American economy. It will be the first time lawmakers have gathered in such a large group since March 27, when the last stimulus plan was approved, and they will be casting a roll-call vote under extraordinary circumstances to match the times.
Unlike the Senate, which was able to pass the latest emergency package in a quick voice vote with only a handful of senators present, the possibility of an objection from either party means at least half of the 429 current House members must venture to Washington despite the risks from the coronavirus pandemic.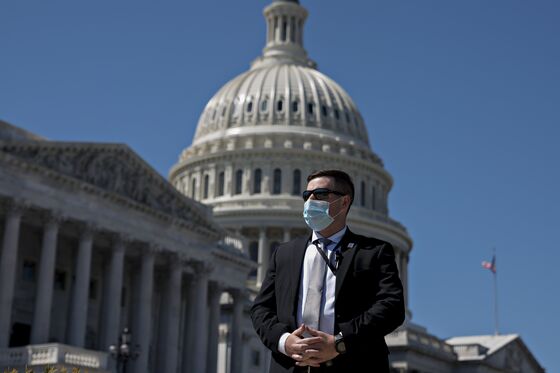 For each of the two scheduled votes, they'll be divided into groups of about 60 each, arranged in alphabetical order, and will enter the House chamber through specific doors and leave through other doors.
Gloves and masks will be provided.

"I'm bringing my own so I intend to use it," Michigan Democrat Dan Kildee said.
Trump, Pence Slowly Resume Travel to Signal U.S. Ready to Reopen
Debate on the spending bill, which is all but certain to pass and which President Donald Trump has promised to sign, will be held for two hours.
The House also is voting Thursday on a plan to establish a panel to oversee coronavirus spending. That vote will go first; then the House will take a 30-minute break so the chamber can be cleaned before members are brought back for the vote on the aid package.
Each vote could take as long as an hour to finish given the restrictions being imposed.
Many elderly and at-risk lawmakers are expected to stay home, and only one committee hearing is scheduled -- by the Small Business Committee on the Covid-19 response.
The House passed a $2 trillion stimulus plan in late March on a voice vote, but only after a quorum of lawmakers entered the chamber -- keeping social distance by also using the third-floor public galleries overlooking the chamber floor -- to overcome an objection by Kentucky Republican Thomas Massie.
House leaders have yet to agree on any alternative voting plan, whether electronic voting from their homes or allowing members to bring proxy votes from other lawmakers to the chamber. Democrats had planned to adopt a proxy system Thursday, but the matter was put off amid Republican opposition.
"America is looking to its representatives to act like LEADERS with courage, not spineless sheep in hiding," tweeted Texas Republican Dan Crenshaw. "We ask our grocers to work, our truckers to drive, and our nurses to risk their lives. Congress can show up to VOTE."
On Thursday, the House will take a normal roll-call vote and most members will have to be in the chamber to establish a quorum to pass the stimulus bill.
"We will be able, in a very strong bipartisan way, to pass the legislation," predicted Speaker Nancy Pelosi Wednesday on Bloomberg Television.
The legislation, which passed the Senate Tuesday, is viewed as an interim step as the coronavirus pandemic causes more death and economic havoc.
It includes $320 billion to make new loans under the Paycheck Protection Program, which provides forgivable loans to small business that keep employees on the payroll for eight weeks. The bill sets aside $30 billion of the loans for banks and credit unions with $10 billion to $50 billion in assets, and another $30 billion for even smaller institutions.
Democrats pushed for that, arguing that such banks could better serve small businesses with less access to capital, such as those owned by farmers, families, women, minorities and veterans.
The measure includes $60 billion in loans and grants under a separate Economic Injury Disaster Loan program, and makes farms and ranches eligible for the loans. Also, there is $75 billion for hospitals, with a significant portion aimed at those in rural areas, and $25 billion for virus testing.
The testing funds include $18 billion for states, localities, territories, and tribes to conduct Covid-19 tests, $1 billion for the Centers for Disease Control and Prevention and $1.8 billion for the National Institutes of Health. As much as $1 billion would cover costs of testing for the uninsured.
Trump and congressional leaders are already talking about another phase of rescue legislation, though the path to an agreement may be difficult. Senate Majority Leader Mitch McConnell expressed great skepticism Wednesday about providing funds for state and local governments -- the top priority for Democrats and one supported so far by Trump.
Congress isn't scheduled to return to Washington until May 4, though negotiations and drafting of the next bill can take place without most lawmakers in town. The House also is creating a bipartisan committee to look at remote and proxy voting.
House Minority Leader Kevin McCarthy said Wednesday that Congress can hold committee meetings safely by creating space between people and restricting staff access, and also keep lawmakers separated during House floor votes.
"We can get this done," he said.