Venezuela's Guaido Rallies Supporters, Meets Rubio in Miami
(Bloomberg) -- Juan Guaido, Venezuela's opposition leader, rallied supporters in Miami on Saturday and met with U.S. Senator Marco Rubio, who's played a key role in shaping U.S. policy on the South American country.
It's likely to be one of his last stops in a two-week global tour aimed at building support to oust his rival, President Nicolas Maduro.
"We have a strategy, and the support of the world," Guaido said in Spanish at the rally. "We're not alone." He asked the crowd to imagine a day when the millions of Venezuelans living abroad could return home.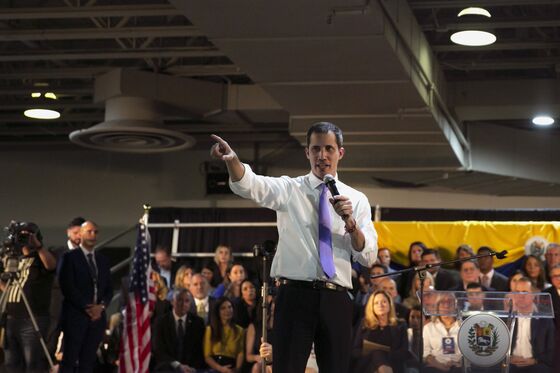 Guaido is recognized by the U.S. and some 60 countries as Venezuela's head of state, even as he's struggled to translate that support into concrete gains against Maduro.
Rubio met with Guaidó "to discuss the ongoing efforts to restore democracy and the rule of law in Venezuela," the Florida senator's office said in a statement Saturday night.
Rubio, chair of the Senate Foreign Relations Subcommittee on Western Hemisphere, is "committed to highlighting the Maduro regime's egregious violations of human rights against its citizens," his office said.
Representative Mario Díaz-Balart of Florida, a Republican, and Carlos Vecchio, Guaido's ambassador in the U.S., also attended the meeting.
Earlier, Guaido held the hastily-arranged gathering at a convention center near Miami's airport to avoid Super Bowl weekend activities and traffic in the city's downtown, which has seen other widely-attended pro-Venezuelan rallies in recent years.
Many of those attending the rally wore the "tri-colored" hat now typical of protest rallies while others sang the national anthem and chanted anti-Maduro slogans.
Over the past two weeks Guaido met world leaders including Britain's Boris Johnson, Germany's Angela Merkel, France's Emmanuel Macron and Canada's Justin Trudeau.
After just missing Donald Trump at the World Economic Forum in Davos last month, Guaido's been angling for a meeting with the president in South Florida.
While Guaido pulled together a rally including Venezuelan exiles at the last minute, the White House hasn't confirmed any talks. Trump is spending the weekend at his Mar-a-Lago club in Palm Beach, just an hour's drive up the coast, where he golfed earlier on Saturday.
"Stay tuned," Guaido said when asked if he'd meet with Trump before returning to Venezuela. He later said that he thought Trump's stance on Venezuela had been "firm and determined."
Rubio spoke at length with Vice President Mike Pence on Friday, said a person familiar with the matter.
Guaido was joined in Miami by Florida lawmakers including Republican Senator Rick Scott and Diaz-Balart, and Representatives Donna Shalala and Debbie Wasserman Schultz, both Democrats.
Guaido's press office said that he met with James Story, chargé d'affaires for the Venezuela Affairs Unit at the U.S. Embassy in Bogota, at the convention center ahead of the rally.