Marathon Hong Kong Security Law Bail Hearing Slammed as 'Farce'
(Bloomberg) -- Dozens of Hong Kong opposition figures have spent four days in court this week to see if they'll be jailed for months ahead of their trials on national security charges. But the unusually long arraignment may have already done lasting damage to the justice system's reputation.
The 47 defendants -- including prominent activists Joshua Wong, Benny Tai and Jimmy Sham and numerous past and current lawmakers -- have been in and out of court since Monday. Sessions have stretched late into the night, prompting some defendants to seek hospital care and causing foreign observers to wonder whether the conditions made it harder to mount a sufficient defense and provided possible grounds for appeal.
The hearing resumed for a fourth day Thursday, after adjourning the previous session at 8:30 p.m. The first day lasted from 11 a.m. Monday until around 3 a.m. Tuesday, after one activists collapsed and was taken to the hospital. At least five others have since been taken to the hospital after saying they felt unwell, local media reported.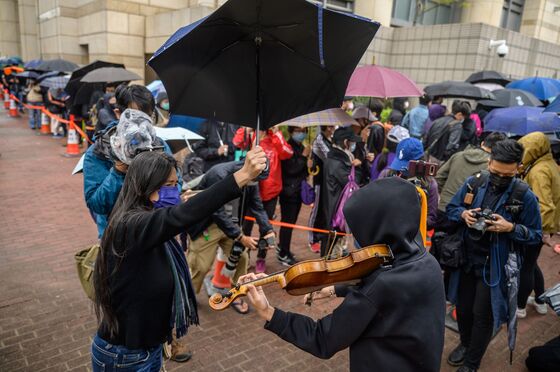 "The unprecedented marathon, almost around-the-clock, four-day hearing makes a farce of procedural fairness," said Jerome Cohen, founder of the U.S.-Asia Law Institute at the New York University School of Law and one of the U.S.'s foremost legal experts on China. "No single magistrate can fairly deal with the individual circumstances of 47 different bail applications in such a short time.
"The court system should never have arranged such a chaotic judicial review that has made Hong Kong's formerly revered judicial system look like the willing instrument of the police and prosecution," Cohen said.
The Department of Justice didn't respond to a request for comment Thursday. In a statement Tuesday, the department said the charges were made based on evidence and "without political considerations." It said demanding the defendants' release "undermines the rule of law and is seen as an attempt to meddle in Hong Kong's affairs, which are internal affairs of the People's Republic of China."
Hong Kong courts, which use English Common Law and are guaranteed independence under the mini-constitution negotiated before the former British colony's return to Chinese rule in 1997, have been credited with helping to preserve its status as a global financial hub. Hong Kong ranked 16th out of 126 jurisdictions surveyed by the World Justice Project's Rule of Law Index, which was based on data collected before the security law, compared with 88th for China.
China's imposition in June of broadly worded security legislation, which empowered authorities to deny bail, close hearings, select judges and even transfer cases to the mainland, has raised questions about the ability of those accused under it to defend themselves. The large number of defendants and the added burden on them to prove why they won't commit any new offenses if granted bail has contributed to this week's lengthy proceedings.
The 47 were charged with "conspiracy to commit subversion" over their roles in a primary vote in July that drew 600,000 participants ahead of planned Legislative Council elections that were later delayed. The government argues that the primary, along with plans to vote down the Chief Executive Carrie Lam's budget proposal and force her resignation, amounted to a subversive plot to paralyze the government and charged them under the new security law.
The politically charged case comes as China considers action to curb the opposition's already limited role in Hong Kong elections before the National People's Congress opens Friday in Beijing. The head of Beijing's top agency for Hong Kong, Xia Baolong, called for some of the defendants to be "severely punished" days before they were formally charged. A lawyer for several of the accused, former lawmaker Alan Leong, has questioned whether prosecutors were "rushing" ahead of the political event.
The government is seeking to jail the defendants without bail and delay any further proceedings until May 31 while it gathers evidence to support the case.
"In many ways, it's the government putting Hong Kong's legal system in jeopardy -- they don't seem to pause and think how bad this looks for Hong Kong," Michael Davis, a professor of law and international affairs at O.P. Jindal Global University in India and a former law professor at the University of Hong Kong. "The prosecutors have already admitted they weren't prepared and have requested at least three more months."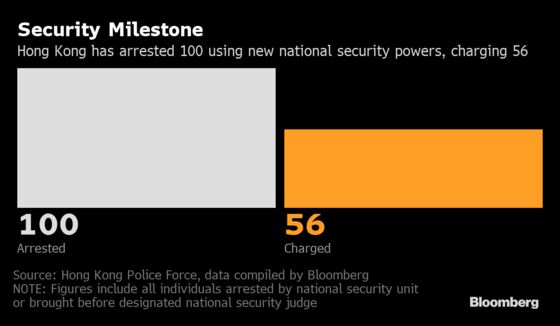 The case has drawn criticism from foreign governments who accuse Hong Kong of using the security law to criminalize normal political activities, with some 100 people arrested, largely for actions that were until recently allowed. U.S. Secretary of State Antony Blinken has called for the defendants to be released immediately, saying "political participation and freedom of expression should not be crimes."
Lam Cho Ming, a program manager for rights group Amnesty International, said in a statement that Monday's marathon hearing "along with insufficient time to rest, could potentially violate the right to a fair trial" and provide grounds for an appeal. "Fair trial rights demand that there must be adequate time and facilities to prepare the defense," Lam said.